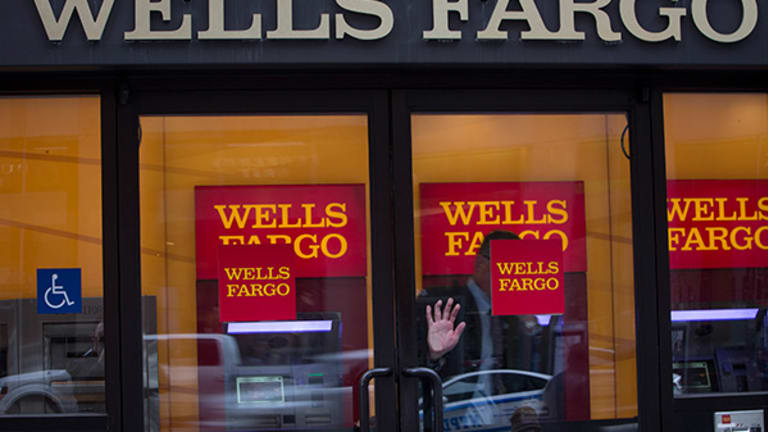 Federal bank regulators barred Wells Fargo (WFC) - Get Wells Fargo & Company Report  from expanding internationally and making certain acquisitions on Tuesday after the bank failed to fix deficiencies in its living will, a plan the largest financial institutions were required to craft after the 2008 crisis to wind themselves down without hurting the broader economy.
The wills, known as resolution plans, were mandated under the Dodd-Frank Act, a bill enacted after an implosion in the $15 trillion U.S. mortgage industry led to the bankruptcy of investment firm Lehman Brothers and forced billions of dollars in bailouts for finance companies.
In April, the government gave a failing grade to plans from Wells Fargo, Bank of America (BAC) - Get Bank of America Corp Report , Bank of New York Mellon (BK) - Get Bank of New York Mellon Corporation Report , JPMorgan Chase (JPM) - Get JPMorgan Chase & Co. (JPM) Report and State Street (STT) - Get State Street Corporation Report , saying their plans to dismantle themselves in a way regulators believed wouldn't cause havoc were "not credible.
All the firms except Wells Fargo have since corrected those deficiencies, according to a statement from the Federal Reserve and the Federal Deposit Insurance Corp. A JPMorgan spokesman said the company was "pleased with the joint-agency conclusion."
Wells Fargo's resubmission still had flaws in the "legal entity rationalization" and "shared services capabilities" categories. A big bank's legal entity rationalization involves aligning its legal units in a way that makes the parent company simpler to dismantle, while shared-services capability covers identification of critical services that would need to be maintained even if the bank collapsed.
As a result of the findings, Wells Fargo won't be allowed to expand its non-bank activities or operations outside the U.S. That might rule out deals like the bank's 2015 purchase of a large commercial real estate portfolio from General Electric (GE) - Get General Electric Company (GE) Report  .
While the decision follows the San Francisco-based company's $185 million settlement with state and federal regulators in September over the creation of unauthorized consumer credit card and savings accounts, a senior Federal Reserve official said the two matters were unrelated.
The bogus accounts led to the dismissal of about 5,000 employees over a five-year period and set off a firestorm of criticism that ultimately spurred the resignation of Wells Fargo CEO John Stumpf and the installation of an independent board chairman at the bank.
Wells Fargo is expected to submit a revised "living will" by March 31, focusing specifically on the deficiencies identified by regulators. 
Should it fail to satisfy the government then, the agencies will "limit the size" of two of the firm's major units, its broker-dealer division and its non-bank unit, to asset levels in September of this year. If Wells Fargo doesn't doesn't fix its problems within two years, the government may require the mega-bank to divest some assets. 
Wells Fargo, which said it had made substantial improvements to its resolution plan, was informed of the decision on Tuesday.
"While we are disappointed with the determination issued by the agencies, we continue to be dedicated to sound resolution planning and preparedness," the bank said in a statement. "We believe we will be able to address the concerns raised today in the March 2017 revised submission."
The Fed and FDIC noted in an 11-page report that Wells Fargo's 2016 submission "did not include the considerations" that would guide its evaluation of "size, interconnectedness, growth prospects, risk parameters, and geographic footprint."
In addition, regulators said the plan lacked detail about how the company would separate its commercial bank into a number of regional units in the event of a failure. 
The government said that, for now, Wells Fargo is prohibited from establishing a foreign bank or branch and buying any nonbank subsidiary. Regulators had the authority to require Wells Fargo to hike its capital reserves but chose not to do so. 
Federal authorities also took issue with Wells Fargo's plan to execute its preferred break-up strategy in the event of failure, noting that a key assessment wasn't completed and that the company failed to identify a series of "misalignments." 
The Fed had been particularly critical of Wells Fargo's living will submission earlier this year , noting "material errors" that undermine "confidence in resolution planning preparedness."
It's unclear the election of Donald Trump as president will affect the oversight of living wills by the FDIC and the Fed going forward.
FDIC Chairman Martin Gruenberg has said he plans to remain until his appointment expires in November, well after the March submission. However, it's possible that the Trump administration -- which supports looser regulations -- could try to make life difficult for Gruenberg and encourage him to step down earlier.
In addition to its March submission, Wells Fargo and its peers must also complete a 2017 living will for regulators by July.
EXCLUSIVE LOOK INSIDE: Wells Fargo is a holding in Jim Cramer's Action Alerts PLUS charitable trust portfolio. Want to be alerted before Cramer buys or sells the stock? Learn more now.