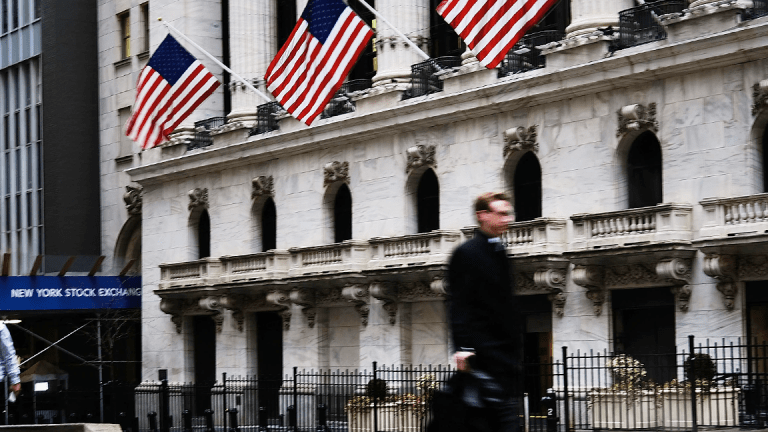 Week in Review: Stocks Whipped as Trade War Threat Moves Closer to Reality
China and the U.S. are going one-for-one with threats. Meanwhile, Facebook is still attempting to recover, and jobs came in softer than expected. Here's what you missed.
Wall Street closed out the first week of a new quarter with a dip well into the red.
After optimism mid-week turned U.S. stocks positive, the threat of a trade war coupled with unimpressive economic and corporate news shook investors. Here's what you missed in the week ending Friday, April 6.
Markets Struggle to Find Footing
Stocks started the week lower, as all three major indexes met the closing bell with losses Monday, April 2. But on Tuesday, Wednesday and Thursday, the big three benchmarks all rallied to snag the first three-day winning streak since Feb. 26.
On Friday, the Dow undefined shed 2.35% to move into correction territory with a more than 550-point loss. It was the worst day in two weeks for the blue-chip index. The S&P 500 undefined fell 2.2% and the Nasdaq Composite undefined handed over 2.28%. Losses were amplified in late-session trading after Federal Reserve Chairman Jerome Powell appeared in Chicago and said that the Fed is intent on continuing its trajectory of gradual rate hikes.
Trade War Threats Reignited
Friday's stock market losses were first triggered by back-and-forth between the U.S. and China that reignited in the minds of investors the threat of a full-on trade war. Tensions escalated overnight Thursday as China vowed to respond to President Donald Trump's threat to impose an additional $100 billion in tariffs on imports from the country.
On Thursday, President Trump said, "Rather than remedy its misconduct, China has chosen to harm our farmers and manufacturers. In light of China's unfair retaliation, I have instructed the USTR to consider whether $100 billion of additional tariffs would be appropriate under section 301 and, if so, to identify the products upon which to impose such tariffs."
In response on Friday, China said it would counter Trump's proposed new tariffs "to the end, and at any cost," and that it doesn't "want to fight, but we are not afraid to fight a trade war."
Before Friday's losses, many on Wall Street had come to think the tension between the U.S. and China would instigate negotiations, not an all-out, tit-for-tat trade war.
Jobs Report Doesn't Stun
The U.S. economy added 103,000 jobs in March, missing expectations, while wage gains accelerated, the Labor Department said Friday.
The gains fell short of economists' estimates of a 185,000 increase in non-farm payrolls and marked a slowdown from February's increase of 313,000, the Bureau of Labor Statistics report showed. Average hourly earnings climbed 2.7% over the past year, an acceleration from last month's pace of 2.6%. The unemployment rate was unchanged at a 17-year low of 4.1%.
The smaller-than-expected jobs figure is further fodder for the Fed's gradual interest rate hike strategy. A steadier labor market means the bank has more room to mull over increases instead of enacting monetary policy too quickly.
Facebook Still on High Alert
Action Alerts Plus holding Facebook Inc. (FB) - Get Meta Platforms Inc. Report was still reeling this week from the fallout surrounding the Cambridge Analytica scandal. The social media company disclosed that the total number of users affected by the data breach was in fact closer to 87 million, not the 50 million first reported. Also this week, Facebook CEO Mark Zuckerberg agreed to testify in front of Congress after a number of lawmakers called on the company head to answer their questions about data security.
Facebook's stock enjoyed a rally Thursday after Zuckerberg addressed the growing scandal and other data security problems in a conference call late Wednesday. "At the end of the day, this is my responsibility," Zuckerberg said. "I'm not looking to throw anyone else under the bus."
TheStreet has all the Facebook coverage you need in its Technically Speaking podcast. Catch up on this week's episode here: