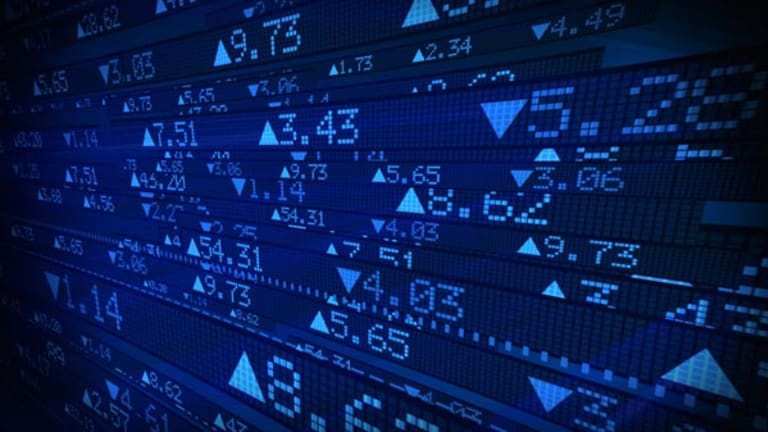 Wednesday's Winners & Losers: Yahoo!
Shares fall 8.5% after the company offers a soft revenue outlook for 2008.
Shares of
Yahoo!
(YHOO)
fell $1.76, or 8.5%, to $19.05 after the company offered
a soft revenue outlook for 2008.
Net income for the fourth quarter fell to $206 million, or 15 cents a share, from $269 million, or 19 cents a share, a year earlier. Revenue rose 8% to $1.8 billion. Excluding traffic acquisition costs, revenue increased 14% to $1.4 billion.
Analysts were expecting EPS of 11 cents on revenue, excluding traffic acquisition costs, of $1.41 billion. For the first quarter, Yahoo! said it expects revenue between $1.28 billion and $1.38 billion, lower than analysts' expectations of 11 cents a share earnings on revenue of $1.36 billion.
Yahoo! also said it will cut about 1,000 jobs, or 9% of its employees, in the coming quarter.
Among the day's solid winners was online broker
E*Trade
(ETFC) - Get E*TRADE Financial Corporation Report
after 10 directors upped their holdings in the company, among them acting CEO R. Jarrett Lilien. He picked up about another 7,000 shares for a total stake of 892,694 shares. Donald Layton more than tripled his E*Trade interest to some 365,000 shares, and Randal Lewis brought his direct holdings above the 500,000-share mark with a 29,500-share purchase. E*Trade shares were lately jumping 13.8% at $4.71.
Then there's
Merck
(MRK) - Get Merck & Co., Inc. Report
, which saw shares fall $1.70, or 3.5%, to $46.31. On a GAAP basis, the company reported a fourth-quarter net loss of $1.63 million, or 75 cents share, including charges ($4.85 billion) related to the Vioxx settlement agreement. Excluding those charges, the company earned 80 cents a share in the fourth quarter, on sales of $6.2 billion, a 3% year-over-year increase.
Analysts surveyed by Thomson Financial were looking for 74 cents a share on revenue of $6.29 billion.
For the year, Merck reported earnings of $3.27 billion, a 26% decline from 2006. Before specific items, the company reported earning $3.20 a share, on worldwide sales of $24.2 billion, a 7% rise over 2006. Analysts had predicted $3.15 a share on revenue of $24.3 billion.
Merck reported quarterly sales of $1.5 billion from the partnership with
Schering-Plough
( SGP) for its now controversy-ridden cholesterol drugs Zetia and Vytorin, a 34% increase vs. the comparable 2006 quarter. For the year, combined annual sales of the drugs totaled $5.2 billion.
Click here for more on Merck's earnings and the executive's comments regarding the Enhance trial.
Merck shares fell 3.7% to $46.25, while Schering rose 1.8% to $19.39.
Michigan's
Flagstar Bancorp
(FBC) - Get Flagstar Bancorp, Inc. Report
swung to a fourth-quarter loss from a year-earlier profit, after which Moody's knocked its long-term deposit rating to Baa2, according to the
Associated Press
. That's just a notch above junk status. Shares were sliding $1.04, or 12.5%, to $7.27.
Israeli generic-drug maker
Teva Pharmaceutical
(TEVA) - Get Teva Pharmaceutical Industries Ltd. Report
and
Wyeth
( WYE) ended the standstill agreement for patent litigation on a generic version of acid-reflux treatment Protonix. Wyeth and partner Nycomed said after Tuesday's market close that it immediately would begin marketing its own generic version of the drug, which was due to see patent expiration in 2010. The move gives Teva the freedom to resume sales of its generic form of Protonix, which it originally introduced in December.
Despite the decision to market a generic version of the drug itself, Wyeth said the battle brews on. "Going forward, we will continue to seek an injunction against any infringement of this patent, as well as monetary damages, including lost profits, from Teva."
Wyeth, which generated $1.45 billion in sales from the drug in the first nine months of last year, saw shares edge down 3% to $39.84. Teva's shares, meanwhile, were up 1.3% at $44.98.
IT security company
Websense
(WBSN)
gained $1.99, or 11.6%, to $19.09, a day after the company
beat expectations for the fourth quarter and guided higher for fiscal 2008.
Revenue for the quarter rose to $86.2 million from $47.33 million a year ago. Analysts were expecting sales of $78.14 million. Excluding charges, net income was $12.8 million, or 28 cents a share, higher than analysts' expectations of 23 cents a share, and 3 cents better than its EPS from the year before.
For fiscal 2008, Websense expects revenue to range between $325 million and $335 million and earnings, excluding charges, of $1.15 to $1.25 a share. Analysts are expecting revenue of $309.50 and earnings of $1.15 a share.
Shares of Minnesota-based
Hutchinson Technology
(HTCH)
dropped 33.2% to $16.18. After posting weak first-quarter earnings last night, the designer of suspension assemblies for disk drives suffered a double downgrade, to hold from sell by Brean Murray and to average from above average by Caris & Co.
Among the small-caps to weather the storm was
CyberSource
( CYBS), which gained 22.5% to $16.01. Yesterday after the close, the Mountain View, Calif.-based provider of electronic payment and risk management solutions for Internet orders announced non-GAAP fourth-quarter earnings of $9.2 million, or 15 cents a share, vs. $3.3 million, or 9 cents a share, in the year-ago quarter. The results beat the average analyst expectation by a penny, according to Thomson Financial. Wedbush Morgan launched the company further with an upgrade to strong buy from buy.
This article was written by a staff member of TheStreet.com.