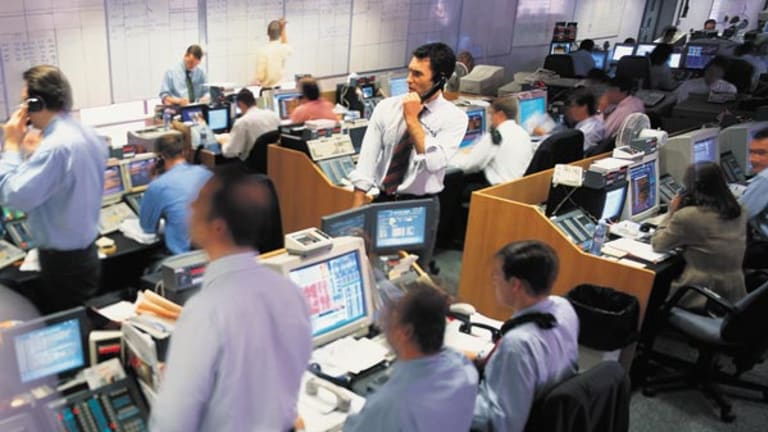 Wednesday's Winners & Losers: Panera
The bakery-café chain slumps after warning of poor earnings.
Updated from 11:01 a.m. EDT
Panera Bread
(PNRA)
was among the
Nasdaq's
losers Wednesday, as shares slumped 13.8% after the bakery-café chain warned that second-quarter earnings would be well below expectations.
The company now sees earnings of 38 cents to 40 cents a share. Analysts polled by Thomson Financial expect earnings of 49 cents a share. The company also cut its second-quarter system-wide comparable bakery-café sales growth target to a range of 1.5% to 2.5% from the previous 3.5% to 4.5%. The company said that it is suffering from "margin pressures based on a mix shift away from products self-manufactured in its fresh dough facilities and gasoline and other input costs." Shares closed down $8.04 to $50.28.
Central Garden & Pet
(CENT) - Get Report
fell 3% after the lawn and pet products company warned that third-quarter and full-year results would be lower than Wall Street's forecast. J.P. Morgan followed the warning by downgrading the stock to neutral from overweight.
"Based on preliminary end-of-the-month reporting from our operations and retail customers, it is clear that the softness in lawn and garden and pet sales that we experienced in April, and communicated publicly in early May, has continued through May, reflecting the challenging environment overall for retailers as well as unfavorable weather conditions in many parts of the United States," the company said.
Analysts project third-quarter earnings of 37 cents a share on revenue of $525.4 million. For the full year, analysts project earnings of 83 cents a share on revenue of $1.76 billion. "The weather conditions in particular, including the severe drought in the Southeast, have adversely impacted our lawn and garden business," the company concluded. Shares closed down 40 cents to $13.04.
Shares of
Whole Foods Market
( WFMI) slipped 3% after an analyst at Morgan Stanley downgraded the stock to equal weight from overweight. Morgan Stanley made the move after the Federal Trade Commission said it would move to block Whole Food's merger with
Wild Oats
( OATS).
"If Whole Foods is allowed to devour Wild Oats, it will mean higher prices, reduced quality, and fewer choices for consumers. That is a deal consumers should not be required to swallow," the FTC said in a press release. In February, Whole Foods said that it would acquire Wild Oats for $18.50 a share. Shares of Whole Foods closed down $1.23 to $39.25. Shares of Wild Oats were down 29 cents to $16.87.
Guess?
(GES) - Get Report
rose 3.8% after the apparel maker posted better-than-expected first-quarter results and boosted its full-year guidance. The company earned $35.5 million, or 38 cents a share, on revenue of $377.9 million. Analysts expected earnings of 28 cents a share on revenue of $331 million. During the year-earlier period, the company earned $20.7 million, or 23 cents a share, on revenue of $265.7 million.
Looking ahead, Guess? now sees full-year earnings of $1.75 to $1.80 a share on revenue of $1.51 billion to $1.56 billion. Analysts project earnings of $1.71 a share on revenue of $1.48 billion. Shares closed up $1.80 to $49.22.
Shares of
Borders Group
( BGP) fell 4.6% after Goldman Sachs cut its rating on the stock to sell from neutral. Goldman said the FTC's decision to block the merger between Whole Foods and Wild Oats makes a merger between Borders and
Barnes & Noble
(BKS) - Get Report
less likely. Goldman said that Borders' price reflects some hope that Barnes & Noble and Borders would merge. The broker cut its price target on Borders to $19 from $20. Shares of Borders were down 99 cents to $20.79. Barnes & Noble shares were down 70 cents to $41.50.