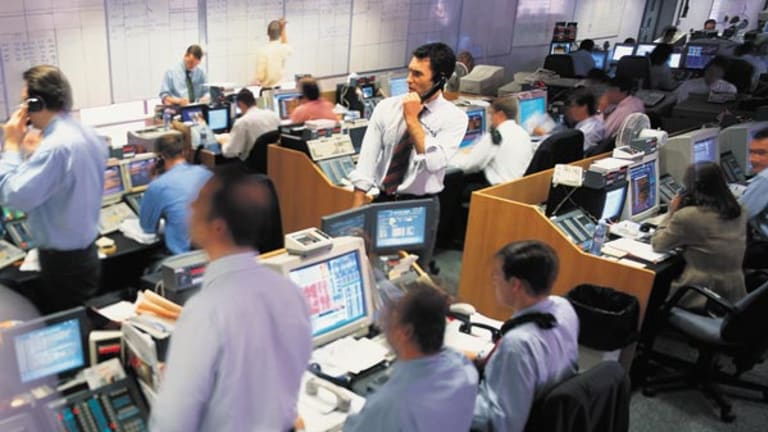 Publish date:
Wednesday's Winners & Losers: Manpower
The staffing firm's shares climb after an earnings beat.
The staffing firm's shares climb after an earnings beat.
With earnings reports flooding in, the stock winners Wednesday included Manpower (MAN) - Get Report, CSX (CSX) - Get Report and Champion Enterprises( CHB).
Manpower shares gained 6% after the staffing company's earnings and outlook handily topped Wall Street estimates. The company's third-quarter profit rose 31% to $131.7 million, or $1.57 a share. Analysts polled by Thomson Financial projected earnings of $1.38 a share.
For the fourth quarter, Manpower said it detects "a bit of caution" in the markets, but it doesn't believe it will significantly affect its results. The company forecast earnings of $1.50 to $1.54 a share, ahead of analysts' average target of $1.45. Shares were up $4.04 to $73.35.
CSX chugged 6% higher after the railroad operator posted a 24% rise in profits, with adjusted results beating estimates. The company recorded earnings of $407 million, or 91 cents a share, including a 24-cent-a-share gain from discontinued operations.
Excluding the discontinued operations and one-time items, CSX's earnings were 67 cents a share. Analysts, on average, were looking for earnings of 62 cents a share. The stock was gaining $2.64 to $45.47.
Champion Enterprises, a maker of modular homes, gained nearly 10% after its third-quarter report. Champion posted a 43% jump in net income to $12.9 million, or 17 cents a share, topping Wall Street's per-share estimate by 3 cents. The stock was rising $1.17 to $13.42.
Among the earnings losers,
Illinois Tool Works
(ITW) - Get Report
dropped 2% despite a better-than-expected report. The toolmaker reported earnings of $491 million, or 89 cents a share, topping analysts' average estimate of 87 cents.
Illinois Tool Works also tightened its full-year earnings forecast to $3.36 to $3.40 a share from a prior view of $3.31 to $3.41. Analysts target a 2007 profit of $3.37 a share. The company's stock was losing $1.11 to $57.50.
Outside of earnings,
Cablevision
(CVC)
fell 3% as opposition to the company's going-private deal mounted. According to media reports, large shareholder ClearBridge Advisors has said it will vote against the Dolan family's proposed buyout of the cable operator.
The Dolan family, which runs Cablevision, said late Tuesday it won't increase its $36.26-a-share offer. Shares of Cablevision were losing $1.13 to $32.57.
Corinthian Colleges
(COCO)
plunged 13% after one of its schools was served a search warrant from the Department of Education seeking a broad range of documents and records. The company said it hasn't been informed about why the action was taken at the school, located in Fort Lauderdale, Fla., but it is cooperating with the investigation. Shares were down $2.07 to $13.88.
Kellwood
( KWD) slipped 3% after the clothing maker rejected a buyout offer from private-equity firm Sun Capital. Kellwood said the $21-a-share bid "significantly undervalues" the strength of its brands and opportunities for growth. Shares of Kellwood were down 61 cents to $17.06.