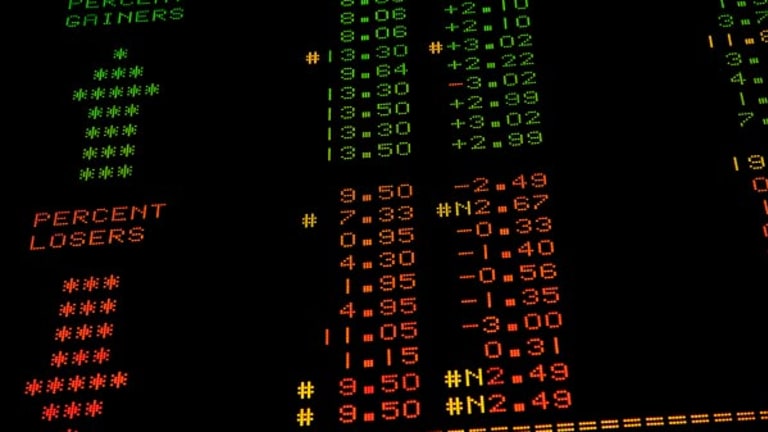 Wednesday's Winners & Losers: International Coal
Shares slide after the company slashes full-year estimates.
Shares of
International Coal
( ICO) were among the
NYSE's
losers Wednesday, plunging 18% after the coal producer slashed its 2006 bottom-line projection.
The company now sees a full-year loss of 7 cents to 10 cents a share on revenue of $900 million. Previously, the company predicted a profit of 15 cents to 21 cents a share. Analysts polled by Thomson First Call project earnings of 19 cents a share on revenue of $1.01 billion. International Coal attributed the revision to the idling of its Sycamore 2 mine and continued cost pressures at mines in the central and northern Appalachian regions.
"This year has been an extraordinarily trying one for our management group with our focus diverted among several problems during the first half," International Coal said. Shares were trading down $1 to $4.53.
Energy Conversion Devices
( ENER) jumped 12% after the battery maker posted fiscal fourth-quarter results that beat forecasts. The company reported a loss of $769,000, or 2 cents a share, narrowed from $6.9 million, or 23 cents a share, a year earlier. Analysts expected a wider loss of 15 cents a share for the recent quarter. Revenue rose to $27.9 million from $20.9 million, compared with Wall Street's forecast of $27.8 million. Energy Conversion shares rose $4.17 to $37.16.
Shares of
Pall Corp.
(PLL) - Get Piedmont Lithium Inc Report
shot up 14% after the maker of filtration products reported fourth-quarter results that topped Wall Street's expectations. For the period ended July 31, Pall earned $62.8 million, or 50 cents a share, up from $43.4 million, or 34 cents a share, a year earlier. Analysts, on average, anticipated earnings of 46 cents a share. Sales increased to $597.3 million from $524.5 million a year earlier, surpassing analysts' mean estimate of $555.6 million.For fiscal 2007, Pall forecast earnings of $1.47 to $1.60 a share. Analysts target a profit of $1.48 a share. Shares recently changed hands at $30.76, up $3.76.
Equity One
(EQY)
shares slid 3% after the shopping-center developer cut its funds-from-operations forecast. The company now sees third-quarter FFO of 34 cents to 36 cents a share, down from its prior projection of 40 cents to 43 cents. For the full year, Equity One lowered its FFO guidance to $1.54 to $1.58 a share from a previous forecast of $1.65 to $1.72. Analysts predict third-quarter FFO of 41 cents a share and full-year FFO of $1.68 a share. Equity One shares were off 79 cents to $24.45.
Shares of
AmeriCredit
( ACF) were active after the auto-finance company announced the pricing of its $500 million convertible senior notes offering and announced a $300 million stock repurchase plan. The company said about $254 million of the stock buyback will be funded from proceeds of the notes offering. Shares recently were up 37 cents to $24.78 on volume of more than 16 million shares, compared with the daily average of 1.3 million shares.
Joy Global
( JOYG) rose 3% after the mining-equipment maker sharply boosted its stock buyback plan. The company now plans to repurchase up to $1 billion in stock, compared with its previous authorization of $300 million. Joy Global also extended the buyback program to the end of calendar 2008 from May 2007. Additionally, the company's board authorized debt borrowings of up to $400 million.
"We are very pleased with the actions taken by the board of directors today," the company said late Tuesday. "Our current stock buyback program is nearly completed. Given our continued ability to generate strong free cash flow and our commitment to increasing shareholder value, we believe that reauthorization is appropriate." Shares were up $1.27 to $39.27.
Shares of
Sears Holdings
(SHLD)
rose modestly after the retailer boosted its stock buyback plan by $500 million. The new authorization is in addition to the $118 million in shares that the company has left to repurchase under its prior $1.5 billion plan. Since September 2005, Sears has repurchased about 11 million shares at an average cost of $126.14 a share. Shares were up 97 cents to $156.81.
NYSE volume leaders included
Ford
(F) - Get Ford Motor Company Report
, up 42 cents to $9.48;
Nortel Networks
( NT), up 1 cent to $2.33;
Advanced Micro Devices
(AMD) - Get Advanced Micro Devices, Inc. Report
, up 47 cents to $26.95;
Lucent Technologies
( LU), unchanged at $2.36;
General Electric
(GE) - Get General Electric Company Report
, down 7 cents to $34.60;
Micron Technology
(MU) - Get Micron Technology, Inc. Report
, down 41 cents to $23.93;
Motorola
( MOT), down 41 cents to $23.93;
Valero Energy
(VLO) - Get Valero Energy Corporation Report
, up 69 cents to $52.01; and
AMR
(AMR)
, up 94 cents to $23.14.
Nasdaq
volume leaders included
JDSU
(JDSU)
, up 7 cents to $2.25;
Sun Microsystems
(SUNW) - Get Sunworks, Inc. Report
, unchanged at $5.19;
Cisco Systems
(CSCO) - Get Cisco Systems, Inc. Report
, up 1 cent to $22.66;
Oracle
(ORCL) - Get Oracle Corporation Report
, up 10 cents to $16.40;
Intel
(INTC) - Get Intel Corporation Report
, down 5 cents to $19.70;
Apple Computer
(AAPL) - Get Apple Inc. Report
, up 39 cents to $73.02; and
eBay
, down 11 cents to $28.34.