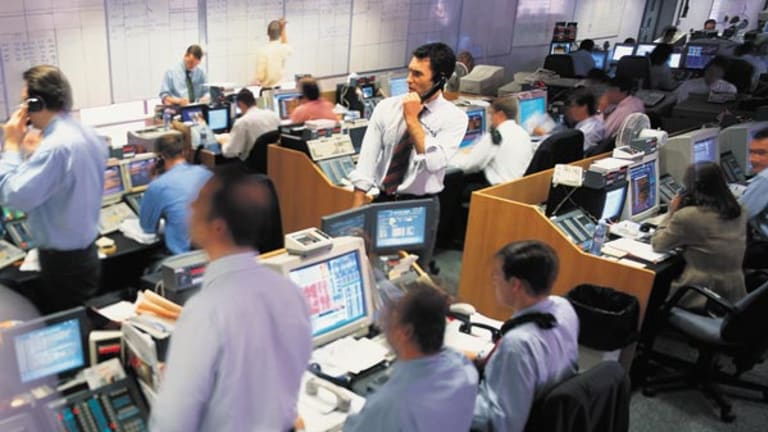 Wednesday's Winners & Losers: Greenbrier
Shares slump after the company offers a disappointing earnings projection.
Shares of
Greenbrier
(GBX)
were among the
NYSE's
losers Wednesday, slumping 17% after the company warned that first-quarter earnings would be well below Wall Street's expectation.
Greenbrier, a supplier of transportation equipment and services to the railroad industry, estimated earnings of 10 cents to 13 cents a share for the quarter ended Nov. 20. Analysts polled by Thomson First Call project earnings of 54 cents a share, with revenue of $235.4 million. "New railcar manufacturing margins and results for the quarter were adversely impacted by production difficulties and inefficiencies on the introduction of certain conventional railcar types," the company said.
Greenbrier now expects full-year earnings to be below its previous guidance of $3.10 to $3.40 a share. Analysts, on average, project earnings of $3.44 a share. Shares were trading down $5.60 to $28.58.
Sally Beauty Holdings
(SBH)
slid 15% after the company said one of its units will lose the exclusive distribution rights to L'Oreal professional products. Sally Beauty expects the change to cut its sales by about $110 million during the final nine months of fiscal 2007.
"This number includes anticipated ancillary impact on revenue from other products that may be indirectly affected by these developments," the company said. Shares were trading down $1.42 to $7.84.
Shares of
PolyOne
(POL)
slumped 10% after the plastics maker warned that earnings and sales would be lower than year-ago results. The company sees sales and shipments falling 2% to 3%, while lower demand will crimp its earnings.
"Softening demand in the automotive and building product end markets has proved deeper than originally anticipated," PolyOne said. Analysts project earnings of 11 cents a share on revenue of $655.3 million. Shares were trading down 74 cents to $6.75.
FedEx
(FDX)
slipped 2% after the package delivery company posted better-than-expected second-quarter results but gave a soft guidance. For the period ended Nov. 30, the company earned $511 million, or $1.64 a share, on revenue of $8.93 billion. Excluding items, FedEx earned $1.89 a share. Analysts expected earnings of $1.76 a share and revenue of $8.91 billion. A year earlier, the company earned $471 million, or $1.53 a share, on revenue of $8.09 billion.
Looking ahead, FedEx forecast third-quarter earnings of $1.20 to $1.35 a share. Analysts had forecast earnings of $1.55 a share. "Our earnings guidance for the third quarter recognizes a difficult year-over-year comparison, as last year's third quarter benefited from the timing lag that exists between when we purchase fuel and when our indexed fuel surcharges automatically adjust," FedEx said.
For the fourth quarter, the company projects earnings of $1.98 to $2.13 a share. Wall Street targets fourth-quarter earnings of $1.98 a share. Shares of FedEx were down $2.56 to $111.14.
Shares of
John H. Harland
( JH) jumped 13% after the check printer agreed to be acquired by
M&F Worldwide
( MFW) for $1.7 billion, or $52.75 a share, in cash. The price represents a 19% premium over Tuesday's closing price of $44.47. The deal is expected to close during the second half of 2007.
"This transaction is the right response to the increasing focus on customer acquisition and retention in the financial services industry and will greatly benefit our combined financial institution partners and their individual customers," M&F said. Shares of John H. Harland were adding $5.93 to $50.40, while shares of M&F rose 99 cents to $19.29.
Shares of
CarMax
(KMX)
climbed 9% after the used-car seller's third-quarter profit figures blew past analysts' forecast. The company's earnings nearly doubled to $45.4 million, or 42 cents a share, from $22.9 million, or 22 cents a share, a year earlier. Analysts anticipated earnings of 25 cents a share. Sales rose to $1.77 billion from $1.42 billion a year earlier, while same-store sales jumped 13%. Wall Street targeted sales of $1.63 billion.
CarMax raised its full-year earnings forecast to $1.75 to $1.85 a share from a prior range of $1.55 to $1.65. Analysts project earnings of $1.64 for the year ending Feb. 28. Shares of CarMax were up $4.20 to $52.38.
NYSE volume leaders included
Ford
(F)
, up 12 cents to $7.30;
Pfizer
(PFE)
, up 24 cents to $26.44;
General Electric
(GE)
, up 31 cents to $38.32;
Hewlett-Packard
(HPQ)
, up 83 cents to $41.26;
Sprint Nextel
(S)
, down 6 cents to $18.98;
Time Warner
(TWX)
, up 9 cents to $22.01;
Citigroup
(C)
, down 18 cents to $55.05;
Exxon Mobil
(XOM)
, down 71 cents to $76.28.
Nasdaq
volume leaders included
Redback Networks
( RBAK), up $3.74 to $24.91;
Oracle
(ORCL)
, up 3 cents to $17.13;
Sirius Satellite Radio
(SIRI)
, up 7 cents to $3.80;
Sun Microsystems
(SUNW)
, up 6 cent to $5.61;
Intel
(INTC)
, up 12 cents to $20.78;
Juniper Networks
(JNPR)
, down 54 cents to $18.71;
Cisco Systems
(CSCO)
, down 4 cents to $27.59; and
Microsoft
(MSFT)
, up 7 cents to $30.06.