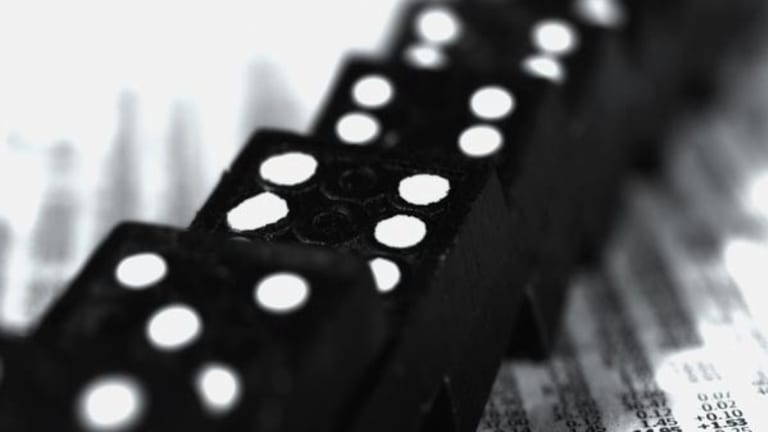 Wednesday's Winners & Losers
Bear Stearns jumps. Merrill falls.
Children's Place Retail Stores
(PLCE) - Get Children's Place Inc. (The) Report
rose after saying its CEO resigned following an investigation into his securities trades. Ezra Dabah has stepped down as the company's top executive, at the request of the board, and director Chuck Crovitz will be CEO on an interim basis.
Dabah's resignation came after two instances where he didn't comply with the company's internal policies related to securities trades. Shares of the retailer were up 7.3% to $25.75.
Maxim Integrated Products
(MXIM) - Get Maxim Integrated Products Inc. Report
said the
Securities and Exchange Commission
has ordered that the
Nasdaq
Stock Market's decision to suspend and delist the company's common stock be postponed in order to allow the SEC to evaluate its appeal.
The Nasdaq had given Maxim until Sept. 25 to file its past due periodic reports with the SEC and regain compliance with listing requirements. Maxim hasn't yet been able to file the reports, and it had asked last week for the SEC to prevent its delisting. Shares of Maxim were up 0.3% to $28.30.
Xinhua Finance Media
( XFML), a China-based financial and entertainment media company, climbed after saying the investment firm Yucaipa Companies has agreed to purchase a block of existing shares from stockholders.
David Olson, a Yucaipa partner, will also join the board of Xinhua Finance. Shares of Xinhua Finance were surging 15% to $9.05.
Greatbatch
(GB)
, a developer and manufacturer of components used in medical devices, slumped after it cut its sales and earnings outlook. The company now expects full-year sales of $305 million to $315 million and adjusted earnings of $1.37 to $1.41 a share.
Previously, Greatbatch had seen sales of $320 million to $325 million and an adjusted profit of $1.57 to $1.64. Shares were losing 15% to $27.26.
Newmont Mining
(NEM) - Get Newmont Corporation Report
fell after the company said its consolidated costs applicable to sales for this year could exceed its previous forecast of $375 to $400 an ounce. The company also said that "the large-scale, mature and low-grade nature of its gold deposits may limit its ability to replace, net of depletion, its proven and probable gold reserves in 2007."
Shares of Newmont were down 6.7% to $44.52.
Securities giant
Merrill Lynch
( MER) was weaker on news that Goldman Sachs lowered its earnings estimates on the company because of the turmoil in the financial markets in recent weeks. Goldman cut its third-quarter and full-year expectations for Merrill, along with its 2008 and 2009 numbers.
The firm also reduced its price target by $14 to $94. Merrill was down 2% at $70.67.
Shares of
Bear Stearns
( BSC) jumped following a report that the investment bank is holding talks with potential investors, including billionaire Warren Buffett, about selling up to 20% of the company.
The report, in
The New York Times
, cited people who had knowledge of the discussions. Other potential investors named in the report include
Bank of America
(BAC) - Get Bank of America Corporation Report
,
Wachovia
(WB) - Get Weibo Corporation Report
and two groups from China. Bear Stearns was up 11% to $126.52.