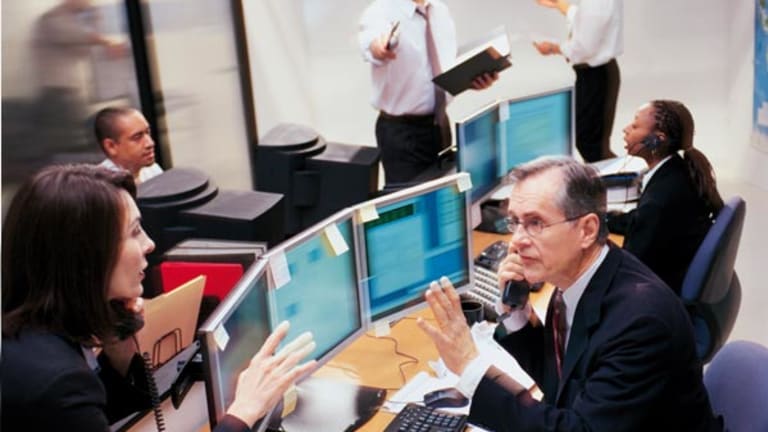 Publish date:
Wednesday's Late Winners & Losers
Crocs stubbed its toe in after-hours trading.
Crocs stubbed its toe in after-hours trading.
One of the most pronounced losers after the closing bell Wednesday among many stumbling stocks was plastic shoe maker
Crocs
(CROX) - Get Report
.
Shares of the Niwot, Colo., company plummeted 25.1% in heavy trading,
despite a more-than-doubled third-quarter profit of 66 cents a share. That came in only 3 cents above analyst estimates from Thomson Financial. Crocs has tended to pummel quarterly expectations. Revenue of $256.3 million was a hair shy of the mean.
The company also raised its full-year guidance, now projecting earnings of $1.94 to $1.98 a share on revenue of between $820 million and $830 million. But the earnings forecast still leans to the lower end of consensus, and sales would just miss projections. Shares were sinking $18.75 to $56.
Smith Micro Software
(SMSI) - Get Report
, which makes wireless communications software, slid 18.2% after third-quarter earnings plunged to $472,000, or 2 cents a share, from 9 cents a share last year. Excluding special items, that came to an in-line 21 cents a share. Still, shares of the Aliso Viejo, Calif., company shed $2.81 to $12.60.
Another couple of Californian tech names,
Rambus
(RMBS) - Get Report
and
JDS Uniphase
(JDSU)
, were also losing ground.
Chipmaker Rambus sharply narrowed its third-quarter loss from last year to 6 cents a share, but the sole analyst's estimate called for a profit of 2 cents a share. JDS, which makes communications test products and optical products, beat fiscal first-quarter estimates. But it also projected next-quarter revenue of $372 million to $394 million, which trends to the bottom end of the Street's consensus.
Rambus was down 2.6% to $19.28. JDS gave up 27 cents, or 1.8%, to $14.99.
On the other hand,
Unum Group
(UNM) - Get Report
climbed 7.5% to $25.10 after the Chattanooga, Tenn.-based insurer swung to a profit from last year's GAAP-based loss. On an adjusted basis, continuing-operations income ratcheted up 30.4% to 60 cents a share, which flies past Wall Street's 51-cent targets. In addition, the company upped its 2007 earnings outlook by 13 cents to between $2.14 and $2.17 a share.
And
Plexus
(PLXS) - Get Report
, which offers product-realization services to original equipment manufacturers, surged 16.7% on positive earnings. The Wisconsin-based company pocketed a non-GAAP profit of $25.6 million, or 55 cents a share. That's a penny more per share than last year and exceeds Wall Street estimates by 7 cents a share. Shares were trading at $30.10.