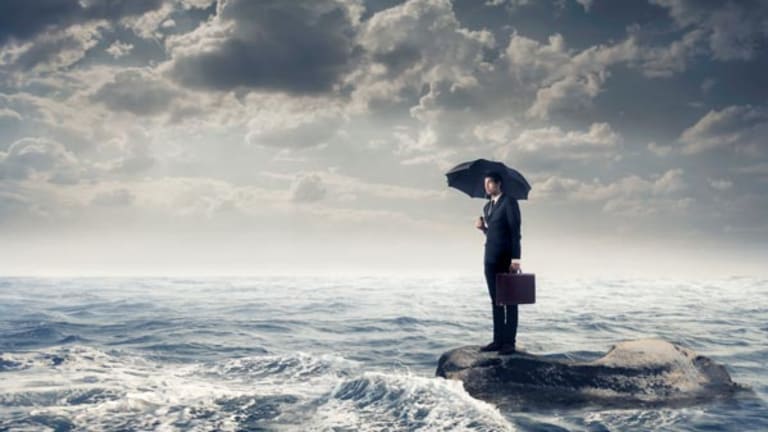 Wednesday's Financial Winners & Losers
A plan to buoy bond insurers may have helped lift financial stocks and the market.
Financial stocks started the day in the red as the market digested data pointing to higher inflation and fewer mortgage applications, but ultimately clawed their way back.
Investors were greeted Wednesday morning with the Labor Department reporting that the Consumer Price Index rose 0.4%, while analysts had expected the rise to be 0.3%. Food prices jumped the largest amount in eleven months. Not surprisingly, applications for new mortgages dropped 22.6% during the week ending Feb. 15 as most interest rates moved higher, according to the Mortgage Bankers Association's weekly application survey.
A plan to buoy some bond insurers, at the center of the credit and housing storms of late, may have helped lift financial stocks and the wider market.
MBIA
(MBI)
and
Ambac
( ABK) were enjoying gains after hedge fund activist Bill Ackman floated a plan to New York state Insurance Superintendent Eric Dinallo that would keep large bond insurers businesses intact. MBIA closed up 4.1% to $12.18, while Ambac's price ended flat at $9.94.
SWS Group
(SWS)
also was up on the news, as well as a report of a new contract. Shares gained 10.2% after
RTTNews
also reported that the Dallas-based regional brokerage firm inked a 1.7 billion British pound contract to support ProcServe's customer base and international growth expansion plans.
In the shadow of
Societé Generale's
rogue trader scandal and
Credit Suisse's
(CS)
mispriced portfolio,
ING
(ING)
managed to report an 18% gain in profit for the fourth quarter. While the company did mark down some assets, the exposure was limited and the market rewarded the effort by sending the stock up 2.2% to $32.71.
The
NYSE
Financial Sector Index closed up 75.54 to 7,510.69.
On the flip side,
KKR Financial Holdings
(KFN)
, a unit of one of Kohlberg Kravis Roberts, one the world's largest private-equity firms, saying it has delayed payment on billions in loans and opened debt restructuring talks with creditors. Instead of borrowing from banks, KKR raised money through secured liquidity notes. The payments were to begin on Feb. 15; instead they have pushed that payback date to March 3. The stock closed down 1.9% and once again heightened credit fears.
Also suffering was
Stewart Information Services
(STC)
which sank 6.8% after it reported a fourth-quarter loss of $31.3 million, or $1.74 a share, down from a year-ago profit of $10.7 million, or 59 cents a share. The Houston-based insurance and real estate information company attributed the lower results to the "sudden collapse" of the subprime mortgage market and a tightening of available credit. The latest results include charges of 72 cents a share related to the company's decision to increase reserves for nine large title claims and an additional reserve adjustment of $5 million to its incurred but not reported reserves because of an increase in the frequency of large claims.
HCC Insurance
(HCC)
tumbled 7% the morning after it reported its earnings after the close Tuesday, even though the profits were record-setting. The Houston-based specialty insurance company held its conference call Wednesday morning and while the current numbers beat analyst's forecasts, the projected earnings range of $2.90 to $3.20 per share was below the $3.38 they were expecting.