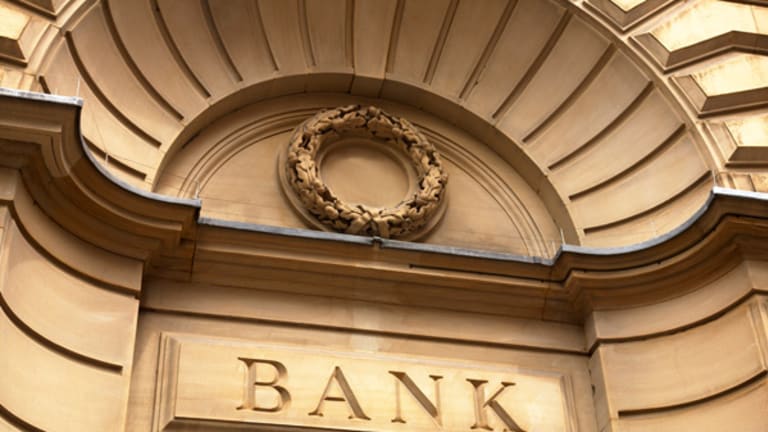 Wednesday's Financial Winners & Losers
Wachovia prices preferreds to improve capital situation.
Financial stocks were at the whim of the somewhat confused broad market on Wednesday, which had a strong midday bump following a flat start, then proceeded to slide into negative territory.
The
NYSE
Financial Sector Index ended down 77.38 points, or 1%, to 7528.41.
Regardless, among today's individual gainers was
Wachovia
(WB)
, which said it priced a
$3.5 billion preferred stock offering on Tuesday. CEO Tom Wurtz said it will "provide Wachovia
with a very strong Tier 1 capital ratio as we begin 2008 and we expect that we will continue to increase our ratio over the remainder of the year." Shares of the Charlotte, N.C., bank were rising 48 cents, or 1.4%, to $34.55.
Jefferies upped
Thornburg Mortgage
( TMA) to buy from hold a day after the Santa Fe, N.M., mortgage lender reported a
fourth-quarter profits, pushing shares up another 7.8% to $12.84.
But one of the sector's biggest price jumps came courtesy of
Penson Worldwide
( PNSN), a Dallas-based asset manager that posted fourth-quarter earnings of $10.2 million, or 39 cents a share, up from last year's 30 cents a share. Analysts were looking for 35 cents a share, according to Thomson Financial. Shares were soaring $1.90, or 19%, to $11.88.
MarketAxess
(MKTX)
added 7.7% to $9.70 after the New York online broker hit Wall Street estimates with flat per-share earnings of 6 cents, even though net income slid 14.7% year over year to $1.9 million. And
Cincinnati Financial
(CINF)
spent most of the day higher after operating income charged 52.9% higher to $1.07 a share, shattering the 74 cent average analyst target. Shares were recently up 3 cents at $37.81.
On the flip side, futures exchanges were losing ground after
The Wall Street Journal
reported that the Justice Department had recommended that the firms no longer own or control the clearing business for financial futures.
CME Group
(CME)
shares were plunging $92.76, or 15.8%, to $496.04.
Nymex
( NMX) only deals in energy and metals futures, but it's also in
exclusive talks to be taken out by CME. Shares of Nymex slid 16.3% to $89.26, and
IntercontinentalExchange
(ICE)
was losing 7% to $115.95 in recent trading.
Elsewhere, bond insurer
MBIA
(MBI)
lost 5% to $14.16 one day after Fitch Ratings joined both Moody's and Standard & Poor's in putting the Armonk, N.Y., firm's crucial triple-A rating on review for downgrade.
MBIA rival
Ambac
( ABK), which has already been cut by Fitch but whose rating was reaffirmed at S&P amid last week's news that a bank consortium may
throw it a life raft, was sinking 2.6% to $11.10.
PMI
( PMI), which also deals in financial guaranty, was slipping 7.5%.
Meanwhile, New York-based
National Financial Partners
(NFP)
said fourth-quarter cash earnings will probably range between 82 cents and 83 cents a share against analysts' 95-cent expectations. Those results include a higher tax rate, among other items, without which cash EPS would have been 89 cents to 90 cents, according to the firm. Bank of America cut the stock to neutral from buy, after which shares plummeted $9.01, or 24.3%, to $28.06.