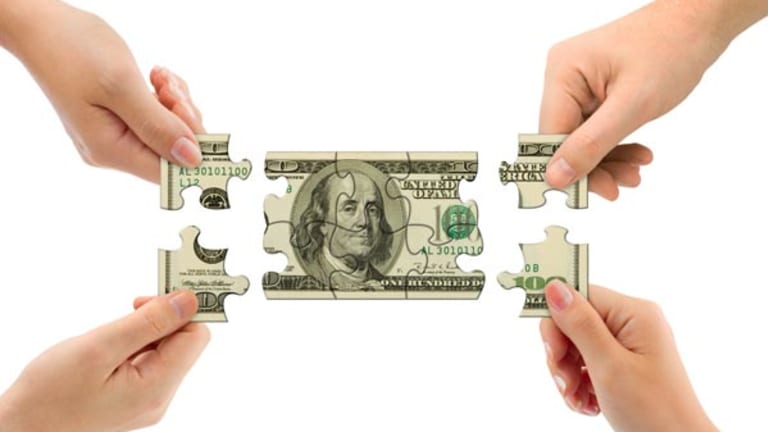 Wednesday's Financial Winners & Losers
E*Trade soars on insider buying.
Financial stocks started off generally dragging lower on Wednesday amid the usual slew of bad news, but the
Federal Reserve's
50-basis-point
interest rate cut this afternoon spurred the sector choppily higher along with the rest of the market.
Recently, the
NYSE
Financial Sector Index was up 0.6% at 7,969.19, and the KBW Bank Index gained 0.3% at 86.81.
Today's rate slashing comes on the heels of last Tuesday's giant
three-quarter-point cut, which was an emergency response to the prior day's fear-ridden worldwide market plunge.
Still among Wednesday's financial decliners, however, was insurer
Allstate
(ALL) - Get Allstate Corporation Report
. The Illinois-based firm said fourth-quarter operating income dropped 37.5% year over year to $701 million, or $1.24 a share -- 8 cents under the average analyst estimate, per Thomson Financial.
As Allstate warned last month, claims regarding the Southern California wildfires in October weighed in heavily, with associated costs totaling $318 million. That's near the low end of the range Allstate originally cited, but it still helped vault total catastrophe-related losses by 69.2% year over year to $472 million. Allstate shares were recently off $1.89, or 3.6%, to $50.36.
Swiss bank
UBS
(UBS) - Get UBS Group AG Report
also wound down after estimating a 2007 loss of $4.03 billion (4.4 billion Swiss francs), firming significantly from last month's prediction that a full-year loss was merely "possible."
As for fourth-quarter losses from U.S. mortgage exposure, UBS upped its December subprime-writedown estimate by $2 billion to $12 billion, and expects to write down $2 billion from other mortgage-related losses. Its fourth-quarter loss should come to some $11.48 billion. Shares were down substantially today before hoisting themselves up to a 2-cent loss at $43.03.
In downbeat analyst notes,
T. Rowe Price
(TROW) - Get T. Rowe Price Group Report
was cut to underperform at Friedman Billings a day after the investment manager advised its investors "to have modest market return expectations" as the broad market "goes through a period of transition and adjustment," even as it topped fourth-quarter expectations. Shares were losing significant ground earlier, but recently hovered around the flat line.
Michigan's
Flagstar Bancorp
(FBC) - Get Flagstar Bancorp, Inc. Report
swung to a fourth-quarter loss from a year-earlier profit, after which Moody's knocked its long-term deposit rating to Baa2, according to the
Associated Press
. That's just a notch above junk status. Shares were sliding $1.04, or 12.5%, to $7.27.
Insurer
Conseco
(CNO) - Get CNO Financial Group, Inc. Report
was cut to neutral from outperform at Credit Suisse, and
Merrill Lynch
( MER) got an Oppenheimer downgrade to underperform. Conseco shares were down 2.2%, though Merrill was recently paring back today's early losses to just 13 cents at $57.34.
The Oppenheimer analyst, Meredith Whitney, also cut UBS and
Citigroup
(C) - Get Citigroup Inc. Report
. She predicted that the trio would be among the hardest hit by the downward spiral of bond insurers
MBIA
and
Ambac
( ABK), since they collectively hold some 44% to 45% of that risk exposure.
The struggling bond insurers, which depend heavily on their pristine triple-A rankings at credit-rating agencies, have been under intense fire lately: earlier this month, Moody's put MBIA on review for downgrade and Ambac's rating got
cut by Fitch. Ambac is also on review for downgrade at both Moody's and Standard & Poor's.
Citi shares traded lower for most of the day, but shot up 1.7% at $28.39 following the rate-cut announcement. MBIA stock lost 7.1% lately and Ambac was down 2.1%.
Among the day's solid winners was online broker
E*Trade
(ETFC) - Get E*TRADE Financial Corporation Report
after 10 directors upped their holdings in the company, among them acting CEO R. Jarrett Lilien. He picked up about another 7,000 shares for a total stake of 892,694 shares. Donald Layton more than tripled his E*Trade interest to some 365,000 shares, and Randal Lewis brought his direct holdings above the 500,000-share mark with a 29,500-share purchase. E*Trade shares were lately jumping 13.8% at $4.71.
Lehman Brothers
( LEH), meanwhile, hiked up its annual dividend by 8 cents to 68 cents a share and said it would bring its share-repurchase authorization back to the 100-million-share sum it had established a year ago. That amount takes into account the diluting effect of stock option grants. Lehman shares were up 71 cents, or 1.1%, to $63.24.
Insurer
Chubb
(CB) - Get Chubb Limited Report
tacked on 3.5% at $52.66 after fourth-quarter operating income added 9.6% year over year to $1.60 a share, beating the consensus estimate by 13 cents a share. Asset manager
Lazard
(LAZ) - Get Lazard Ltd Class A Report
also came in ahead for the quarter, and
Oppenheimer
(OPY) - Get Oppenheimer Holdings Inc. Class A Report
more than doubled its earnings to $26.5 million, or $1.94 a share, vs. a year ago.
Lazard shares were taking back 5.9% to $37.75 as Oppenheimer leapt 8.3% to $42.72.
Elsewhere in the green,
South Financial
( TSFG), of South Carolina, gained 6% to $17.04 following a Keefe Bruyette bump to market perform from underperform. And
Marsh & McLennan
(MMC) - Get Marsh & McLennan Companies, Inc. Report
, a New York-based insurance broker, garnered upgrades at both Stifel Nicolaus and Credit Suisse after it installed
Ace
(ACE)
founder Brian Duperreault as its new CEO.
MMC said last month that it would oust Michael Cherkasky from the chief executive role as soon as it found a fitting replacement, citing a worse-than-expected financial performance in 2007. Shares were rising 2.3% to $28 in recent trading.