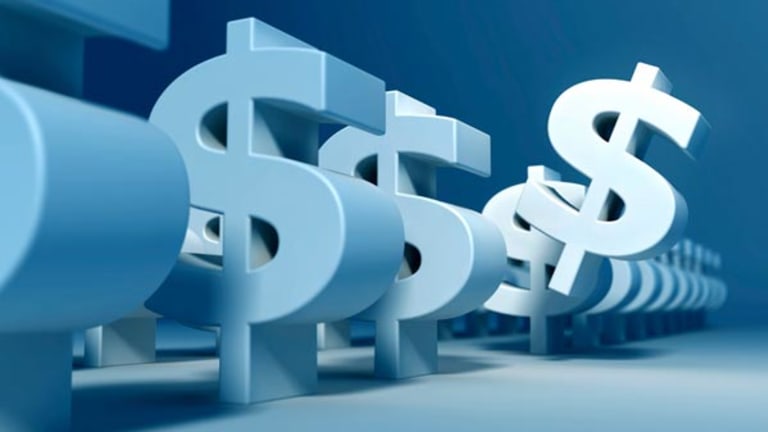 Publish date:
Wednesday's Financial Winners & Losers
MasterCard's beat led the way for financial stocks Wednesday.
MasterCard's beat led the way for financial stocks Wednesday.
Financial stocks generally hovered over the high-riding major indices Wednesday, bolstered by various good news and the
Federal Reserve's
interest rate cut.
Helping things along was
MasterCard
(MA) - Get Report
, shares of which ballooned 22.9% on
positive third-quarter results. The Purchase, N.Y., credit-card issuer said it made $314 million, or $2.31 a share, including a gain of 51 cents a share from a partial sale of its stake in Brazil's Redecard. Analysts polled by Thomson Financial had called for earnings to stay flat with last year's $1.42 a share.
Revenue surged 20.1% to $1.08 billion to best the $1.03 billion average analyst target. Shares were adding $36.03 to $193.18.
Deutsche Bank
(DB) - Get Report
saw sinking revenue in the third quarter, but the German bank also said income jumped 31% from last year to roughly $2.31 billion (1.6 billion euros), or about $4.79 a share. Its stock rose 3.6% to $133.47 on the
New York Stock Exchange
.
Commerce Group
(CGI)
, meanwhile, leapt 17% after Spain's MAPFRE agreed to buy the Webster, Mass., insurer for $2.21 billion in cash (1.54 billion euros), or $36.70 a share. That represents a 22.5% premium over its average share price for the past 30 days, according to the companies. Commerce shares were surging $5.28 to $36.40.
Meanwhile,
UnitedHealth
(UNH) - Get Report
renewed its stock-repurchase program and boosted the authorization to 210 million shares, of which about 50 million were rolled over from the prior program. Shares of the Minneapolis-based company gained 2.2% to $48.97.
Fellow health insurer and managed-care provider
WellCare Health Plans
(WCG) - Get Report
finally took back some of the past few days' mammoth
federal raid-spurred losses, with shares recently tacking on 3.3% to $22.77. And
Merrill Lynch
( MER) investors were
regrouping a day after the official
ouster of CEO Stanley O'Neal, whom sources recently confirmed will get about a
$160 million severance package. The broker's stock ticked up 1.8% to $66.39.
Elsewhere,
Citigroup
(C) - Get Report
announced that it had signed a definitive share-exchange agreement with Japan's
Nikko Cordial
, bringing the firms one step closer to completing their previously announced merger pact. Citi said the exchange ratio will be determined by its average stock price from Jan. 15 through Jan. 17, and the effective date will be Jan. 29. Shares of Citi recently were losing 12 cents to $41.99.
The NYSE Financial Sector Index, which tracks most of the above names, was jumping 102.55 points, or 1.1%, to 9,377.09. The KBW Bank Index rose 0.33% to 103.08.
On the flip side,
LandAmerica Financial
( LFG) was losing 13.1% -- one of the sector's biggest price drops -- after the title insurer swung to a third-quarter loss of $20.8 million, or $1.28 a share, from a year-ago profit of 89 cents a share. Revenue slid 8.9%. The Glen Allan, Va., firm blamed broad housing-market woes, among other factors. Shares were off $4.22 to $27.93.
Lincoln National
(LNC) - Get Report
, another insurance company, slumped 5.2% after third-quarter income from operations slipped year over year to $352.9 million, or $1.29 a share. Analysts were looking for 8 cents more per share.
RenaissanceRe
(RNR) - Get Report
beat on third-quarter earnings but came in below revenue estimates. And
New Alliance Bancshares
( NAL) cut its quarterly profit vs. last year by more than half to $7.4 million, or 7 cents a share. Excluding special items, earnings totaled 13 cents a share, which tops two analysts' calls by a penny.
Shares of the firms lost 4.9% and 7.7%, respectively.