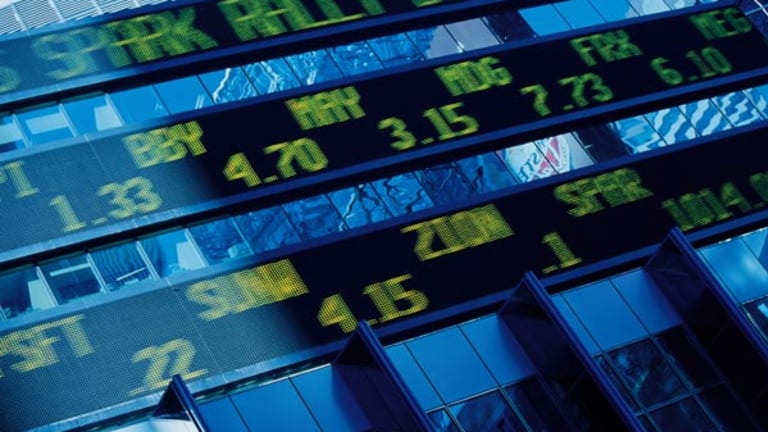 Wednesday's Early Winners & Losers
Shares of ICF International rise on a fourth-quarter profit.
Shares of ICF International rise on a fourth-quarter profit.
ICF International
(ICFI) - Get Report
surged nearly 21% in after-hours trading Tuesday as the consulting firm swung to a fourth-quarter profit of $9.2 million, or 65 cents a share, on revenue that more than doubled year over year to $113.9 million. Analysts polled by Thomson Financial were looking for 30 cents a share on $100 million in revenue; year-ago losses had totaled $1 million, or 11 cents a share.
The Fairfax, Va., company also projected 2007 revenue of between $480 million and $520 million, which would handily beat the $399 million consensus. Shares were rising $3.39 to $19.60 in recent after-hours action.
Oracle
(ORCL) - Get Report
said it earned $1.3 billion, or 25 cents a share (on a non-GAAP basis), up from year-ago income of $1 billion, or 19 cents a share. The Street was seeking 23 cents a share. Revenue shot up 26% from last year, sliding past the mean target by $117 million. The Redwood City, Calif., application-software maker was gaining 72 cents, or 4.1%, to $18.27.
Adobe Systems
(ADBE) - Get Report
, which develops software for Web design, publishing and other uses, was flying high on better-than-expected results for the quarter ended March 2. Excluding items, earnings came to $182.3 million, or 30 cents a share. This represents a 2-cent per-share decline from last year, but it beats consensus by a penny. Shares were gaining $1.30, or 3.2%, to $42.04.
FSI International
( FSII) plunged more than 15% after the Chaska, Minn., maker of semiconductor equipment said it lost 2 cents a share in the fiscal second quarter, excluding items. Last year it lost 11 cents a share on a non-GAAP basis, but analysts were looking for the company to break even. Revenue, at $33.4 million, was just shy of Wall Street expectations. Shares were sinking 74 cents to $4.14 in recent after-hours action.
Cintas
(CTAS) - Get Report
, a business-services firm, fell on disappointing results and deflated full-year guidance. For the quarter ended Feb. 28, the Cincinnati-based company posted income of $76.7 million, or 48 cents a share, on $905.4 million in sales. Analysts were seeking 52-cent per-share profits on revenue of $925.1 million.
In addition, the company now expects fiscal 2007 per-share earnings of between $2.03 and $2.08 on revenue of $3.68 billion to $3.73 billion. Cintas' previous outlook had projected profits of $2.10 to $2.20 a share on $3.77 billion to $3.85 billion in sales. Shares were sliding $2.71, or 6.7%, to $37.80.
U.S. Auto Parts Network
(PRTS) - Get Report
swung to a small fourth-quarter loss of break-even per share, compared with year-ago profits of $2.1 million, or 16 cents a share. For full-year 2007, the Carson, Calif., auto-parts retailer's bottom line should range between break-even and a loss of 2 cents a share. Its stock was losing 17 cents, or 1.5%, to $10.90 in recent after-hours trading.