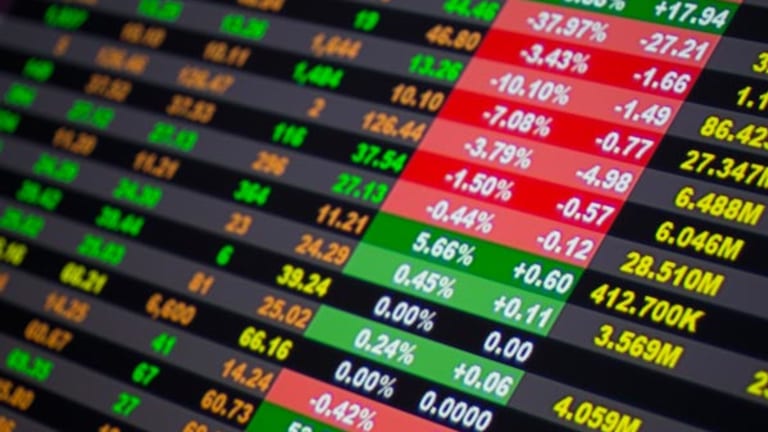 Wednesday's Early Winners & Losers
Dell soars as its earnings beat Wall Street estimates.
Dell
(DELL) - Get Dell Technologies Inc Class C Report
soared 8.8% in after-hours trading Tuesday on better-than-expected preliminary results for the quarter ended Nov. 3.
The computer maker said it earned $677 million, or 30 cents a share, easily beating analysts' 24-cents-a-share consensus estimate, according to Thomson Financial. The Round Rock, Tex.-based company met analysts' revenue expectations as well, bringing in a top-line total of $14.4 billion. The company noted that these results are subject to change. Final results -- for both this quarter and the quarter ended Aug. 4. -- will be issued pending completion of the
Securities and Exchange Commission's
investigation into the company's financial reporting. Shares were up $2.18 to $27.00.
Brocade Communications
(BRCD)
gained after the storage company beat Wall Street expectations for the quarter ended Oct. 28.
The San Jose, Calif.-based company essentially doubled its profits, posting income of $39.4 million, or 14 cents a share, compared with $19 million, or 7 cents a share, a year ago (excluding items). Revenue rose 44% from a year ago to $208.8 million. Analysts had projected earnings of 12 cents a share on sales of $203.5 million. Shares were up 38 cents a share, or 4.5%, to $8.87.
Specialty-apparel retailer
J. Crew Group
( JCG) rose after it swung to a profit in the period ended Oct. 28 and boosted its full-year outlook.
The New York-based company posted income of $26 million, or 40 cents a share, compared with a loss of $300,000, or a penny a share, a year ago. Revenue was up 23% to $275.6 million, and same-store sales increased 19% -- a 16-point improvement over the year-ago period. Looking ahead, the company now forecasts full-year earnings to be between 95 cents and 97 cents a share, up from its previous guidance of 86 cents to 88 cents a share. Shares were up $1.25, or 3.5%, to $36.60.
Payless Shoesource
(PSS)
jumped on widening third-quarter profits.
For the period ended Oct. 28, the discount shoe retailer earned $28.9 million, or 43 cents a share, including a one-time loss of 3 cents a share related to discontinued Japanese operations. This compares with income of $21.9 million, or 32 cents a share, a year ago; the company narrowly squeezed past analysts' 42-cents-a-share projections. Sales totaled $703.4 million, up from $666.5 million a year ago, a figure that topped estimates by about $10 million. Shares were up 79 cents, or 2.8%, to $29.10.
Openwave Systems
( OPWV) fell after the Redwood City, Calf.-based company announced that it had received a second warning from Nasdaq saying that the company may be delisted from the exchange for failure to file its third-quarter reports in a timely manner.
The first Nasdaq letter was sent in response to the software company's prior failure to punctually file its Form 10-K for the year ended June 30, for which the software company has since requested a hearing before the Nasdaq Listing Qualifications Panel. Both delisting actions are automatically stayed until the Nasdaq Panel makes its decision. Shares were down 21 cents, or 2.5%, to $8.24.
PDL BioPharma
(PDLI) - Get PDL BioPharma, Inc. Report
plummeted on news that Roche Holding had ended its partnership with the Fremont, Calif.-based pharmaceutical company.
The two companies had been working together to develop daclizumab -- an immunosuppressive agent -- therapies for purposes of organ transplants. The agreement will formally end in May 2007. Shares were down 92 cents, or 4.1%, to $21.75.