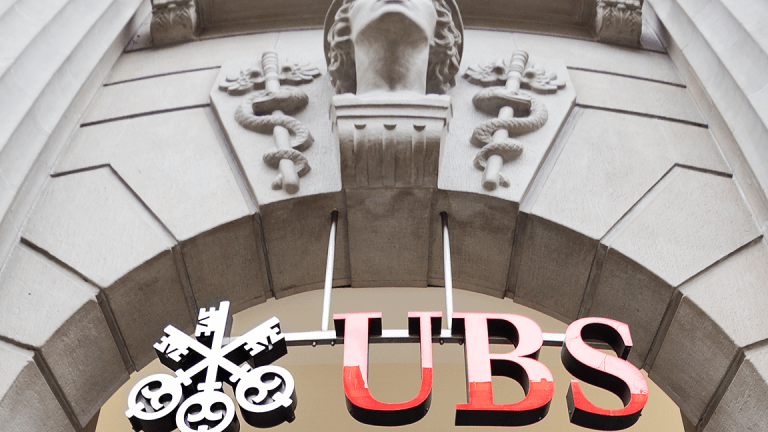 UBS Profit Rises Slightly but Hampered by Wealth Management, Investment Banking
The Swiss bank says operating income in the second quarter fell at its wealth management and investment banking divisions.
Swiss-based financial services company UBS  (UBS)  posted a slight increase in second-quarter earnings thought the results were hampered in part by its sluggish wealth management and investment banking divisions.
The bank also warned that lower interest rates and politics could impede growth in future profits.
Profit after taxes in the quarter was $1.392 billion, slightly higher than $1.382 in the same period a year ago.
That equates to earnings per share of 37 cents vs 36 cents  in last year's second quarter. Earnings were in-line with analysts' forecasts.
Operating income fell from a year ago but still surpassed Wall Street expectations. The firm said it raked in $7.5 billion in the quarter vs. $7.6 billion a year ago. Wall Street expected  $7.3 billion.
The wealth management division, which serves high net worth individuals and holds the lions share of the company's business, saw operating income drop from $4.2 billion in last year's second quarter to $4.1 billion in the recent period.
"Recurring net fee income recovered quarter-on-quarter, although down YoY, as invested assets rose to a record by the end of June 2019," the bank said in a statement.
The second-largest division, investment banking, also saw a dip in operating income, which fell to $2.1 billion in the second quarter from $2.2 billion a year ago.
The firm warned investors that the banking industry generally faces some headwinds. These include falling interest rates as well as disputes between a variety of countries that could hamper growth.
"Downside risks remain due to political uncertainties and geopolitical tensions," the firm stated. "A sharp drop in interest rates and expected rate cuts will continue to adversely affect net interest income compared with last year."
Constable owns none of the securities listed in this story.