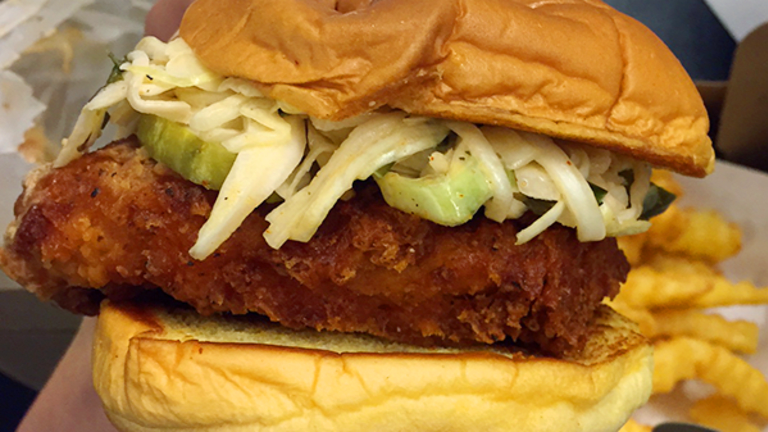 We Tried Shake Shack's New Limited Edition Spicy Chicken Sandwich and Couldn't Have Been Happier
It's essentially a varsity version of KFC's Nashville Hot Chicken.
Shake Shack (SHAK) - Get Shake Shack, Inc. Class A Report  is carrying a limited-edition Hot Chick'n sandwich in six stores across the U.S., and I happily agreed to try it out and share my experience because I am nothing if not a giver (with ulterior motives surrounding food). 
The following are the emotional takeaways from my culinary journey that was in many ways, the varsity version of last year's release of KFC's Nashville Hot chicken sandwich (owned by Yum! Brands (YUM) - Get Yum! Brands, Inc. Report for you stock fans out there).
- The signature Shake Shack bread was consistently Good with a capital 'G' because it's bread and carbs are life. It was also a potato roll, truly hard to screw up.
- The breadth and width of the chicken was pleasing, even though there was one breaded chicken patty. They didn't skimp on the meat, and the overall spiciness of the chicken piqued my interest without sending me stumbling for water.
- The coleslaw and pickles were a nice touch. I enjoy copious amounts of both on any given occasion, but they complemented the spiciness of the fried chicken, dulling the heat and adding texture.
After I was done my seat mate asked me if I was a changed person. I would have to say no, but I was certainly less hangry (hungry + angry). I was somewhat concerned about my overall calorie consumption for the day, however.
Shares of Shake Shack have gained about 6% to $37.90 this year. 
Visit here for the latest business headlines.
Editors' pick: Originally published June 16.