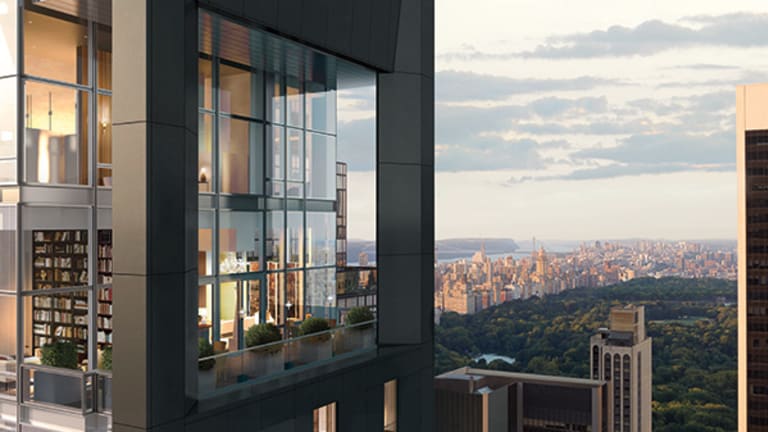 Ways to Avert Damage From Chinese Western Property Pullback
Investors should stay away from pure-play residential REITs and real estate agencies.
This column originally appeared at 8 a.m. EST on Real Money, our premium site for active traders. Click here to get great columns like this from Jim Cramer and other writers even earlier in the trading day.
The story I wrote last week about President Donald Trump risking crashing the New York real estate market with his tough stance of China raised some interest among subscribers.
In a nutshell, the story argued that as China tightens capital controls to try to put a floor under its currency, Chinese investors no longer will be able to keep up the pace of property buying in hotspot cities around the world, potentially causing a crash of overheated markets.
Some subscribers have emailed to ask what instruments are available out there to short the New York real estate market and other global hotspots, most notably London.
While I do not like the idea of shorting anything, it is very risky, because you must be absolutely certain not just about the validity of your thesis, but also about the timing. I was curious to see what securities are out there that offer exposure to these hot markets that, with Chinese investment slowing, seem to be cooling off.
The iShares Residential Real Estate Capped ETF (REZ) - Get iShares Residential and Multisector Real Estate ETF Report has the word "residential" in its name but is more than that, as it tracks a market-cap weighted index of U.S. residential, health care and self-storage real estate investment trusts (REITs).
Financial data and information company FactSet says this ETF "could be thought of best as an ex-commercial REIT play," but adds that it has "decent liquidity and efficiency." Residential REITs make up 48% of this ETF, so it does offer pretty good exposure to residential real estate.
If you are looking for a purely residential instrument, there's the Equity Residential REIT (EQR) - Get Equity Residential of Beneficial Interest Report , which has real estate guru Sam Zell as one of its founders. It develops, buys, operates and manages multifamily residential properties, mainly in New York, Boston, San Francisco, Washington, D.C., Seattle and Southern California.
This REIT reports results for the fourth quarter of 2016 today after the market close. FactSet says the consensus estimate of analysts sees EQR posting funds from operations (FFO) of $0.79 per share in the quarter, which would be lower than $0.93 in the same period of 2015.
Equity Residential's stock price lost more than 21% over the past year as its sales declined every quarter by low double-digit percentages year on year. Along with a slowdown in Chinese investment, the real estate market also is faced with a slowdown in the creation of high-paying jobs as well as a glut of new apartments coming to the market.
With interest rates bottoming and set to rise, at least according to some analysts, exposure to mortgage-backed securities is another area to watch. The Ellington Residential Mortgage REIT (EARN) - Get Ellington Residential Mortgage REIT of Beneficial Interest Report specializes in purchasing, investing in and managing residential mortgage and real estate-related assets.
It is set to report earnings for 2016 on Feb. 21, with FactSet analysts estimating FFO of $1.40 a share for the year, which would be much higher than the $0.025 it posted in 2015. The REIT's stock price has gained almost 14% over the past year.
Across the ocean, in the U.K., things are more complicated. There are plenty of REITs listed, but only three are purely residential; of these, one offers exposure to student property, and another to social housing.
Only the third one, K&C REIT (KCR:LON), offers a play specifically on the residential market. It sources, finances, improves, lets and manages properties to create property portfolios mainly focused on London, in locations such as Kensington & Chelsea, Westminster and the surrounding prime real estate areas.
Its shares are up more than 7% over the past year, but the rise looks set to cool down. According to recent data, property sales fell 21% year on year in December in Kensington and Chelsea, while prices were down more than 12% in Chelsea and almost 4% in Kensington over the same period. Still, it is possible that the lettings market will keep up better than the sales market, which would benefit this REIT.
The shares of London-focused real estate agents already have suffered heavy losses, particularly Foxton's (FOXT: LON), which is concentrated on prime London properties. Foxton's share price lost more than 42% over the past year. By contrast, Savills (SVS:LON), which is diversified into sectors such as commercial property, has nudged up 2.45% over the same period.
Shorting property hotspots because you are banking on a big retreat of Chinese investors is surely not a straightforward, riskless bet. On the other hand, banking on continuing double-digit property price increases in hotspots around the world is no longer that straightforward, either.
Employees of TheStreet are restricted from trading individual securities.