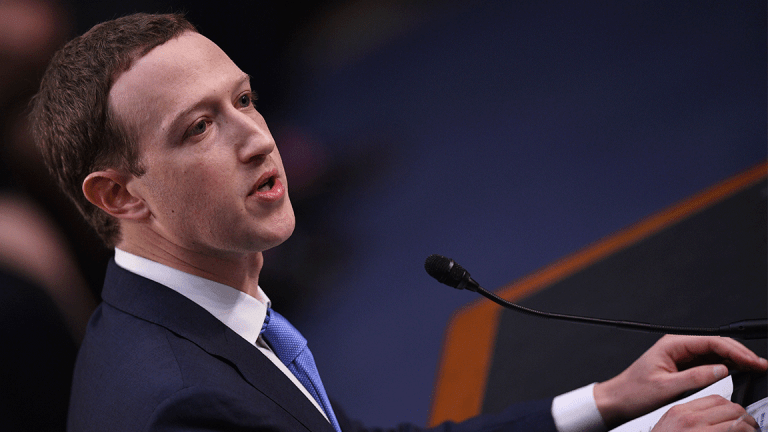 Facebook's Zuckerberg Says Regulation Is 'Inevitable' - Watch CEO's Hearing Live
Facebook's CEO is back in Washington D.C. on Wednesday, this time to testify before the House Committee on Energy and Commerce.
Facebook Inc. (FB) - Get Meta Platforms Inc. Report CEO Mark Zuckerberg will be testifying before Congress again Wednesday morning.
The House Committee on Energy and Commerce hearing began at 10 a.m. April 11, entitled "Facebook: Transparency and Use of Consumer Data." Tuesday, Zuckerberg faced two Senate committees and answered a gauntlet of questions over the course of six hours about Cambridge Analytica, data privacy and possible regulation of the social media giant.
Zuckerberg offered similar comments in his opening statement to the House that he served in his opening statement to the Senate. He accepted blame, offered solutions to fix Facebook's problems and, once again, said he is "committed to getting this right."
The first question Zuckerberg faced out of the gate came from Rep. Greg Walden (R., Ore.), who asked specifically if Facebook is a media company given that it hosts and produces content.
"I consider us to be a technology company because the primary thing that we do is have engineers who write code and build product and services for other people though there are certainly other things we do, too," Zuckerberg said. "We do pay to help produce content. We build enterprise software, although I don't consider us an enterprise software company. We build planes to help connect people but I don't consider ourselves to be an aerospace company."
Next came Rep. Frank Pallone (D., N.J.), who directly asked Zuckerberg if Facebook planned to change any user privacy settings to better protect their data. When Zuckerberg responded with an affirmative yes, Pallone said, "I don't see that in the changes that you propose."
"It's time for this committee, and this congress, to pass comprehensive legislation to prevent incidents like this in the future," Pallone said.
Zuckerberg said regulation in his industry is "inevitable."
Rep. Fred Upton (R., Mich.) asked the CEO if Congress should "be more focused on the needs of startups over large incumbents," following by inquiring if Zuckerberg might think differently of regulation if he were starting his company today instead of running a Fortune 500 firm.
"To your point about competition, the average American uses about eight different apps to communicate and stay connected to people," Zuckerberg answered. "So there's a lot of competition that we feel every day and that that's an important force that we definitely feel in running the company."
Rep. Gene Green (D., Texas) focused his questioning on whether Facebook would implement upcoming European data privacy controls across the world. Europe will enact in May the General Data Protection Regulation, or GDPR, aimed at strengthening data protection for users within the European Union.
"We believe that everyone around the world deserves good privacy controls we've had a lot of these controls in place for years," Zuckerberg said. "The GDPR requires us to do a few more things and we're going to extend that to the world."
Rep. Marsha Blackburn (R., Tenn.) pressed Zuckerberg to answer who owns what she called "the virtual you."
"Everyone owns their own content and that is the first line of our terms and services," the CEO responded. He continued, "Giving people control of their information and how they want to set their privacy is foundational to the whole service. It is not just an add-on feature or something."
Rep. Mike Doyle (D., Penn.) offered a terse line of questioning to Zuckerberg. He asked, "Why should we trust you to follow through on these promises when you have demonstrated repeatedly that you are willing to flop your own policies and government oversight when the needs suit you?"
Zuckerberg responded, "I disagree with that characterization. We have had a review process for apps for years and have reviewed tens of thousands of app per year and taken action against some of them."
Doyle concluded following Zuckerberg's response, "To my mind, the only way to close this trust gap is through legislation."
Rep. Jan Schakowsky (D., Ill.) ran through a number of Zuckerberg's public apologies dating as far back as 2006, when Zuckerberg was still at Harvard University. Many of the snippets the lawmaker recited out loud sounded similar in tone and verbiage.
"This is proof that self-regulation does not work," the congresswoman said.
Facebook stock traded lower 0.4% to $164.41 in late-morning trading on Wednesday.