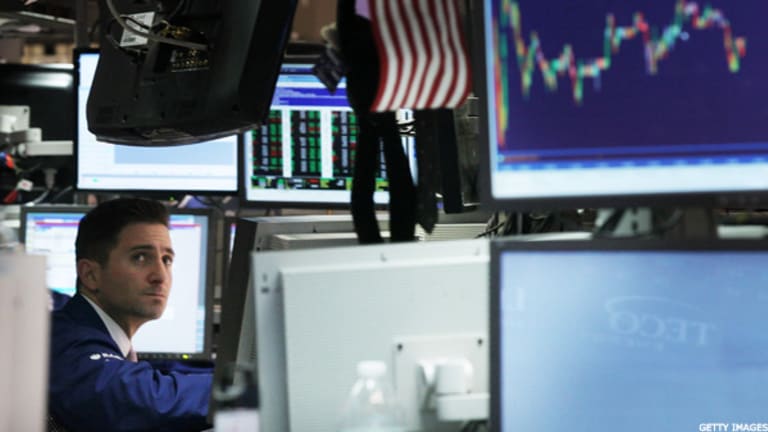 NEW YORK (Real Money) -- In order to engage and satisfy my inner geek I spend a lot of time surfing various business school Web sites for new research and interesting projects. One of the more interesting sites is that of the Ross School of Business at the University of Michigan. The Tozzi Financial Center at the school has a site that tracks what it calls earnings torpedoes. Using some basic academic concepts such as value, momentum, quality and predictability, the center looks for stocks that can blow up your portfolio when a negative earnings surprise sends them tumbling. The center has done a good job of finding potentially losing stocks; a long portfolio of these explosive stocks has lagged the market in 10 of the last 14 years.
I previously wrote about earnings torpedoes in March and mentioned two specific stocks that the school listed as potential torpedo candidates. LinkedIn (LNKD) shares fell to about $140 from around $200 in the months after the article, before recovering in the second half of the year. Shares of Yelp (YELP) - Get Yelp Inc Report fell and didn't recover as the decline has extended to less than $60 from a little over $100 per share. It appears that the kids at the University of Michigan are onto something with this list, and it's worth paying attention to these potential portfolio killers.
When I look at the current list of 100 potential torpedo stocks, the most obvious observation is that health care dominates the list. Half of the stocks are in the health care sector. This makes sense. Although health care is and will be one of the stronger sectors of the economy, the valuations have been high for some time. It has literally been years since I could find a health care company that would qualify as a cheap stock based on metrics such as price-to-book value or enterprise value-to-earnings before interest, taxes, depreciation and amortization. A deeper look shows that almost all these stocks are biotech names, which makes sense. The biotechs, especially the smaller ones, reached levels that I consider dangerously speculative a long time ago. Those who do not have a degree in biotechnology or access to one should best avoid these stocks.
Some interesting issues among the nonbiotech stocks could potentially blow up your portfolio. Tesla (TSLA) - Get Tesla Inc Report makes the list of torpedoes. The controversial electric car company has seen its stock more than double in the past year, but there are cracks in the armor. There are concerns about the number of Model X cars it will deliver next year. One analyst cut the delivery estimate by two-thirds and lowered earnings estimates for the company. With a forward price-to-earnings ratio of 85, the company has very little room for error. Should an earnings miss or other unexpected bad news be announced, this stock could fall a long way.
SunEdison (SUNE) shares got a boost when Greenlight's David Einhorn recommended the stock at a recent conference, but investors might want to consider locking in those short-term gains and moving on. The stock makes the list of potentially dangerous stocks and, at current levels, it is easy to see why. The company is not profitable and will not be next year. It is heavily levered and trades at 15 times book value. The company is spending $2.4 billion to expand into wind power by buying Boston-based First Wind. It is using its yieldco subsidiary TerraForm Power (TERP) - Get TerraForm Power, Inc. Class A Report to buy the wind company and financing the deal with additional debt. Although I am a huge believer in the long-term potential of alternative power, I do not think it works as an investment today, especially when financed with debt, and I would be rushing to cash in my gains if I owned this stock.
I also found it interesting that two of the leading online real estate information services are identified as potential torpedo stocks. This fits in nicely with my thesis that the real estate and housing markets are not as strong as many observers seem to believe. Housing is just going to bump along near current levels until we see stronger creation of higher-paying, full-time jobs. If I am anywhere near close to right, then the students at the Tozzi Center are quite right in having both Zillow (Z) - Get Zillow Group, Inc. Class C Report and Move (MOVE) on their list of dangerous stocks. If housing is just going to plod along, then the online information sites will not see much growth in the near term. Neither stock is cheap, but at more than 100 times estimated earnings for the next year, Zillow is particularly worrisome from a valuation standpoint.
The earnings torpedo list has a solid record of picking underperforming stocks. It is worth checking it every month to make sure your favorite stocks are not in danger of exploding.
Editor's note: This article was originally published on Real Money on Nov. 19 at 1 p.m. EST.
At the time of publication, Melvin had no positions in the stocks mentioned., although positions may change at any time.
Tim Melvin is a writer from Stevensville, Maryland, who spent 20 years a stockbroker, the last 15 as a Vice President of Investments with a regional firm in the Mid Atlantic area. Under no circumstances does the information in this column represent a recommendation to buy or sell stocks. Melvin appreciates your feedback;
to send him an email.