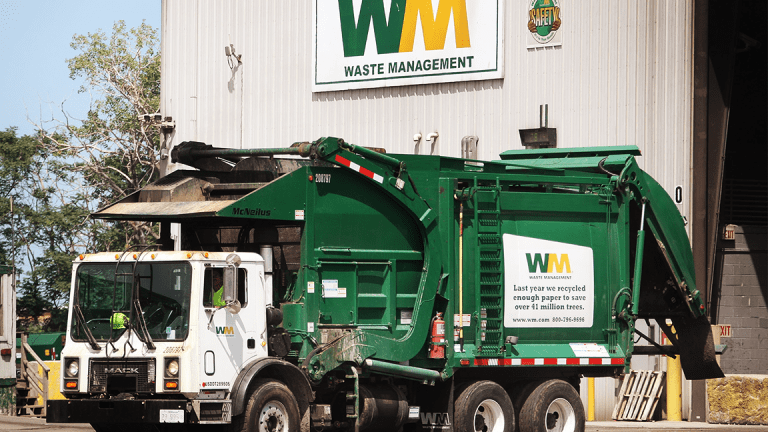 Commercial and residential waste clean-up company Waste Management (WM) - Get Waste Management, Inc. Report on Thursday reported earnings that surpassed analysts' estimates amid ongoing gains in its refuse collection and disposal business, though a drop in recycling revenue offset some of the gains.
The Houston-based company posted adjusted net income of $470 million, or $1.11 a share, vs. $438 million, or $1.01 a share, in the comparable year-earlier quarter. Analysts polled by FactSet had been expecting earnings of $1.08 a share.
Revenue for the second quarter was $3.95 billion compared with $3.74 billion for the same 2018 period, "driven by strong yield and volume growth in the company's collection and disposal business, which contributed $230 million of incremental revenue," Waste Management said.
However, this was partially offset by a $38 million year-over-year decline in revenue from the company's recycling line of business, which in part resulted from a 33% year-over-year drop in recycling commodity prices that the company is working to offset with via reduced expenses.
CEO Jim Fish said the company now expects its recycling business to be a 1-2 cent a share headwind in 2019, though "... we expect that our collection and disposal business will continue to generate strong earnings and more than offset an anticipated decline in our recycling business from depressed commodity prices."
The company reaffirmed its full-year 2019 guidance of adjusted earnings per share of $4.28 to $4.38, adjusted operating earnings before income, taxes, depreciation and amortization of $4.4 billion to $4.45 billion, and free cash flow of $2.03 billion to $2.08 billion.
Shares of Waste Management were up 0.61% at $116.51 in early trading on the New York Stock Exchange. They ended the day Wednesday down 1.19% at $115.80.