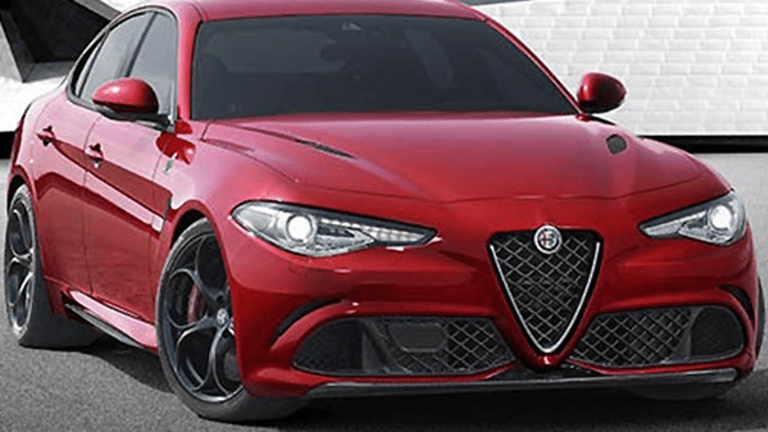 Was the Long Wait for Alfa Romeo Giulia Worth It? Yes, if Looks Mean a Lot to You
The Giulia sedan scores high for exterior beauty, but not terribly high in other luxury categories.
Fiat Chrysler Automobiles' (FCAU) Alfa Romeo Giulia has arrived in the U.S. -- finally -- after much anticipation and delay, a welcome entrant to the competitive sports sedans segment that includes the BMW's 3 Series, Volkswagen's (VLKAY)  Audi A4, Daimler's (DDAIF) Mercedes-Benz C Class and General Motors' (GM) Cadillac ATS.
Built in Italy, Giulia is the second of a series of Alfas, following the introduction of the 4C two-seater in 2014, that FCA hopes will resurrect the brand after a two-decade absence. Giulia was shown at the Los Angeles Auto Show in 2015. Its introduction in the U.S. was delayed in 2016 due to "technical immaturity," in the words of Sergio Marchionne, the automaker's chairman.
The first point that must be highlighted, in this reviewer's opinion, is Giulia's distinctive beauty. Italian automakers are celebrated for their sensuous imaginations when designing vehicles, and this one's exterior doesn't disappoint. In a luxury segment dominated by a rigid Teutonic sensibility, Giulia's skin is all about dreamy curves and apertures.
If you wish to distance yourself from the rest of BMWs and Audis in the neighborhood or at your golf club's parking lot, this is the luxury car for you. The valet's eyes may light up when you give her a chance to try something a little different.
The cabin in the TI all-wheel-drive version I tested displayed standard leather-clad luxury, with one scintillating addition: The start/stop button positioned to the left and within the steering wheel, the first example I've seen of this placement. The instrument panel screen was on the small side at 8.5 inches and the navigation, phone, media and other components seemed a bit slow and unintuitive compared to those in some other luxury cars. Steering and handling were tight and precise. Fit and finish so-so.
The Giulia version I drove came equipped with a 2.0 liter, 280-horsepower straight four-cylinder engine with direct injection turbo, providing ample power for urban and freeway settings. Base price was about $43,000, but the black metallic paint, 18-inch aluminum wheels, dual-pane sunroof, blind spot detection and other optional safety features quickly lifted the sticker price to $52,000. The basic and powertrain warranty endures for four years or 50,000 miles, whichever comes first. 
If you're interested in spending another $30,000 or so to gain head-snapping power, the Giulia Quadrifoglio comes with a 505-horsepower V6 powerplant containing a fair amount of Ferrari tweaking and know-how. Probably less than 10% of the buyers will choose the bigger engine, FCA said. And that's the case because you can snag Giulia's eye-catching good looks -- the car's best asset - for far less money.
Doron Levin is the host of "In the Driver Seat," broadcast on SiriusXM Insight 121, Saturday at noon, encore Sunday at 9 a.m.
This article is commentary by an independent contributor. At the time of publication, the author held no positions in the stocks mentioned.