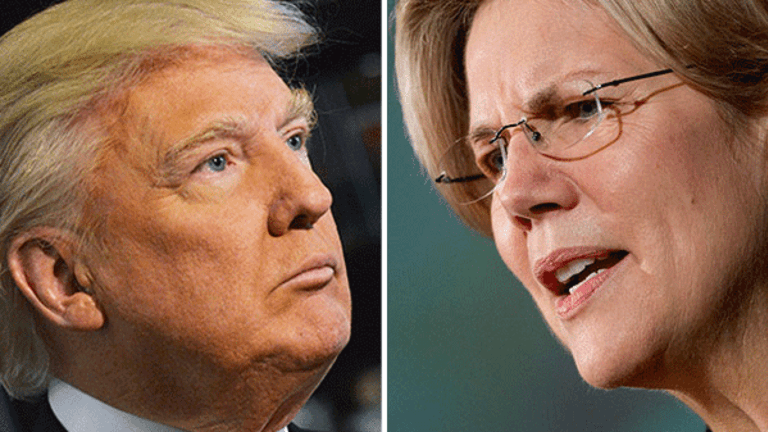 Warren Seeks Inquiry Into Icahn and AIG
The Massachusetts senator urged Treasury Secretary Mnuchin to find out if the billionaire activist had urged regulators to remove the insurer's SIFI designation
Sen. Elizabeth Warren on Thursday urged Treasury Secretary Steven Mnuchin to examine whether billionaire activist Carl Icahn had recently urged regulators in Washington to remove a costly "systemically important" designation imposed on American International Group Inc.  (AIG) - Get American International Group, Inc. Report in the aftermath of the 2008 financial crisis.
The Massachusetts Democrat and the other lawmakers have been raising concerns about Icahn ever since he became an informal adviser to President Donald Trump in late 2016.
At the center of her concern is a campaign Icahn has waged at AIG since 2015. The activist had initially pressured the insurance behemoth to break itself into three separate companies, partly so that it would drive regulators to drop a "Systemically Important Financial Institution" categorization imposed by regulators that comes with onerous regulatory burdens. A break up would likely have eliminated those burdens. 
However, Warren argues in her letter that Icahn last month had been easing off his demands for breaking up the company. In addition, with the shift from the Obama Administration to the Trump Administration there is now a greater possibility that the regulatory body that oversees AIG's SIFI requirement, the Financial Stability Oversight Council, could seek to remove the designation for AIG and another SIFI, Prudential Financial (PRU) - Get Prudential Financial, Inc. Report .
As a result, Warren suggested that there was "ample evidence" to suggest that Icahn, who recently reported owning a 4.7% AIG stake, would lobby for rule changes that benefit him. An Icahn official did not return a request for comment.
"There is ample evidence that Mr. Icahn will not hesitate to discuss and advocate for positions that benefit him personally, even with administration officials with whom he has interacted with in his 'Special Adviser' role," Warren and Sen. Sheldon Whitehouse, D-R.l., wrote in a letter to Mnuchin.
Mnuchin is the chairman of FSOC, which is made up of a number of other regulatory agencies charged with identifying future risks to the financial system. 
Nevertheless, another reason why Icahn may have been letting up of late is that the insurer's board decided in March to remove CEO Peter Hancock so it could avoid yet another proxy war with the insurgent investor. The recently installed CEO told consumer insurance investors at a meeting in May that he didn't come to AIG to break it up.
Icahn also reached a settlement with AIG in February 2016 at getting two seats on AIG's board. However, one of those directors, John Paulson of Paulson & Co., has resigned and the other director, Samuel Merksamer, no longer works for Icahn.
In addition, any move to de-designate AIG would create a firestorm of protest in Washington. The insurance giant was considered the poster child for the 2008 financial crisis, in part because it needed to receive a $182 billion taxpayer-funded bailout. FSOC designated AIG in 2013.