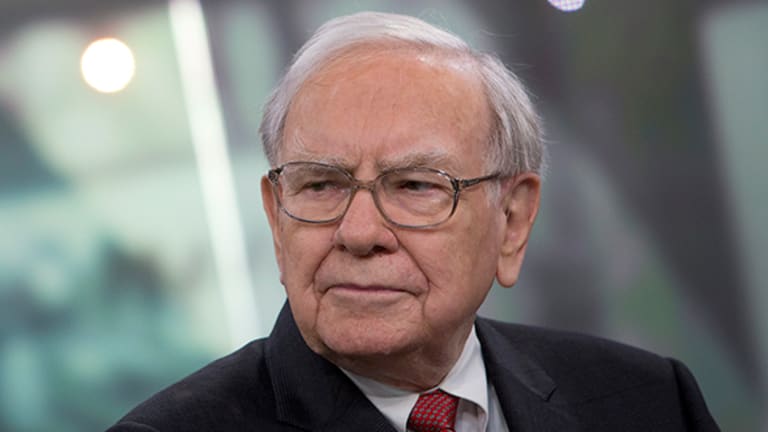 Warren Buffett's 7 Secrets to Dividend Investing Revealed
Warren Buffett is perhaps the greatest investor of all time. See the seven dividend investing methods he has used to compound his wealth.
NEW YORK (TheStreet) -- Looking for value? Then tap the ultimate value investor, Warren Buffett.
This article will show you the seven dividend-investing secrets that Buffett uses to grow his wealth consistently. Our findings are based on his spoken and written statements, as well as his holdings.
Take a look at Warren Buffett's five largest holdings:
All five of Buffett's largest holdings pay dividends. No doubt about it -- Buffett is a dividend growth investor. Wal-Mart has paid increasing dividends for over 40 years; Coca-Cola has paid increasing dividends for over 50 years. American Express, Wells Fargo, and IBM all pay dividends although they do not have as impressive a streak as either Coca-Cola or Wal-Mart.
Jim Cramer, Mad Money star, co-portfolio manager of Action Alerts Plus, a charitable trust portfolio, and Real Money columnist. Is also a fan of many of these stocks and Buffett's strategies. On Mad Money this week, he outlined five Buffett dividend picks that he likes. Now that the market may be slowing down, it's an especially good time to consider these plays, Cramer writes this week in Real Money, "Slowdowns tend to favor the stocks with bigger dividends because a slowdown presumes lower interest rates and lower interest rates mean stocks with outsized yields tend to prevail."
As usual, Buffett's advice seems especially prescient for whatever the market is up to. 
Buffett's dividend investing wisdom is explored in this article. (You will find many similarities between these secrets and The 8 Rules of Dividend Investing. The 8 Rules of Dividend Investing are based on the teachings of many great investors -- like Buffett -- and backed with historical financial results and academic studies.)
1. Look for Businesses with Long Corporate Histories
"Time is the friend of the wonderful company, the enemy of the mediocre" -- Warren Buffett
Buffett invests in businesses with long corporate histories. Wells Fargo, American Express, and Coca-Cola were all founded in the 1800s. IBM was founded in 1911. Wal-Mart was founded most recently out of Warren Buffett's top five. The company is practically a start-up compared to Coca-Cola, Wells Fargo, and American Express -- it's been around since 1962.
Companies with long histories offer investors fewer surprises. These businesses know exactly what they do, and they do it well. Very few businesses continue to be successful for decades. As technology progresses, industries change. Consumer tastes change as well. For a business to thrive for such long periods of time it must either continuously reinvent itself, or exist in an industry that changes slowly.
In looking at Buffett's top five holdings, we can see that four of the five stocks exist in slow-changing industries. The banking industry is very slow-changing. Technology advances and the financial creativity of the past 30 years have changed things somewhat for customers and the banks themselves, but they do not change the core business-model of banking, which is to provide safety and liquidity of capital. American Express is in a similar industry. Technology may increase the speed and frequency with which we can access our credit cards, but it does little to change the fact that consumers demand credit.
Coca-Cola has been selling soda for well over 100 years. The company has since diversified into juice, water, and tea to offer virtually every type of consumer a ready-to-drink beverage that appeals to them. The ready-to-drink beverage industry is notoriously slow changing. Soda volume has been slowly declining in the U.S. for years, but the decline is very gradual. This gives Coca-Cola plenty of time to change its strategy.
The advantage of investing in businesses with long corporate histories is that they are more likely to continue generating cash flows going forward. The slower an industry changes, and the longer a business has been around, the more likely that business has a strong competitive advantage that will survive far into the future. Investing in businesses with long histories is a conservative approach to investing. Warren Buffett looks for much more than just a few years of success before he is confident a business truly has staying power and a lasting competitive advantage.
2. Look for Businesses with Strong Competitive Advantages
"The key to investing is not assessing how much an industry is going to affect society, or how much it will grow, but rather determining the competitive advantage of any given company and, above all, the durability of that advantage." -- Warren Buffett
Buffett looks for businesses with strong, durable competitive advantages. To do well in stocks, you must think like a business owner. As a business owner, you would want your business to be able to beat the competition. More importantly, you'd want something that prevented the competition from ever being able to match you. That's what a strong and durable competitive advantage offers.
"I am a better investor because I am a businessman, and a better businessman because I am an investor." -- Warren Buffett
Competitive advantages can be fleeting. At one point, BlackBerryundefined had a very bright future. The stock traded for over $200 per share as investors speculated that the company's growth and general popularity of personal digital assistant devices would continue. Today, BlackBerry stock trades for under $10 a share. The stock market is littered with examples of relatively young businesses that grow rapidly and quickly fade as they lose their competitive advantage.
Finding businesses with a competitive advantage that lasts for decades is a much more difficult task. There are few businesses that can reliably sustain a competitive advantage year-after-year. The few businesses that can enjoy above-industry-average returns on capital which can be reinvested to spur growth or returned to shareholders.
Competitive advantages are very important to Buffett's investment strategy. Looking at his portfolio, you will find businesses with strong competitive advantages. Take Wal-Mart as an example. The company has grown to become the largest retailer in the world. Wal-Mart's competitive advantage comes from its tremendous size which allows it to put pressure on suppliers and buy merchandise at the lowest possible price. Wal-Mart then offers its customers "everyday low prices," which grows sales and makes Wal-Mart even larger. It can then put further pressure on suppliers in what is known as a positive feedback loop.
Finding businesses with strong and durable competitive advantages can be challenging. Buffett's own portfolio is a good place to begin the search. Dividend Aristocrats -- stocks with over 25 years of consecutive years of dividend increases also often possess strong and durable competitive advantages. In Buffett's portfolio, Coca-Cola and Wal-Mart are both Dividend Aristocrats.
At one time, BlackBerry had a strong competitive advantage. It has since disappeared.
McDonald's has had a tough year -- it's a great time to invest.
3. Look for Undervalued Businesses
Buffett's mentor was Benjamin Graham, the father of value investing. Graham pioneered investing in businesses trading below the value of their assets. His discipline in purchasing stocks he believed were trading at less than intrinsic value rubbed off on Buffett.
To find value in the stock market, one often has to look at the most "beat down" and "unloved" stocks. The most glamorous high-flying growth stocks are not where to look to find value. Value investors tend to be contrarians:
"Be fearful when others are greedy and greedy when others are fearful." -- Warren Buffett
Buffett is not a strict value investor; he also looks for high-quality businesses that are trading at or below fair value. Combining quality and value tends to produce superior long-term returns. Without quality, the value of a stock can quickly decline. Without a low price, a quality stock could take years of growth to catch up to its fair price.
"Whether we're talking about socks or stocks, I like buying quality merchandise when it is marked down." -- Warren Buffett
There are several ways to find value in high-quality dividend stocks. Stocks with low price-to-earnings ratios are a good place to look for value. Businesses that have suffered from negative one-time events that do not threaten the continuity of the business is another great place to look. Examples of this include the BP (BP) - Get BP Plc Report oil spill, or McDonald's (MCD) - Get McDonald's Corporation Report slew of bad news in 2014.
"The best thing that happens to us is when a great company gets into temporary trouble...We want to buy them when they're on the operating table." -- Warren Buffett
Buffett's initial investment in American Express came when the company was in the midst of its "salad oil scandal." American Express made loans backed by drums of salad oil to Allied Crude Vegetable Oil. Unfortunately for American Express, the drums of salad oil turned out to be drums of water. This caused American Express to take large one-time losses. Warren Buffett responded by investing 40% of his portfolio into American Express between 1964 and 1966. He has held the company ever since. In the early 70s, American Express was trading for under $1.50 a share, accounting for splits and dividends; today, it's trading at nearly $80. The salad oil scandal and subsequent American Express investment is an excellent example of buying a high quality business at a bargain price due to one-time negative events.
Buffett keeps his eyes on the prize.
4. Keep a Focused Portfolio
Buffett's five largest stock holding make up 67.5% of his total portfolio. This style of portfolio management contrasts with the more common institutional practice of holding hundreds of stocks and other assets to diversify a portfolio. If an investor is looking to sustain long-term above-average returns, they cannot hold a portfolio that very closely matches the S&P 500. If your portfolio is nearly identical to the S&P 500, how can you hope to get different results?
"Diversification is protection against ignorance. It makes little sense if you know what you are doing." -- Warren Buffett
The higher your conviction in any one stock, the larger your portion of your portfolio you should allocate to this stock. If you are very confident that a stock is undervalued, the business has a strong competitive advantage, growth is likely to persist for the long run, and management is shareholder friendly, you should naturally invest more than you would in only a mediocre opportunity. If you look closely at Buffett's portfolio, it is heavily concentrated -- but he makes big investments only in extremely high quality businesses that have low business obsolescence risk.
The argument for a concentrated portfolio needs to be tempered. Buffett is a supremely knowledgeable investor. As a result, he should be more comfortable with a highly concentrated portfolio. A counterbalance between the very diversified stock portfolio, where no one position makes much of a difference in performance, and the ultra-concentrated Buffett portfolio is a Buffett-mentor Benjamin Graham-style portfolio. Graham recommends holding around 20 equally weighted stocks at a time. 
The advantage of keeping a portfolio of 12-to-20 positions is simple: You can invest in your best ideas, which have a higher probability of stellar performance while still getting much of the benefits of diversification. Owning a portfolio with hundreds of stocks in it virtually guarantees mediocre results. 
Buffett has held Coca-Cola for 25 years.
5. Invest for the Long Run
Earlier in this article, the importance of investing in businesses with long histories was discussed. Dividend investors should look for longevity in the company's in which they invest. Dividend investors should also look for investments they are willing to hold for years -- or decades -- at a time.
"Only buy something that you'd be perfectly happy to hold if the market shut down for 10 years." -- Warren Buffett
Investing in businesses for long periods of time has several advantages. First, it allows truly exceptional businesses to compound your wealth without having to do anything else.
Take Coca-Cola as an example: A $1,000 investment in Coca-Cola 25 years ago would now be worth $14,900 (including dividends). Coca-Cola was not a wild gamble in 1990; Warren Buffett had purchased the stock the year before, and Coca-Cola already had 25 years of consecutive dividend increases. Investing in Coca-Cola a quarter century ago and simply holding the stock would have produced phenomenal results, and Coca-Cola wasn't even close to the best buy and hold stock of 1990. The following companies all did better for dividend investors (if held for the long run):
Lowe's in particular has turned a $1,000 investment in 1990 into over $100,000 today (including dividends). Interestingly, all of the companies listed in this section already had 25 years or more of consecutive dividend increases -- they were already well-known high-quality stocks.
"My favorite holding period is forever." -- Warren Buffett
Buying and holding generates fantastic returns only when an investor holds shares of great companies that continuously compound shareholder wealth thanks to their strong competitive advantages. Investing for the long-run has another benefit: It is a tax-advantaged strategy. When an investor sells a stock (in a taxable account), they must pay capital-gains taxes. By not selling a stock, you are allowing the money you would have had to pay in capital gains taxes to continue compounding for you. This is one of the primary reasons behind Warren Buffett's extremely long holding periods.
Holding stocks for long periods has a third advantage. Rarely buying and selling stocks greatly reduces portfolio turnover. Low portfolio turnover means lower frictional costs like brokerage transaction costs, slippage, etc. The lower you keep your investment related costs, the more money you have to actually invest. Holding for long periods of time allows your money to compound in your best ideas, is tax efficient, and reduces investment related costs; a win-win-win situation for individual investors.
Buffett with right-hand-man Charlie Munger, two of the most shareholder-friendly managers around.
6. Look for Shareholder Friendly Management
High-quality businesses with excellent management teams are truly rare. They are also the best wealth-compounding investments around. The prime example of an excellent business with a high-quality management is that of Berkshire Hathaway (BRK.A) - Get Berkshire Hathaway Inc. Class A Report (BRK.B) - Get Berkshire Hathaway Inc. Class B Report itself. There are no better managers than Warren Buffett, and Berkshire Hathaway is a collection of high quality businesses. What makes for an excellent management team?
From the perspective of a shareholder, an excellent management team is one that creates real value for shareholders. The best managers will repurchase shares when stock prices fall and abstain when prices rise. If the business does not have great investment opportunities to reinvest corporate profits, the management will pay out excess cash flows as dividends to shareholders.
A shareholder-friendly management is only half the battle. Management must also avoid the temptation of "empire building." This occurs when the management of a business decides to grow the business by any means necessary in order to control a larger company -- and demand higher pay. When a management acquires businesses for above their fair value, or acquires businesses outside the core focus of the primary business, these are warnings signs of empire building.
A truly high-quality management team will be well-versed in capital allocation. Corporations will issue debt at attractive prices and use the proceeds in intelligent ways. One of the best current management teams is that of Philip Morris International (PM) - Get Philip Morris International Inc. Report. CEO Louis Camilleri and his team have done a fantastic job of capital allocation over the last several years. The stock currently has a dividend yield over 5%. In the past, Philip Morris International has issued debt with interest rates less than its dividend yield. It used the cash from the debt offerings to repurchase shares. This brilliant move reduces the company's future cash flow obligations by issuing debt with a lower yield than what the company pays in dividends from it stocks. In addition, it increases the value of each share by reducing total share count.
Analyzing the moves a company's managers make is a good way to understand their motivations. As a general rule, businesses with long dividend histories and share repurchases are shareholder friendly and make good investments. Finding the truly exceptional manager -- like the next Buffett -- is very difficult. But looking at the moves management has made is the first step.
Buffett makes it look easy.
7. Keep Things Simple
Investing can be extremely complex -- if you want it to be. It can also be extremely simple, as the quote from Warren Buffett below exemplifies:
"Rule No. 1: never lose money; rule No. 2: don't forget rule No. 1." -- Warren Buffett
The first goal of investing should be to not lose money. With that taken care of, your only option is to make money. With safety as the first rule, investment methodology simplifies: Look for high quality businesses with long histories and shareholder friendly managements trading at fair or better prices; when you find them, buy and hold for the long-run.
"There seems to be some perverse human characteristic that likes to make easy things difficult." -- Warren Buffett
Many investors try to needlessly complicate this by speculating on a biotech stock that "could cure cancer," or a start-up tech company that may be the "next Facebook." Speculation is the enemy of the conservative investor. Don't look for an extremely complex investment thesis to warrant your investment in a stock. If something is extremely complex, there is a greater possibility that errors have been made in conceiving the business, meaning losses for you, the investor.
"I don't look to jump over 7-foot bars: I look around for 1-foot bars that I can step over." -- Warren Buffett
Even though Buffett is an investing genius, he always looks for simplicity. When you think of complicated businesses and investment plans like Enron or Long Term Capital Management, the results can be devastating to your portfolio. It is far better to invest in easy-to-understand high-quality businesses within your "circle of competence."
Your circle of competence is the area of the market you know best. If you are a doctor and regularly deal with a variety of health-care companies, you may be well-equipped to identify and invest in the highest quality health-care businesses. Most people are familiar with a variety of consumer goods products. Analyzing businesses with products that you are familiar with greatly reduces your risk of making a foolhardy investment. Don't invest because everyone else is doing it -- invest because you understand why a company has been successful, and will likely be successful for decades.
This article is commentary by an independent contributor. At the time of publication, the author held WMT and PM.