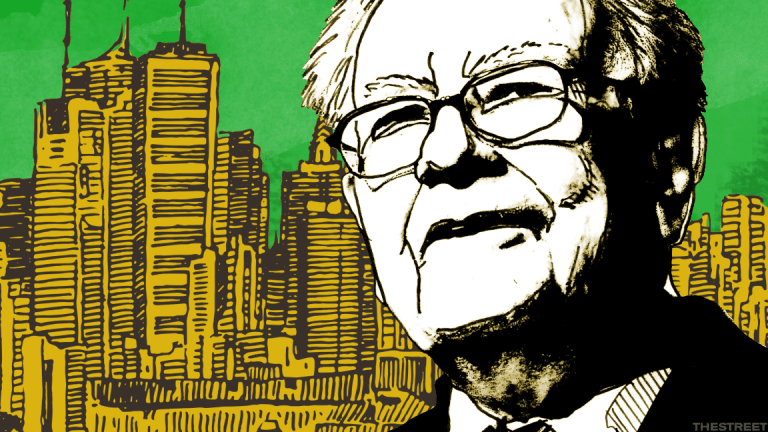 Warren Buffett: 'Would Never Bet' Against Amazon but Missed Chance to Buy Shares
In an appearance on CNBC, Warren Buffett adds color to some of the biggest insights gained from Berkshire Hathaway's annual shareholder letter.
Berkshire Hathaway Inc.  (BRK.A) - Get Free Report  CEO and billionaire investor Warren Buffett released his annual letter to investors on Saturday, Feb. 24. After more than five decades of releasing the letter, Buffett and his team switched formats this year, offering a letter about 65% the size of the typical shareholder note. 
In an appearance on CNBC on Monday, Feb. 26, Buffett added color to some of the biggest insights gained from the letter. Here are the top takeaways from Buffett's appearance Monday morning. 
Tax Reform
Warren Buffett was outspoken in his stance that American businesses weren't overtaxed last year. Now, the billionaire investor is lauding the tax legislation passed through Congress in December.
Among the most noteworthy aspects of the letter to investors this weekend was that Berkshire experienced a $63.5 billion increase in net worth in 2017.
"We had about $100 billion in unrealized gain in equities," Buffett said. "When they're sold, you pay tax on that." Berkshire had previously maintained about $35 billion in reserve to pay taxes for when those equities were sold. But now that reserve only needs to be about $21 billion, Buffett said.
"We'll be paying 21% instead of 35%," Buffett added. "That's a lot of money."
Buffett noted that the Tax Cuts and Jobs Act represents a "huge tailwind" for American business. "It certainly means corporations will pay quite a bit less in tax."
Net Buyer
Buffett said Berkshire is a net buyer of stocks so far this year, despite a roughly $3.3 billion sale of Phillips 66 (PSX) - Get Free Report shares Berkshire engaged in to keep its holding under 10%.
When asked if he preferred stocks to a 30-year Treasury note, Buffett said he would certainly choose stocks. "Equities will considerably outperform 30-year bonds in those 30 years," he said. 
Buffett noted that Berkshire has no way of predicting where the stock market will move day to day, but remains confident that the market is strong in the long-term. 
"If I like it, we buy it," Buffett said. "There's plenty of stocks we like."
Buffett said at the last Berkshire shareholder meeting that he missed out on buying Amazon.com Inc. (AMZN) - Get Free Report stock. At that point, the shares sold for about $995. Monday morning, Amazon stock traded higher 1.27% to $1,519.11.
"I'm not surprised [by Amazon's valuation.] I'm amazed at the managerial talent of Jeff Bezos, but I've been a constant fan really almost since he started."
While he said he has "blown it" in terms of making money on Amazon, "I would never bet against it," Buffett said.
Buffett also said he wouldn't rule out owning an entire airline. Berkshire currently has a stake in four airlines -- Southwest Airlines Co. (LUV) - Get Free Report , American Airlines Group Inc. (AAL) - Get Free Report , United Continental Holdings Inc. (UAL) - Get Free Report and Delta Air Lines Inc. (DAL) - Get Free Report .
"But you can't build a new railroad from Omaha to Chicago tomorrow, but you can add a flight if you're one of the airlines already there or you can perhaps come in and get a gate and add flights," Buffett said. "So it's a way different set of economics between the two industries. I wouldn't rule out owning an entire airline, but it's a different business, a very different business."
It's been "idiotic" to own long bonds, Buffett added. Stocks remain his investment of choice.
"Some people are not emotionally or psychologically fit to own stocks, but I think more of them would be if we get educated on what you're really buying, which is part of a business," he said.
"The longer you hold stocks, the less risky they become, whereas the longer the maturity of a bond, the more risky it becomes."
Healthcare M&A
Berkshire announced last month a partnership with JPMorgan Chase & Co. (JPM) - Get Free Report and Amazon to cut healthcare costs and improve services for employees. Buffett told CNBC that he's not actively looking to cut a deal for a healthcare business as far as the JPMorgan/Amazon setup is concerned. 
"We wouldn't buy a healthcare business to tie it in with the healthcare initiative ... if we liked the business and the price was right we could write a check for cash," Buffett said.
Buffett addressed the M&A outlook while taking questions about General Electric Co. (GE) - Get Free Report . Many investors have asked if Berkshire would consider buying a cash-generating industrial or healthcare firm to help get the new partnership off the ground. Buffett explained that the short answer was no, and that GE would be unlikely to sell off a bug chunk of its business. 
Buffett noted that Berkshire sold its small holding of General Electric when shares were trading around $29 each. At the market close Friday, GE stock fell 0.07% to $14.49.
Wells Fargo Woes
Buffett offered his take on Wells Fargo & Co. (WFM) as it remains embroiled in a scandal that first broke in 2015 about questionable business practices. 
"I have confidence in [Wells CEO] Tim Sloan," Buffett said. Sloan became CEO in October 2016 after former chief John Stumpf stepped down under pressure from lawmakers and shareholders alike.
"They came up with some terrible incentives ... which incentivized bad behavior. That bad behavior became somewhat contagious," Buffett added. Wells Fargo sales associates had been creating fake accounts on behalf of customers without the customers' knowledge.
"Management didn't react when they found out something had gone very much awry and then it just compounds like crazy," Buffett said.
The bank has drawn ire since the scandal broke from regulators and lawmakers. "You obey your government and if you don't you can have plenty of consequences and Wells Fargo is suffering from those," Buffett said.
Buffett said at his shareholder meeting in 2009 that if there was one stock he had to choose to put all his money in, it would be Wells Fargo. He's likely changed tune on that now, though.
Buffett said he feels most confident in Berkshire stock today, where he stores 99% of his money. Outside of the company he leads, Buffett was unwilling to admit to a favorite stock. He did add, however, that Berkshire is still optimistic on Apple Inc. (AAPL) - Get Free Report .
"Over the last year we've bought more Apple than anything else," he said.
"I think I understand consumer behavior perhaps better than I do the tech business," Buffett later said of Apple compared to other tech holdings such as International Business Machines Corp. (IBM) - Get Free Report .
Buffett has recently bought more Apple shares and sold more IBM shares. According to Buffett, the two are both tech firms but remain fundamentally different companies.
Buffett said he likes Apple CEO Tim Cook "very much," and applauded Apple's policies and strong ecosystem. People have become "locked in" psychologically and mentally to specific products, and Apple has benefited heartily from it. 
CEO Impacts
Buffett offered his view on the recent move from Wall Street leaders and C-suite executives to wade into the political arena. BlackRock Inc. (BLK) - Get Free Report , one of the largest asset managers in the world, said it will speak with gunmakers following the school shooting in Florida earlier this month that has sparked public outcry. 
As far as Buffett is concerned, personal politics should remain separated from company politics. Buffett has been vocal in years past about his own political views, but Berkshire's position has been clearly separated from his own.
"I think you should be pretty careful before the company takes a big political opinion," Buffett said. "I also think people individually should very much express their views. I think what the kids are doing is very admirable. I don't think that Berkshire should say we're not going to do business with people that own guns. I think it would be ridiculous."
That's not to say Buffett hasn't made impacts on his holdings as an individual. He's long been a religious Coca-Cola Co. (KO) - Get Free Report drinker, for example. But one of Berkshire's highest-profile holdings has still not made its way into Buffett's life. The CEO still owns a flip phone despite his large holdings of Apple stock and calls from Apple CEO Tim Cook to get an iPhone.
"As long as I haven't gotten one, the market's not saturated," Buffett said. He added that if he ever does buy a smartphone, he would "definitely buy an Apple."
Leverage Risks

"It is crazy in my opinion to borrow on security. You don't know whether the stock exchange will open tomorrow morning," Buffett said. Investors have borrowed record amounts to invest in the stock market amid the selloff earlier this month, according to a front page story in The Wall Street Journal on Monday.
"There's no reason to borrow money except you're in a hurry to get rich and you're risking going broke. And ultimately, the effects it can have on your family? I do not believe in borrowing money on securities," Buffett said.
"It's insane to risk what you have and need for something you don't really need. You know, borrowing money is a way of trying to get rich a little faster, but there are plenty of ways to get rich slowly."
"Anything can happen in markets," Buffett said later in the interview, returning to his earlier stated thesis regarding borrowing money to buy securities.
"When you're just looking at the price of something, you're not investing," Buffett added, calling that gambling. Investors have to assess the business as a whole, not just the price of shares.
"Bitcoin, for example, or some cryptocurrency, you're not looking to the asset itself to produce anything," Buffett said. The CEO had previously said he won't invest in bitcoin because he doesn't know enough about it.
Healthcare Partnership
Buffett offered more insight on the healthcare partnership with Berkshire, Amazon and JPMorgan.
"I love the idea of tackling what I regard as the major problem of our economy," Buffett said. He cited rising healthcare costs that have shot higher to as much as 18% of GDP from as low as 5% of GDP in 1960.
"We are at a huge competitive disadvantage in American businesses, far more important than any tax change in terms of our health costs," Buffett said. He contended that it's usually the case that the private sector can handle healthcare better than the government can.
"It's not going to be easy, but we're determined, we've got the money, we'll stick with it," he added.
Buffett noted that right now it is just a partnership. The three firms could eventually form a business entity separate of their own to house the healthcare operations.
"We've been inundated from people that would like to run this or like to help," he noted. Buffett added that the group will work to place a CEO for the healthcare tie-in within the year. 
The partnership is designed to be free from profit-making incentives and constraints, aimed instead at improving healthcare and reducing costs for everyone. 
"We are free from that as a demand, but that doesn't mean it can't happen," Buffett said.
Trade Deficits
"I don't like the idea of running huge trade deficits as a percentage of GDP at all," Buffett said. His comments come amid reports that Peter Navarro could soon get a promotion within the Trump administration to special counselor to the president. Navarro has been vocal in his criticism of trade deficits.
"A world that has more trade in it relative to the whole world economy 10 or 20 years from now will be a better world than one with lesser trade," Buffett said.
"I don't think closing borders is a good idea," he added. "I think over time we want more trade, and the closer it is to balanced trade the better."
But Berkshire itself hasn't been largely affected by trade agreements, the CEO said. Among his chief concerns in weighing in on trade deals is aiding the worker most affected by them.
"The benefits of free trade get spread throughout the population and the roadkill are real," Buffett said. "We should take care of those people because we are sacrificing their lives or economic lives for the greater good and there ought to be policies that take care of them."
Buffett noted that he would look to help the 55-year-old worker who might lose his or her job as a result of free trade but can't really be retrained for a new career.
Following the CEO's comments, Berkshire class B stock (BRK.B) - Get Free Report traded higher 1.7% to $206.20 Monday morning.
JPMorgan, Amazon, General Electric and Apple are holdings in Jim Cramer's Action Alerts PLUS Charitable Trust Portfolio. Want to be alerted before Cramer buys or sells the stocks? Learn more now.
This article has been updated with further comments from Warren Buffett's appearance on CNBC.