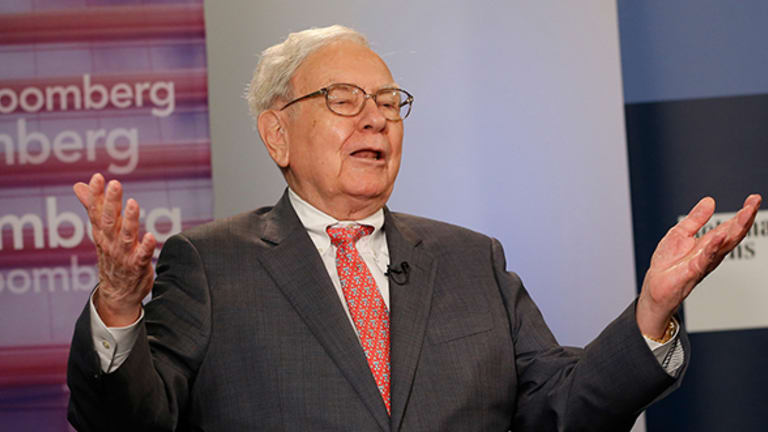 Publish date:
Warren Buffett Turns 85: What He Wants in a Successor
There will never be another Warren Buffett. But there will eventually be another chairman and CEO of Berkshire Hathaway, which Buffett says is 'ideally positioned' for life after his departure.
There will never be another Warren Buffett. But there will eventually be another chairman and CEO of Berkshire Hathaway, which Buffett says is 'ideally positioned' for life after his departure.
NEW YORK (TheStreet) -- There will never be another Warren Buffett. But there will eventually be another chairman and CEO of Berkshire Hathaway (BRK.B) - Get Berkshire Hathaway Inc. Class B Report , the one-time hedge fund Buffett has turned into an operating colossus.
Who Buffett will pick -- and what he's looking for -- tells us a lot about what's wrong with the rest of Corporate America.
Buffett, who will turn 85 on Sunday, has made plain what he wants Berkshire's board to do. His letter to shareholders this year says that he and the board have settled on a candidate to run the company once Buffett dies or steps aside. It also says that the most important thing is that his successor continues to run Berkshire much as Buffett has -- thinking long-term, betting on America and treating shareholders in the $334 billion company as if they were partners who all know each other.
One more thing: Buffett wants Berkshire to split the roles of chairman and chief executive so that his son, Howard, can use the chairman's role to lead the board in firing a chief executive who tries to dismantle the company's distinctive culture.
"Berkshire is ideally positioned for life after Charlie and I leave the scene," Buffett wrote in this year's letter to shareholders, referring to partner Charlie Munger, who is 91. "We have the right people in place - the right directors, managers and prospective successors to those managers. Our culture, furthermore, is embedded throughout their ranks."
Few people have spent more time thinking about Berkshire after Buffett than Lawrence Cunningham, a George Washington University law professor whose book, Berkshire After Buffett: The Enduring Value of Values, came out last fall.
Cunningham won't guess who will get the job, but he acknowledged before Berkshire's annual meeting in May that the leading candidates to be CEO are 63-year-old Ajit Jain, head of Berkshire's reinsurance business, and Greg Abel, the 52-year-old head of Berkshire Hathaway Energy, the Des Moines, Iowa-based utility unit.
Whoever it is, Berkshire's next CEO will have three things or won't get the job, Cunningham says.
He or she (almost certainly a man) will have an even-keeled temperament. He'll be "in it for the right reasons," rather than grasping for every dollar of pay for himself or running the company to pursue short-term gains from financial engineering, Cunningham says. And he'll "play on the center of the field" ethically -- avoiding anything that even threatens to become scandalous, Cunningham said.
"That's a different list than a Jack Welch would have given you," Cunningham said, referring to the former CEO of General Electric (GE) - Get General Electric Company (GE) Report who earned the nickname "Neutron Jack" for the job cuts he ordered.
Buffett doesn't want a CEO impatient to ditch excellent businesses that aren't current market-share leaders, as Welch advocated at GE, or a leader like Liberty Media's (LMCA) John Malone, whose strategy for shareholder returns relies crucially on issuing debt to buy back shares, Cunningham says. Malone "is a deal guy," he says. "Buffett is primarily a humanist."
Munger, Buffett's partner, has his own list of what makes Buffett unique: rationality; a dedication to getting loyalty by giving it first; long-term thinking from a team that will be in place long enough to live with the consequences; and avoiding bureaucracy by letting operating-unit managers do their jobs with minimal meddling.
"Versions of the Berkshire system should be tried more often elsewhere," Munger wrote in his own letter this year. "The worst attributes of bureaucracy should much more often be treated like the cancers they so much resemble."
Think about what that means.
Dividing the chairmanship and the chief executive roles makes Buffett's position clear on one of the most contentious issues in corporate governance. It also helps enforce some of his other values.
More Berkshire Hathaway Coverage
Warren Buffett and 10 Other CEOs Who Have Been at the Helm Forever
Profit Slides at Buffett's Berkshire as Insurance Claims Mount
Buffett's Berkshire Beats Estimates as Railroad Revenue Gains
Having an empowered chairman assures that the next CEO won't raise his own pay to skyrocketing levels, and Berkshire doesn't give directors stock options to feather their own nests. It helps assure that the long-term focus that has delivered Berkshire's 1.8 million percent stock gain over the last 50 years will stay in place, even as duplicating such gains becomes impossible because of the the law of large numbers. (Those numbers are constantly getting larger, too: Just this month, Berkshire Hathaway agreed to buy Precision Castparts (PCP) for $37.2 billion and expanded its stake in Phillips 66 (PSX) - Get Phillips 66 Report to 10%, valuing it at about $4.5 billion.)
Against the backdrop of America's slow recovery from the financial mess of 2008, Buffett's virtues look more important than ever.
More than almost anything else, the economy has been held back by other CEOs' unwillingness to make big bets on the future while they often blame Washington for their own timidity. Berkshire has poured $15 billion, just from its utility business, into wind-power plants that have helped double the share of electricity America gets from renewable sources.
Buffett put another $6 billion into Berkshire's Burlington Northern railroad this year, boosting investment after service complaints from customers even though financial results were good, the shareholder letter says.
Buffett's bet on wind is the kind of long-term move companies that watch their stock prices a little too closely make much too rarely.
The Progressive Policy Institute has estimated that corporations have invested more than $2 trillion less than if they'd sustained pre-2008 growth. Last week's gross domestic product report made clear how bad that investment drought -- a vision drought, really -- is. Once energy companies cut drilling amid falling oil prices, investment overall fell at a 3.4% annual rate in the first quarter.
And Buffett's willingness to spend big at Burlington is testament to a giant company that at least aspires to treat customers like partners.
"These shippers depend on us, and service failures can badly hurt their businesses," Buffett wrote.
Buffett is not perfect. One of his utilities, Portland, Ore.-based PacifiCorp, riles environmentalists with its sustained dependence on coal. One of his favorite Berkshire businesses, Clayton Homes, is constantly subject to criticism that it exploits poor consumers. And all that wind-power investment, mostly in Iowa, is supported by a tax credit opponents might call corporate welfare. But he has gotten far more right than wrong.
If American business were to invest more, care about customers more, use debt less, and focus on long-term operational excellence, that would be a good thing.
Buffett has been setting that example for 50 years. And succession is the last, best chance he will have to send that message loud and clear.
"At his actuarial age, as a white male nonsmoker, he has about six and a half years left," Cunningham says. "He told me that. He knows it down to the day."
This article is commentary by an independent contributor. At the time of publication, the author held no positions in the stocks mentioned.