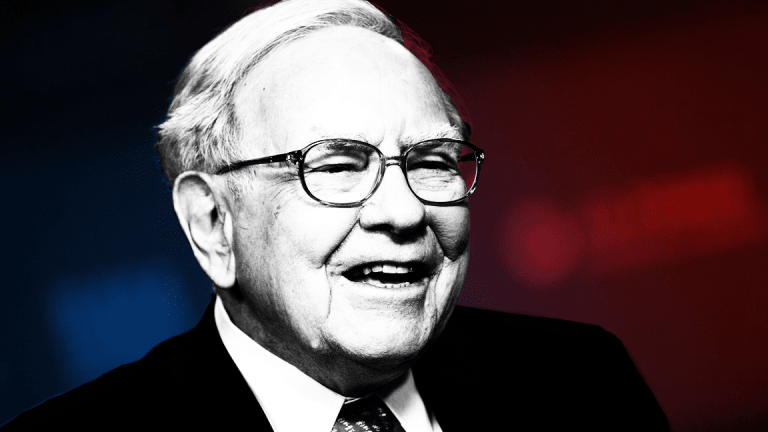 Warren Buffett Through the Years: The Oracle of Omaha's Best Investing Quotes
Billionaire Warren Buffett is more transparent in his investing strategy than you might think. Here are some of the best quotes from his annual letter to Berkshire shareholders.
Every year, billionaire investor and Berkshire Hathaway (BRK.A) - Get BRK.A Report leader Warren Buffett graces mere mortals with his outlook on the market, plans for the company and general sagacity.
In a practice Buffett has insisted upon fore more than fifty years, he releases a letter to Berkshire shareholders riddled with market wisdom and investing tips.
Buffett released the 2017 letter to investors on Saturday. Many market watchers were keen to pick up details for his plans to name an eventual successor. Others were looking to find out what Berkshire plans to do with its enormous $100 billion cash pile. Nearly all spent the morning cherry picking the letter for more insight on Buffett's investment philosophy in today's more volatile market.
While it's impossible to replicate Buffett's impressive investing career that's earned him $87.5 billion in net worth, these are the top quotes from his annual letters to investors through the years. Read them, and learn from them.
On M&A vs. Stock Ownership:
"Our experience has been that pro-rata portions of truly outstanding businesses sometimes sell in the securities markets at very large discounts from the prices they would command in negotiated transactions involving entire companies. Consequently, bargains in business ownership, which simply are not available directly through corporate acquisition, can be obtained indirectly through stock ownership." (1977)
On Plain and Simple Business:
"Our managers have produced extraordinary results by doing rather ordinary things - but doing them exceptionally well. Our managers protect their franchises, they control costs, they search for new products and markets that build on their existing strengths and they don't get diverted. They work exceptionally hard at the details of their businesses, and it shows." (1987)
What TheStreet's Executive Editor Brian Sozzi would like to hear from Buffett's letter. Watch below.
On Black Monday:
"During 1987 the stock market was an area of much excitement but little net movement: The Dow advanced 2.3% for the year. You are aware, of course, of the roller coaster ride that produced this minor change. Mr. Market was on a manic rampage until October and then experienced a sudden, massive seizure. We have professional investors, those who manage many billions, to thank for most of this turmoil. Instead of focusing on what businesses will do in the years ahead, many prestigious money managers now focus on what they expect other money managers to do in the days ahead. For them, stocks are merely tokens in a game, like the thimble and flatiron in Monopoly." (1987)
On Fear:
"We will continue to ignore political and economic forecasts, which are an expensive distraction for many investors and businessmen. Thirty years ago, no one could have foreseen the huge expansion of the Vietnam War, wage and price controls, two oil shocks, the resignation of a president, the dissolution of the Soviet Union, a one-day drop in the Dow of 508 points, or treasury bill yields fluctuating between 2.8% and 17.4%. But, surprise - none of these blockbuster events made the slightest dent in Ben Graham's investment principles...Fear is the foe of the faddist, but the friend of the fundamentalist." (1994)
On Managerial Pressures:
"We enjoy a rare sort of managerial freedom. Most companies are saddled with institutional constraints. A company's history, for example, may commit it to an industry that now offers limited opportunity. A more common problem is a shareholder constituency that pressures its manager to dance to Wall Street's tune...At Berkshire, neither history nor the demands of owners impede intelligent decision-making. When Charlie and I make mistakes, they are - in tennis parlance - unforced errors." (2003)
On the Great Financial Crisis:
"The U.S. - and much of the world - became trapped in a vicious negative-feedback cycle. Fear led to business contraction, and that in turn led to even greater fear. This debilitating spiral has spurred our government to take massive action. In poker terms, the Treasury and the Fed have gone "all in." Economic medicine that was previously meted out by the cupful has recently been dispensed by the barrel. These once-unthinkable dosages will almost certainly bring on unwelcome after effects." (2008)
On Leadership Mistakes:
"I ask the managers of our subsidiaries to unendingly focus on moat-widening opportunities, and they find many that make economic sense. But sometimes our managers misfire. The usual cause of failure is that they start with the answer they want and then work backwards to find a supporting rationale. Of course, the process is subconscious; that's what makes it so dangerous...But wishing makes dreams come true only in Disney movies; it's poison in business." (2012)
On America's Economy:
"The dynamism embedded in our market economy will continue to work its magic. Gains won't come in a smooth or uninterrupted manner; they never have. And we will regularly grumble about our government. But, most assuredly, America's best days lie ahead." (2014)
On America's Future:
"It's an election year, and candidates can't stop speaking about our country's problems (which, of course, only they can solve). As a result of this negative drumbeat, many Americans now believe that their children will not live as well as they themselves do. That view is dead wrong: The babies being born in America today are the luckiest crop in history...U.S. citizens are not intrinsically more intelligent today, nor do they work harder than did Americans in 1930. Rather, they work far more efficiently and thereby produce far more. This all-powerful trend is certain to continue: America's economic magic remains alive and well." (2015)
On the 'Forever' Holding Period:
"Sometimes the comments of shareholders or media imply that we will own certain stocks 'forever.' It is true that we own some stocks that I have no intention of selling for as far as the eye can see (and we're talking 20/20 vision). But we have made no commitment that Berkshire will hold any of its marketable securities forever." (2016)
On Smart Acquisitions:
"In our search for new stand-alone businesses, the key qualities we seek are durable competitive strengths; able and high-grade management; good returns on the net tangible assets required to operate the business; opportunities for internal growth at attractive returns; and, finally, a sensible purchase price." (2017)