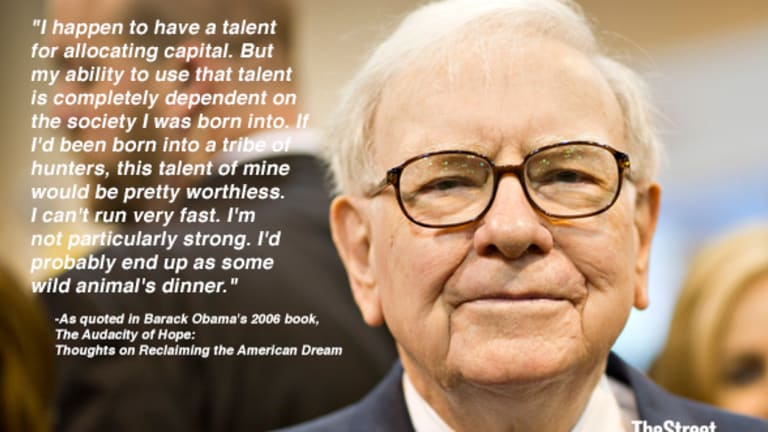 Warren Buffett Still Shopping After $37.2 Billion Precision Castparts Splurge
Berkshire Hathaway's CEO "will be looking every day." The company's Precision Castparts PCP deal, which has yet to be completed, eclipses even its purchase of Burlington Northern railroad in 2009.
NEW YORK (TheStreet) -- Berkshire Hathaway's (BRK.A) - Get BRK.A Report  $37.2 billion acquisiton of aerospace equipment producer Precision Castparts (PCP) , the company's largest ever, hasn't curbed CEO Warren Buffett's enthusiasm for deal-making.
"I have to refill the kitty a little bit, but I will be looking every day, I promise you that," the billionaire investor said Tuesday in New York. "And if I find something that makes sense, I will move."
The Precision Castparts deal, which has yet to be completed, eclipses even Berkshire's purchase of Burlington Northern railroad in 2009. It positions Buffett to benefit from a surge in plane sales as airline executives seek to add more fuel-efficient aircraft, like the upgraded single-aisle Boeing 737 MAX and Airbus A320neo, to their fleets. Indeed, Boeing boosted its 20-year forecast for commercial jet sales to 38,000 in July, an increase of 3.5%. 
The aerospace purchase will temporarily end Berkshire's search for an "elephant," Buffett told CNBC in a telephone interview in early August. "We'll be left with over $40 billion, probably, of cash when we get all through," he said, noting that Berkshire plans to borrow about $10 billion and use about $23 billion of cash on hand. He said Tuesday the company's cash position is still larger than he prefers.
Buffett was in New York for his annual lunch with the winner of a charity auction for the GLIDE Foundation. This year's top bid of $2.3 million was submitted by Chinese gaming executive Zhu Ye, who described the event as a dream come true. Buffett, however, said he may get more out of the meal than his companion, with whom he looked forward to discussing China, where he has factories and other investments.
Slowing growth in that country, the world's second-largest economy, has roiled global markets in recent weeks, especially when combined with speculation about the whether the Federal Reserve will raise interest rates this month. The central bank cut them to around zero to bolster the economy during the financial crisis of 2008 and hasn't raised them since.
Buffett is confident the economy can handle higher rates, but said he had no idea whether the Fed will actually raise them.
"I have never bought or sold a stock, I have never bought or sold a company where what the Fed is doing or is likely to do entered into my calculations," he said.
Buffett, who turned 85 in August, is celebrating his 50th year at the helm of Berkshire Hathaway. Beginning with a hedge fund, he and longtime partner Charlie Munger built a sprawling conglomerate that operates businesses from clothing to automobile insurance, and holds stock in companies from Phillips 66 (PSX) - Get Phillips 66 Report to Wells Fargo (WFC) - Get Wells Fargo & Company Report and Coca-Cola (KO) - Get Coca-Cola Company Report . 
During that period, Buffett's market prowess earned him the nickname of "the Oracle of Omaha," and his investments of $5 billion in Goldman Sachs (GS) - Get Goldman Sachs Group, Inc. (GS) Report and $3 billion in General Electric (GE) - Get General Electric Company (GE) Report   gave both companies a boost during the depths of the financial crisis.
As for how he celebrated his birthday, "I just took a deep breath and found out I was still alive at 85 and decided I'm just going to keep doing that every day for a long time," he said.
Tuesday's luncheon, at the Smith & Wollensky steakhouse in midtown, marked the 16th year Buffett has worked with San Francisco-based GLIDE, which provides meals, counseling and medical testing to the city's homeless. The event was the brainchild of Buffett's first wife, Susie, in 2000. Since then, the auction has raised nearly $18 million, drawing bids as high as $3.5 million.
Bidding for the lunch, offered through eBay (EBAY) - Get eBay Inc. Report Giving Works, started at $25,000 and was conducted during the first week in June.
"GLIDE helped me understand just how much a life can be transformed by unconditional love and some real material help," Buffett said in the statement. "Nobody who's donated to GLIDE has ever felt shortchanged. They always get their money's worth."