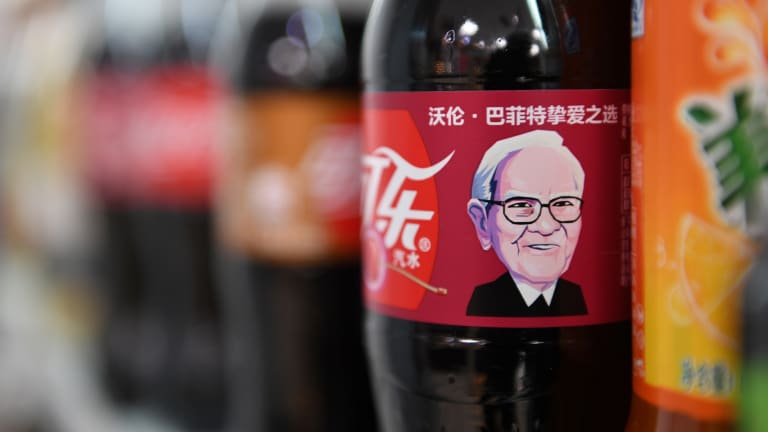 Warren Buffett Should Be Fired Up About Coca-Cola's $5 Billion Coffee Deal
Coca-Cola continues its transformation under CEO James Quincey. Did you catch what Warren Buffett said?
I first chatted with then Coca-Cola (KO) - Get Report president and COO James Quincey in 2015 (can't find the video right now, it's early -- moving fast).
At the time, it was apparent to me Quincey would soon be announced as successor to long-time Coke CEO Muhtar Kent. Even back then, I got the sense Quincey was ready to rock the hot seat at Coke and transform the company. He was likely to move fast to bring Coke into the modern era of drink consumption.
After getting his CEO sea legs under him in 2017 (started officially May 2017), Quincey has been all business in 2018. And shareholders -- such as largest outside holder Warren Buffett -- should be excited about the energy shot he has given a legacy packaged goods company. It's surely a jolt that a struggling Campbell Soup (CPB) - Get Report could use from a new CEO.
Within weeks, Quincey has signed off on a stake in fast-growing Gatorade rival BodyArmor and today, a $5 billion play for international coffee maker Costa. Quincey strongly signaled deals of this magnitude would be coming in an interview with me this past February (watch below). The coffee deal, while expensive on the surface, will probably look like a drop in the bucket 10, 20, 30 years down the line. Coke will move fast to push forward with Costa's retail stores overseas, launch more ready to drink coffee beverages, and bring the brand to the U.S. via retail stores and bagged coffee. One should also expect coffee infused sodas.
The deal is a negative to established coffee brands such as Starbucks (SBUX) - Get Report and Dunkin' Brands (DNKN) - Get Report as they now have a large competitor itching to extract value from a coffee acquisition. Further, with Coca-Cola gaining access to coffee retail stores via Costa (and by extension, its food menu) expect it to study hard the prospects of entering the food business in 2019 or 2020. So far so good, James. 
You See THIS?
Speaking of Buffett, the 'Oracle of Omaha' dropped an interesting comment in an interview with Fox Business on Thursday. On why he has decided to no longer to host MBA and undergraduate business students (which he has done for years): "It does require committing yourself six or seven months [in advance] and I never would not want to show up -- so I decided to pack it up."
This could mean a couple things, if one were to read into it. First, Buffett is ready to step aside as Berkshire's leader in 2019 and doesn't want to upstage its new leader with scores of public appearances. Or, Buffett is nearing one last elephant of a deal and will need every ounce of energy to integrate it into Berkshire.
We won't touch on the morbid third thing, but there is that.   
Around TheStreet
Retail earnings season officially ended Thursday, but not before I talked with Abercrombie & Fitch (ANF) - Get Report CEO Fran Horowitz. Similar to Quincey, Horowitz is driving real change at the company that the market needs to better understand. Abercrombie shares were smoked on Thursday following better than expected earnings. It was a similar reaction American Eagle Outfitters (AEO) - Get Report saw in response to strong earnings the day before. But Abercrombie shares are likely to recover into the holiday season due to the momentum within product categories and solid U.S. economic conditions.
"I am excited about the back half of the year. I think the momentum we are coming in with from the first half, the product acceptance is strong, which gives me confidence in the back half of the year. Denim is strong, with new trends emerging," Horowitz told me. Three cheers to ripped denim being back in style -- I was an avid wearer of the stuff to the clubs way back when.
The activist investor saga at struggling soup maker Campbell Soup is just beginning, @JacobSonenshine and yours truly reason.
We also think Starbucks has to do more than release lower sugar frappes to reawaken the lagging stock price. Here are our three suggestions to Starbucks executives.