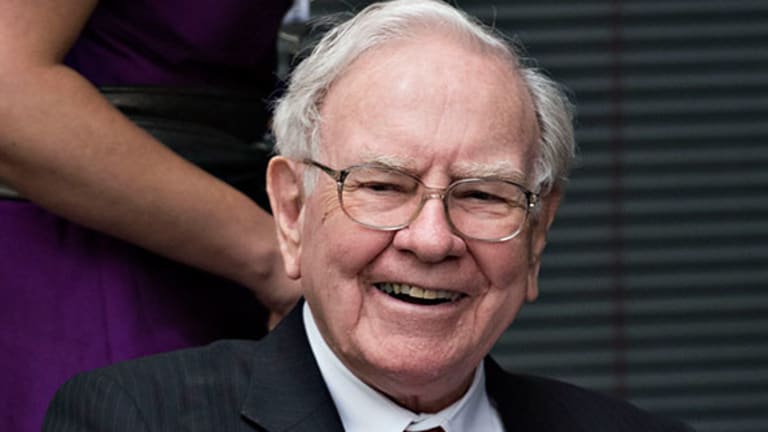 Warren Buffett's 4 High-Yielding Dividend Stocks for Safe Income
With an average dividend yield of 4%, Berkshire Hathaway's top high dividend stocks are dependable plays for safe income.
Over the past five decades, Warren E. Buffett has built Berkshire Hathaway into a $360 billion multinational conglomerate with a stock price that is, by far, the most expensive in the world.
One of his most effective strategies for long-term success has been to seek out high-yield dividend stocks that he can hold for the long term.
Investors who are struggling to find the best companies for their long-term portfolios might do well to consider some of Buffett's highest-yielding dividend stocks. These companies are of the highest quality and offer stable dividend payments, as well as excellent long-term growth potential.
Using Buffett's philosophy of "buy and hold forever," investors can use these dividend stocks to generate income or increase their positions by purchasing additional shares.
Let's take a closer look at these high-dividend stocks to see just what attracted the Oracle of Omaha in the first place.
1. General Motors (GM) - Get General Motors Company Report
GM is Buffett's highest-yielding dividend stock.
For more than 100 years, GM has been designing and manufacturing automobiles and has 10 different vehicle brands serving six continents including Buick, Cadillac, Chevy and GMC. Last year, GM delivered nearly 10 million vehicles across the globe.
Over the past century, GM has become a household name. With more than 20,000 dealerships in 140 countries, GM has established a strong global presence in an industry that has been, historically, extremely challenging for new competitors.
Additionally, as the global economy continues to grow, opportunities for expansion and increased sales, particularly in China, should boost the company's bottom line and further support GM stock's continuing dividend.
After a six-year dividend hiatus caused by the financial crisis in 2008, which ultimately led to the company filing for bankruptcy in 2009, GM once again began paying a quarterly dividend in March 2014. Since then, the GM dividend has increased more than 26% to 38 cents a share or $1.52 annually and represents a 26.2% payout ratio.
The company's stock offers a generous high yield of 4.86%.
Although the GM dividend is likely safe and should remain consistent, Chief Financial Officer Chuck Stevens said that the company doesn't plan to raise the payout any time soon.
For comparison's sake, check out the safety of Ford Motor's dividend. 
2. IBM (IBM) - Get International Business Machines Corporation Report
IBM is one of the country's oldest technology companies, with roots dating all the way back to the 19th century. Over more than a century, IBM has grown into a worldwide leader in the fields of cloud services, computer hardware and software, enterprise systems, and information handling.
One of IBM's most important and potentially profitable areas of focus is artificial intelligence, which management often refers to as "cognitive solutions." The company's machine learning division is responsible for significant advancements, with its cognitive-computing entity Watson representing the face of IBM's AI achievements.
IBM is more than just AI, though.
The company has pioneered impressive revolutions in the big data and analytics arenas, using its hardware and software to more efficiently analyze statistical information for businesses. Insights garnered through IBM's systems have proven desirable for countless corporations, allowing for significant cost reductions, quicker decision making, and more efficient implementation of new products or services.
IBM began paying dividends in 1913 and has perhaps the most consistent track record of any century-old company on the market. For the past 21 years, IBM's stock dividend has increased every year.
The dividend growth rate for the past five years was 14.5%, and for the past 10 years it was 18.7%. The most recent increase was in May, when management increased the per-share payout to $1.40 from $1.30, making the annualized payout for IBM stock an impressive $5.60 a share.
IBM's dividend remains at $5.60 a share, representing a yield of 3.46% and a payout ratio of 43%.
Buffett has consistently defended his position in Big Blue, making it clear that he has never sold any of his shares of IBM, nor does he intend to do so. That, along with IBM's dividend payout consistency and growth rate, makes it one of the safest dividends available.
3. Phillips 66 (PSX) - Get Phillips 66 Report
This American energy company has been in existence since 1917, originally providing gasoline and motor oil to vehicle owners across the nation. Phillips 66 merged with Conoco in 2002 to form ConocoPhillips, but was spun off a decade later to debut as an independent downstream energy company.
Phillips 66 is involved in gathering and transporting natural gas through its 62,000 miles of pipelines, refining crude oil at 14 facilities around the world and manufacturing petrochemicals and plastic. Phillips 66 operates in several foreign countries, with a dominant presence in both Europe and the Middle East, and it produces more than 2 million barrels of crude oil daily.
Part of what has made Phillips 66 so successful in the wake of falling oil prices has been its state-of-the-art refining facilities, particularly in the Gulf Coast region where the focus has been on natural gas and related commodity chemicals. Additionally, despite reductions in U.S. drilling programs, Phillips 66 has benefited from the Organization of Petroleum Exporting Countries' continuing drilling operations in other parts of the world.
Phillips 66 has been paying a steady quarterly dividend since it began trading publicly in 2012.
Over that time, the per-share payout has increased 215% to 63 cents a share from 20 cents a share. The yield is 3.27% or $2.52 annually, which translates into a payout ratio of 73%.
Considering that there has been no indication of any major impending changes in the U.S. energy market, coupled with the fact that Phillips 66 has established itself as a dominant global player, the dividend is likely a very safe bet.
4. Verizon Communications (VZ) - Get Verizon Communications Inc. Report
The largest telecommunications company in the U.S., Verizon Communications' business operations include broadband Internet access that includes both DSL and fiber optic cables, wired telephone services to residential and small-business customers, and wireless-phone service.
In a historic deal concluded last month, Verizon Communications announced its acquisition of search engine giant Yahoo! for $4.83 billion, which comes on the heels of last year's purchase of Internet icon AOL for $4.4 billion. It would seem, then, that Verizon Communications has hopes of building a digital empire.
With one of the strongest brands in the industry, Verizon Communications claims wireless-network coverage of more than 98% of the U.S. and boasts more than 108 million customers and revenue in excess of $131 billion annually.
Verizon Communications boasts an impressive, consistent dividend-paying track record, dating back to early 1984, though prior to July 2000, the stock traded as Bell Atlantic.
Over the past 10 years, the stock dividend growth rate was 3.5% per year, and over the past five years the dividend growth rate was 3% per year. The most recent stock dividend increase was 2.7% last September.
Verizon Communications pays a dividend of 4.20%, or $0.565 a share, which amounts to an annualized payout of $2.26 a share, representing a payout ratio of close to 60%.
For those looking for a safe, predictable dividend stock with a history of smaller increases, Verizon Communications definitely fits the bill, and it is no surprise that the stock is one of Buffett's highest-yielding dividend stocks. With a track record spanning more than three decades, the company's dividend is about as safe as it gets.
This article is commentary by an independent contributor. At the time of publication, the author was long GM and VZ.