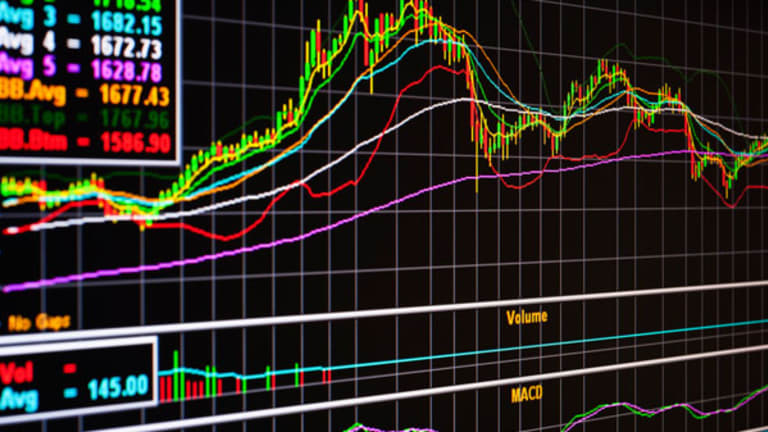 Warren Buffett Is Sick of These 4 Stocks
Buffett & Co. unloaded these four stocks in the last quarter. Should you?
Buffett & Co. unloaded these four stocks in the last quarter. Should you?
BALTIMORE (Stockpickr) -- Almost a month ago, Warren Buffett and Charlie Munger held court in Omaha's CenturyLink Center for Berkshire Hathaway's ( (BRK.B) - Get Report) annual shareholder meeting. Attendees hung on the pair's every word. After all, when a couple of billionaires dole out their investment advice and philosophies, people tend to listen.
>>5 Large-Cap Stocks to Trade for All-Time Highs
But there's one question the Oracle of Omaha wouldn't answer: If he could buy any stock today (besides Berkshire), which would it be?
Thing is, that's the wrong question. Too often, investors get fixated on buying, ignoring that it's only half of the story. Instead, a peek at Buffett's sell list can come with a lot more interesting information. Lucky for us, we can see exactly which names Buffett (and his portfolio managers, Todd Combs and Ted Weschler) are sick of -- or hate -- in 2014.
To do that, we're taking a look at Berkshire Hathaway's most recent 13F filing.
From hedge funds to mutual funds to insurance companies, any professional investors who manage more than that $100 million watermark are required to file a 13F. And with a portfolio that tips the scales at $105.8 billion at last count, Berkshire Hathaway certainly fits that criteria. In the past, Warren Buffett has famously said that his favorite holding period is forever -- so it's a big statement when Berkshire unloads shares of individual names.
>>5 Stocks Insiders Love Right Now
So should you sell the stocks that Buffett hates in 2014? Here's a look at the four conviction sells that Buffett & Co. made last quarter.
Phillips 66
First up is Berkshire's single biggest sale: Phillips 66 (PSX) - Get Report. Phillips 66 is a $47 billion energy stock that Berkshire has held onto since shortly after ConocoPhillips (COP) - Get Report split off its downstream assets into PSX. In fact, during the second quarter of 2012, Phillips 66 was Berkshire's biggest single new buy.
>>3 Big Stocks Getting Big Attention
But Buffett is sick of Phillips 66 this year. His firm unloaded 17.4 million shares of PSX last quarter (almost two-thirds of its holdings in the stock).
Berkshire's reason for selling certainly hasn't been performance. Year-to-date, PSX has stomped the rest of the broad market, climbing 7.6%. And since Berkshire started building its position in 2012, shares are up something like 165%. Now the firm is taking gains.
Those are some pretty exciting gains, even if Phillips 66 is arguably the boring side of ConocoPhillips' former business. Phillips 66 is a refiner and gas station chain, and it also owns a lucrative chemical business and more than 62,000 miles of pipeline. The firm has been de-emphasizing its super-low margin refining operations, a strategy that should help to convert a bigger piece of every dollar it generates into profits.
Despite its rally, PSX still looks pretty cheap, quite frankly. Shares trade for a reasonable P/E multiple of 16, but they also carry approximately $10 billion in net cash and investments -- enough to pay for 20% of the firm's current market capitalization right now. Buffett may be selling Phillips 66, but I think it still makes sense to buy this name.
General Motors
Automaker General Motors (GM) - Get Report is another stock that got sold off hard in the most recent quarter -- and after the year GM is having, it's not hugely surprising. Between fundamental misses and an ongoing catastrophe related to the firm's belated recall of a large number of cars, GM has managed to drop more than 15% since the calendar flipped to January. Meanwhile, Berkshire sold off a quarter of its stake in the automaker, unloading 10 million shares.
>>5 Rocket Stocks to Buy for Short-Week Gains
GM is one of the biggest automakers in the world, with brands Chevrolet, GMC, Cadillac and Buick surviving bankruptcy. It's important to remember that General Motors is a vastly different company from the one that taxpayers bailed out in the depths of the financial crisis. After restructuring costs and cutting new deals with labor, the firm's break-even levels are actually low enough that GM can function again. On a per-hour basis, labor costs are now just a third of what they were back in 2005. At the same time, quality improvements and big macro tailwinds in auto sales have helped to drive big unit growth worldwide (especially in big markets like China, where GM booked record sales last year).
All of that is what makes GM's most recent recall debacle all the more egregious. The firm has an uphill battle with consumers after causing a large number of driver fatalities with a known issue in its cars. And it's likely the firm will end up paying a financially material fine to the U.S. government as a result.
Warren Buffett is famous for saying, "Lose money and I will forgive you, but lose even a shred of reputation and I will be ruthless." GM has lost both in the course of the recall. It makes sense to be a seller here -- GM has fundamental and technical challenges ahead of it right now.
Starz
Entertainment company Starz (STRZA) is another name that made Berkshire Hathaway's conviction sell list last quarter. Berkshire's managers unloaded 2.62 million shares of the firm in the period, scaling back their stakes by 60%. That amounts to a $79 million sale at current price levels -- a small stake by the standards of Berkshire's mammoth portfolio, but the relatively immaterial position size makes the sell even more telling.
>>3 Big-Volume Stocks to Trade for Breakouts
Starz (formerly Liberty Starz) owns a diverse group of entertainment assets, ranging from pay television channels, to TV and movie distribution and production. The firm became a public business after Liberty Media (LMCA, LMCB) spun the subsidiary off in January of last year. Content is king for Starz -- the firm's 56 million paid subscribers tune in for the combined 1,000 films that air each month across the firm's 17 niche cable networks. To build out its content bench, STRZA has been investing in original content, an attempt to make the move to a "must-have" paid channel like HBO.
Until then, fixed-rate deals mean that cable companies are incentivized to sell subscriptions -- and that they can package a free Starz subscription as a customer retention tool. That model means that if Starz succeeds in creating a hit, it'll have a big audience to get hooked on it, and it'll be able to transition to a per-subscription model with cable companies in the longer-term.
Until then, Starz owns an attractive collection of assets, and it trades at a relatively inexpensive valuation. It makes sense to pick up the shares Berkshire is selling.
DirecTV
Last up on Buffett's sell list is DirecTV (DTV) , the satellite TV provider that's been getting attention after AT&T's ( (T) - Get Report) planned acquisition deal. Earlier this month, the telecom giant announced that it had reached an agreement to acquire DirecTV for around $95 per share in cash and stock (a collar on the stock portion of the deal makes it similar to an all-cash deal).
Of all of the recent sells, DTV is the least convicted for Buffett and company: Berkshire only unloaded 2 million shares.
The DirecTV deal provides some interesting opportunities right now. For starters, there's still a 15% risk premium priced into DirecTV's stock right now, a big number for such a high profile deal. While risks like regulatory approval and renewal of DTV's NFL deal could potentially squash the planned acquisition, that 15% premium is still a lot bigger than we'd expect to see in normal market environments, particularly when risk-free rates are as low as they are now. That likely has a lot more to do with general investor anxiety than it does the likelihood of closing the AT&T-DirecTV marriage.
The bottom line is that there's a merger arbitrage opportunity in DTV right now. Investors who aren't risk-averse should give it a second look. This is one of those rare cases in which the money wasn't already made when the deal was announced.
To see the rest of Berkshire Hathaways stock holdings, including a complete list of which stocks the firm added or sold off, check out the Warren Buffett Portfolio on Stockpickr.
-- Written by Jonas Elmerraji in Baltimore.
RELATED LINKS:
>>4 Big Stocks on Traders' Radars
>>5 Stocks Set to Soar on Bullish Earnings
>>3 Stocks Under $10 Making Big Moves
Follow Stockpickr on Twitter and become a fan on Facebook.
At the time of publication, author was long BRK.B. Jonas Elmerraji, CMT, is a senior market analyst at Agora Financial in Baltimore and a contributor to TheStreet. Before that, he managed a portfolio of stocks for an investment advisory returned 15% in 2008. He has been featured in Forbes , Investor's Business Daily, and on CNBC.com. Jonas holds a degree in financial economics from UMBC and the Chartered Market Technician designation. Follow Jonas on Twitter @JonasElmerraji