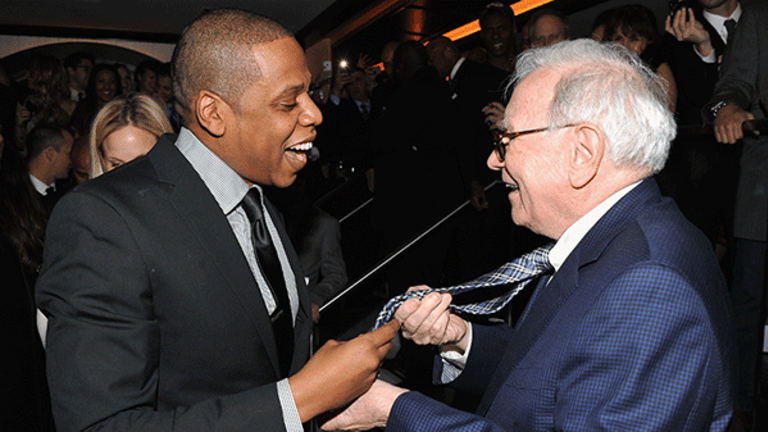 How to Live Warren Buffett's Life in Its Entirety
Well-known investor, philanthropist and giver of great quotes basically sums up the life of billionaire Warren Buffett. Here's how you can live like one of the richest people in the world.
Warren Buffett, the Oracle of Omaha, has made himself into a household name through legendary investing techniques that have amassed him a $77 billion net worth at 87 years old. Buffett started playing the markets at the young age of 11, but he's offered sage wisdom on investing for years since he made his first millions.
Here are some of Buffett's best tips for making money, living life and just being great.
Investing Like Buffett
Index Funds
In a letter to his Berkshire Hathaway (BRK.A) - Get Berkshire Hathaway Inc. Class A Report (BRK.B) - Get Berkshire Hathaway Inc. Class B Reportshareholders in 2013, Buffett said his advice for the average investor "could not be more simple." He suggested putting 10% of cash in short-term government bonds and 90% in a "very low-cost" S&P 500 Index fund. In that letter, Buffett suggested Vanguard's variety of funds.
Buffett has long sung the praises of index funds. He said pension funds, institutional investors and individual investors find better long-term results with an index investing policy than they would if they employed "high-fee managers."
Vanguard's short-term government bond index fund runs a 0.16% annual fee with a $3,000 minimum investment. The exchange traded fund version charges 0.07% annually.
Look for 'Moats'
If index funds aren't for you, look out for some of Buffett's "moats" -- as in the water-filled ditch that keeps a castle safe from attack. Buffett has called positive free cash flows, good return on capital and strong competitive advantages within an industry "moats" for companies.
Investors can flock to those moated names by investing in a basket of Buffett-like stocks through Motif automated investing service for $10 a trade. Although Buffett hasn't approved any himself, the Motif fund focuses on similar investing techniques.
But picking winners in today's market isn't always easy. While the S&P 500 and the Dow Jones Industrial Average hit record intraday highs Monday, geopolitical turmoil and volatility threaten to yank the rug out from under market optimism at any time. With that, remember what Buffett said on fear.
"During such scary periods, you should never forget two things: First, widespread fear is your friend as an investor, because it serves up bargain purchases. Second, personal fear is your enemy," Buffett said in 2016.
"The years ahead will occasionally deliver major market declines - even panics - that will affect virtually all stocks," Buffet wrote in a 2016 letter to investors. "No one can tell you when these traumas will occur - not me, not Charlie [Munger], not economists, not the media."
One of Buffett's top picks is Apple Inc. (AAPL) - Get Apple Inc. Report . The investor has never sold an Apple share, and said last month that he sees Apple becoming the first trillion-dollar company. Other big Buffett holdings include Coca-Cola (KO) - Get Coca-Cola Company Report , Wells Fargo (WFC) - Get Wells Fargo & Company Report , American Airlines (AAL) - Get American Airlines Group, Inc. Report , American Express (AXP) - Get American Express Company Report , Bank of America (BAC) - Get Bank of America Corp Report , Costco (COST) - Get Costco Wholesale Corporation Report , Kraft Heinz (KHC) - Get Kraft Heinz Company Report , Southweat Airlines (LUV) - Get Southwest Airlines Co. Report , Moody's (MCO) - Get Moody's Corporation Report and Restaurant Brands (QSR) - Get Restaurant Brands International Inc Report .
As for Berkshire...
If you really believe in the Oracle of Omaha, consider investing in his holding company. Berkshire has outperformed the S&P 500 for the past 10 years. Currently, Class A shares are up 10.7% in 2017 and Class B shares are up 10.4%, while the S&P 500 has notched 11.7% gains on the tails of a string of record closes.
But, Class A Berkshire shares come with a hefty price tag. Class B shares began trading in 1996, and the main difference between those shares and Class A is price. While Class B shares closed Friday, Sept. 15 at $179.89, Class A shares finished the week at an astonishing $270,200. Class B shares have slightly less say in shareholder votes, but they don't trigger a gift tax like Class A shares do.
Think Long-Term
Don't forget that Buffett has had skin in the game for longer than many reading this have been alive - 76 years, to be exact. It takes time to build a fortune, and even Buffett didn't amass 99% of his wealth until after his 50th birthday.
With that, choose stocks that can stand the test of time. Certain sectors are always going to be strong, even in a recession - that's Buffett's sweet spot. Forget companies that rely on a strong economy like retailers with discretionary or luxury products and focus instead on moves in utilities or strong brand names.
And for what it's worth, Warren Buffett is known for eating whatever he likes and drinking a Coca Cola soda every day. So grab a burger, crack open a cold Coke and start looking for your own moats.
How to Make a Great Deal Like Buffett
Get Right to the Money
Buffett's book, "The Essays of Warren Buffett," outlines the very real need to start talking about money from the start, no matter how uncomfortable it could make the conversation. It's both unrealistic and unwise to start talking about any transaction before a starting price is established.
Know what you're dealing with on the other end, too, and not just the party's budget, "How to Close a Deal Like Warren Buffett," authors Tom Searcy and Henry Devries wrote. Buffett has been known to ask for business plans and standard financial documents that a company would submit to a bank in applying for a loan. These aren't wildly specific or obscure requirements, but they can paint at least a preliminary picture of the other party's financial situation ahead of the nitty gritty.
As for Negotiations...
Wait until it's the right time. Just as Rome wasn't built in a day, deals aren't closed in one meeting. Searcy and Devries wrote that negotiating too soon reduces details to nothing, according to Buffett's philosophy. Remember that the whole is not always the sum of its parts. Allow a broader picture to be established before jumping to conclusions, even if it means several meetings and discussions before negotiating on price and specifics. Buffett has also said not to confuse price with value. Price is what you pay, while value is what you get, Buffett said.
Ranges Are Important
Searcy and Devries also wrote that Buffett does his deal-making in ranges. When it comes to prices, cost structures, yields and performance metrics, speak in ranges to establish the high and low ends each party is willing to accept. That also keeps both parties on the same page and avoids an awkward realization that there are too many irreconcilable differences when it's too late.
Never Go Where You Aren't Wanted
Buffett has long made a pledge to stay away from deals that don't want him there. Earlier this year, Buffett's Berkshire Hathaway put down $15 billion to aid Kraft Heinz Co. (HNZ) , which it owns a majority stake in, to buy out consumer goods titan Unilever Plc (UL) - Get Unilever Plc Report . When Unilever rejected the proposal, Berkshire and Kraft Heinz pulled out of the deal without contest. Buffett called the Unilever situation a "misunderstanding" in August and said Berkshire withdrew immediately after realizing they weren't wanted.
Buffett isn't your normal rich guy...
How to Travel Like Buffett
For the Road, Keep It Simple and Cheap
For all his wealth, Buffett drives a modest everyday car. In 2014, he traded in a General Motors Co. (GM) - Get General Motors Company Report 2006 Cadillac DTS to buy a 2014 Cadillac XTS. The basic model retails for about $61,000. The billionaire could afford a personal driver, to be sure, but he makes the five-minute trek from his home to the Berkshire Hathaway office every morning in his own car.
The 87-year-old Buffett said in a BBC documentary that he only drives about 3,500 miles per year, so a fancy car isn't particularly necessary. According to the Federal Highway Administration, the average American male 65 years or older drives 10,304 miles in a year.
For the Sky, Splurge a Little if You need To
Buffett long criticized the use of private jets by CEOs and magnates so much so that when he broke down and bought his own private Bombardier Challenger jet over two decades ago, he ironically called it "The Indefensible." Fast forward a few years and Buffett renamed his plane "The Indispensable," given how much he came to rely on it, according to Forbes.
To Buffett, the only reason to own a private jet is for convenience. With a busy travel schedule, Buffett found flying private makes his life easier and better. A private plane can often transport you to smaller or more distant airports without waiting on a connecting flight or dealing with pesky airport holdups. Even business class travelers can't bypass the nightmarish setbacks of crew delays or mechanical problems.
Not too sure if Buffett holding American Airlines (AAL) - Get American Airlines Group, Inc. Report would agree.
And If You Like It, Why Not Buy It
Buffett came to love private jet travel so much that he bought a private jet leasing company called NetJets in 1998. NetJets lets users buy shares of private jets as fractional owners or lease and buy the aircrafts outright. The jets can be shared like a timeshare and ready to use upon request. During busy times, NetJets promises its customers they'll fly on a jet of equal or better value if theirs is being used by another owner.
"It's not inexpensive. It's something you've got to be prepared to take on, but when people do, they describe it as something they would never give up," NetJets CEO Jordan Hansell told Yahoo. Hansell said the Buffett family has flown over 5,000 hours on NetJets planes.
Entry level packages on NetJets get you about 25 hours of flight time for between $120,000 and $130,000. Prices go higher from there, up to as much as $65 million to buy your own NetJet.
How to Have a Successful Life Like Buffett
Start Early and Learn Often
Buffett made his first investment when he was just 11 years old back in 1941. He bought three shares of Cities Services Preferred for $38 each. Shortly after he bought them, the stock dropped in price to $27. As soon as the price ticked up to $40, Buffett sold. Had he held the stock for longer, he would have seen Cities Services shares shoot to $200. This, Buffett has said, informed his strict investing strategy: buy and hold.
Equities weren't his only side hustle as a child. The young Buffett opened a lucrative pinball business in a barbershop and split the profits with the shop owner. After profiting from the first pinball machine, Buffett and his partner, friend Don Danley, invested their earnings in more machines at more barbershops. After one year of operating the business, the two sold it for $1,000, according to Business Insider.
Buffett also delivered Washington Post newspapers, sold gum and soda and washed cars. By the time he was 16, he was making more money than many of his teachers with a small fortune of about $53,000 in today's dollars.
Have Patience and Don't Be Afraid to Fail
Even with strong momentum coming out of high school and college, Buffett was rejected by the Harvard Business School. He's said to have left the in-person interview thinking he wowed the admissions counselor, even calling a friend to urge him to join Buffett in Cambridge. But Buffett was turned down, and instead attended Columbia Business School.
When he graduated business school, Buffett asked his idol and mentor Ben Graham for a job at his Wall Street firm, Graham Newman. But Graham turned Buffett away, instead saving the spot for a young Jewish man since it was much harder for Jews to get work on Wall Street than it would be for Buffett.
With that, Buffett returned to Omaha and took a job at his father's brokerage firm, according to Business Insider. He worked there for three years before Graham had a change of heart and hired Buffett in 1954. Although Buffett was a millionaire by age 32, he didn't amass more than 99% of his wealth until after his 50th birthday.
Read. Read Some More
Buffett has attributed a great deal of his success to his borderline obsessive penchant for reading. According to some reports, he estimates he'll spend as much as 80% of every day reading. Buffett starts every morning with several newspapers. He doesn't keep a computer at his desk, preferring instead a world encyclopedia and the day's printed news.
Buffett said he reads as many as 500 pages from books each day, according to CNBC. "That's how knowledge works. It builds up, like compound interest," Buffett said.
When he's not spending free time reading, Buffett is known for his skills at the bridge table. He has told reporters he's a self-proclaimed bridge addict and "wouldn't notice" a naked woman walking by if he were in the middle of a bridge game. Buffett also strums the ukulele. These certainly aren't the pastimes one would expect from a mega-rich billionaire, but Buffett keeps it real and keeps it simple.
Give Back
Buffett has donated about $25 billion to charity throughout his life, with a large portion going to his friend and Microsoft (MSFT) - Get Microsoft Corporation Report founder Bill Gates' Gates Foundation.
Buffett also started the Giving Pledge with Gates. Those who sign the pledge promise to donate a majority of their wealth to charity before their death. The 154 signers include Groupon (GRPN) - Get Groupon, Inc. Report founder Brad Keywell, Epic (EPOR) founder Judy Faulkner, Spanx founder Sara Blakely and activist investor Bill Ackman.