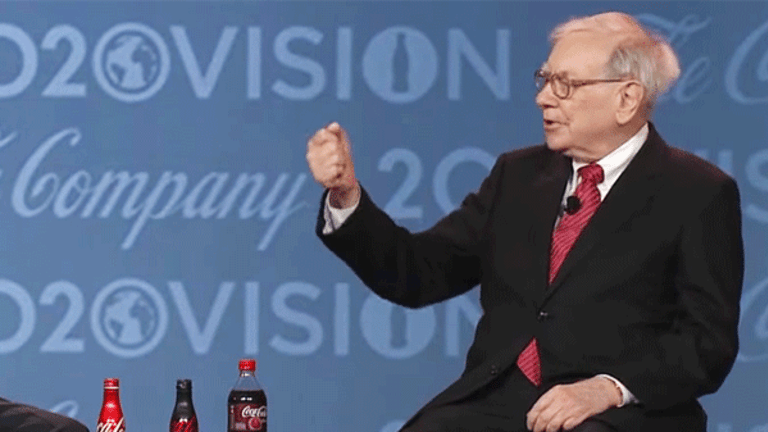 How to Eat Lunch With Billionaire Warren Buffett
Of course, the lunch could cost you upwards of $3 million. But the advice may be priceless. Hot stock tips from the master, anyone?
Of course, the lunch could cost you upwards of $3 million. But the advice may be priceless. Hot stock tips from the master, anyone?
Every year, billionaire investor Warren Buffett auctions off the chance for a lunch date with him at Manhattan's Smith & Wollensky steakhouse with profits going to the GLIDE Foundation. But, it's not your average business lunch.
The meal goes to the highest bidder, with recent winners dishing out as much as $2.7 million for some face time with the Oracle of Omaha. Here's what you need to know.
How Much Could It Cost?
In June, an unnamed bidder on eBay (EBAY) - Get Report paid close to $2.7 million for the lunch. The five-day auction was two minutes away from closing when the bidder placed an offer. The winner, along with up to seven friends, had lunch with Buffett at the New York steakhouse last month.
The auctions started in 2000. During its inaugural year, technology entrepreneur Pete Budlong shelled out $25,000 for the lunch during an in-person auction in San Francisco hosted by Sharon Stone and Robin Williams. By 2007, the winning bid climbed to $620,100. In 2008, the winning bid topped $1 million and hasn't looked past that milestone since.
But this year's $2.7 million bid wasn't the highest ever. In 2012 and 2016, the winners each bid $3,456,789 for the meal in a contest with 41 other competitors.
Virginia hedge fund manager Ted Weschler won the lunch in 2010 and again in 2011. Weschler was so impressive in person that Buffett later offered him a top money manager position at his Berkshire Hathaway (BRK.A) - Get Report (BRK.B) - Get Report . Weschler is now part of the team that's expected to take the helm at Berkshire once Buffett steps down.
What Could You Learn?
Aside from getting a job like Weschler, there is a lot to learn from the Oracle of Omaha. Even if you don't want to talk investing, Buffett is said to be a pretty great lunch date.
The first winner, Budlong, is a tech investor - which is a sector Buffett notoriously avoided back in 2000. Budlong said the two still talked tech shop, and that Buffett was "folksy, down to earth and legitimately funny," according to CNBC. "It was a conversational, pretty chill lunch."
You could probably also learn insight into some of Buffett's top stock holdings. 
One of Buffett's top picks is Apple Inc. (AAPL) - Get Report . The investor has never sold an Apple share, and said last month that he sees Apple becoming the first trillion-dollar company. Other big Buffett holdings include Coca-Cola (KO) - Get Report , Wells Fargo (WFC) - Get Report , American Airlines (AAL) - Get Report , American Express (AXP) - Get Report , Bank of America (BAC) - Get Report , Costco (COST) - Get Report , Kraft Heinz (KHC) - Get Report , Southweat Airlines (LUV) - Get Report , Moody's (MCO) - Get Report and Restaurant Brands (QSR) - Get Report .
What Is the GLIDE Foundation?
Buffett became involved with Glide through his first wife, Susie, who volunteered there. The organization benefits San Francisco's homeless population. Glide is located in San Francisco's Tenderloin neighborhood, home to a highly impoverished part of the city's population. It provides about 750,000 meals per year to homeless San Franciscans, plus physical health, mental health and substance abuse care for those in need.
Glide has an annual budget of about $18 million, according to the Financial Times. That means the Buffett lunch could account for as much as 19% of the organization's funds for a year. Since the auction started, it's raised about $25 million for Glide.
Is There Any Other Way to Get Buffett's Take?
Although the purpose of the lunch is to raise money for charity, it seems there are other ways to get Buffett alone. The famed investor holds a Berkshire shareholder meeting every year, but you have to own Berkshire stock to get in. If you don't own Berkshire stock, cozy up to a friend who does - shareholders are entitled to a maximum of four meeting credentials.
New York-based portfolio manager Patrick O'Shaughnessy also scored a three-hour dinner with Buffett without holding Berkshire stock or shelling out a small fortune. The millennial hosts a podcast and asks authors whose books he's read to join the show for a conversation. When O'Shaughnessy met with hedge fund manager and author Tim Seides, the two hit it off and ended up flying to Omaha for dinner with Buffett, who's a friend of Seides', according to CNBC.
More of What's Trending on TheStreet: