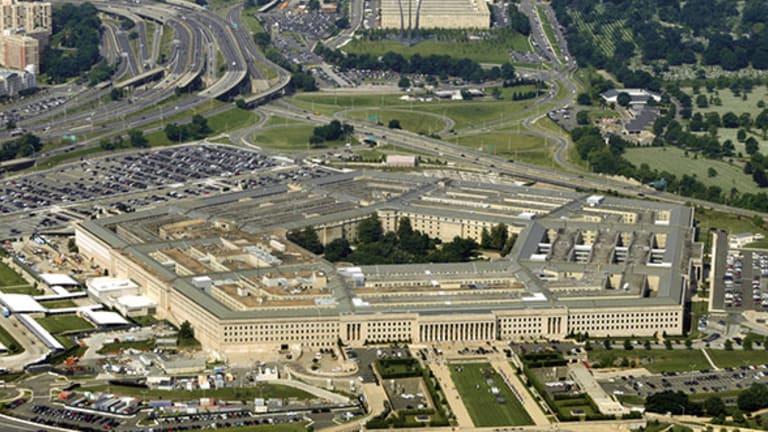 Warning: This Over-Hyped Defense Stock Is Toxic
The defense sector is soaring, but avoid Kratos.
Stock valuations are at record highs despite a three-year corporate-earnings recession. At the same time, America's new president is mercurial, interest rates are rising and economic growth is slowing. The result is a dangerous market that makes careful stock picking all the more important.
You shouldn't exit the market altogether; there's still plenty of opportunity for growth if you know where to look. Instead, choose stocks based on their inherent qualities, with less emphasis on their particular sector.
Case in point: Kratos Defense and Security Solutions (KTOS) - Get Kratos Defense & Security Solutions, Inc. Report , a small-cap stock that's been getting a lot of attention because it's in the booming field of drones and communications security. The stock has soared 18.7% year to date as analysts recommend the stock and investors pile in, largely because the investment herd expects President Trump's defense largesse to lift the company.
However, on closer examination, there are better places for investors to put their money. As Kratos shows, not all defense stocks are equal.
With a $631.7 million market cap, Kratos provides safety and security products in the areas of communications and surveillance for government and commercial customers. The company operates through three segments, Kratos Government Solutions, Unmanned Systems, and Public Safety & Security.
Kratos' jet-powered drones should be in big demand as military planners put increasing emphasis on pilot-less aircraft. However, the company has reported scant contract wins. In fact, KTOS hasn't reported a single quarter of positive GAAP profits in more than 12 months.
The company's earnings drought shows no sign of abating, either. The average analyst expectation is that Kratos' earnings per share will come in at -0.02 cents in the current quarter, the same loss incurred last year. Next quarter, EPS is pegged to come in at -0.12 cents compared to -0.13 cents in the same quarter a year ago. The current year's EPS is estimated at -0.11 cents, the same loss posted last year. Next year, earnings are projected to plunge by 9.1% on a year-over-year basis.
Kratos is benefiting from the assumption that Trump will boost aerospace/defense spending, which has fueled prices of that sector's stocks. Since Trump won on Nov. 8, the benchmark SPDR S&PAerospace & Defense ETF (XAR) - Get SPDR S&P Aerospace & Defense ETF Report has risen 16.6% compared to 10.2% for the S&P 500 (SPY) - Get SPDR S&P 500 ETF Trust Report .
But it would be a mistake to throw your money into certain sectors simply because Trump's campaign rhetoric suggests that they'll be winners under his regime. Everything is up for grabs and subject to change. Instead, you must examine the particulars of each stock. Whenever Trump fires off a stock-crushing tweet, it's all too apparent that we're in a trader's market that can deliver stunningly swift reversals of fortune for any stock.
To be sure, aerospace/defense is a good bet under Trump, but you need to be selective. Defense stocks such as Boeing (BA) - Get Boeing Company Report and Lockheed Martin (LMT) - Get Lockheed Martin Corporation (LMT) Report are appealing investments (albeit a bit pricey right now), as their coffers fill with new aircraft orders.
But some defense stocks should be avoided regardless of Trump's promised boost to Pentagon spending. And despite the hype over its prospects, one defense stock to avoid is Kratos.
If you walked by this guy on the street, you would not think "millionaire," you would probably probably think "accountant" or "average cubicle guy." Actually, he was a lawyer until he unlocked this secret that made him $5 million. How does he do it? We'll warn you ... it's about as exciting as a ham sandwich. But it's turning regular readers into six-figure income machines. Click here for the details.
John Persinos is an analyst with Investing Daily. He also serves as an analyst with the aerospace/defense consultancy Teal Group. At the time of publication, he owned stock in Boeing.