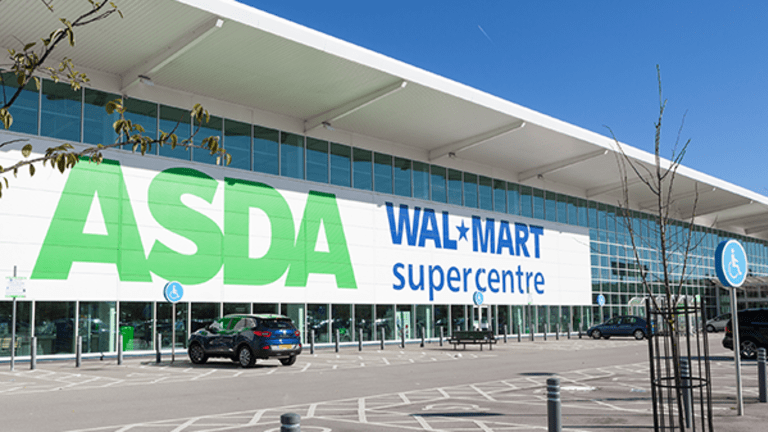 Why Walmart's Most Troubled Business Is Finally Showing Signs of Life
Walmart's U.K. unit, Asda, saw a recent increase in the number of shoppers coming through its doors.
Walmart's (WMT) U.K. unit, Asda, saw an increase in the number of shoppers coming through its doors over the past three months, according to industry figures, as food price inflation continues to change consumer habits in the wake of the country's decision to leave the European Union.
Asda increased shopper numbers by more than 360,000 in the 12 weeks ending May 21, Kantar Worldpanel's U.K. Grocery Market Share figures released Wednesday show. The retailer also saw sales up 0.9% in the time period to £4.06 billion, compared with last year, but its market share fell to 15.4% from 15.8% last year.
"In particular, [Asda] has taken advantage of own label's growing popularity with consumers - its recently revamped 'Farm Stores' line helped increase sales of the grocer's cheapest private label tier by over 20% year on year," Kantar Worldpanel Consumer Specialist Chris Hayward.
"More than 9.2 million households bought Asda value own label products during the past 12 weeks: one million more than last year."
Walmart has been putting resources towards turning around its beleaguered U.K. unit, which has been its worst performing division in the past quarters.
In February, the world's biggest retailer conceded that it wasn't fast enough in responding to low-cost rivals in Britain's fiercely-competitive market.
Walmart said it will ensure Asda, which has 630 locations across the U.K., leverages its parent's purchasing strength, allowing it to buy everything from refrigerators to own-brand products to real estate for a cheaper price driving down costs, Walmart's chief administration officer, Scott Price, told Reuters at the time.
"One thing that maybe we would criticize ourselves for is that we didn't start the repositioning of the business sooner, that we didn't focus more on the leverage opportunities so that Asda was able to invest more aggressively in price," Price told Reuters.
Supermarkets in the U.K. are contending with higher inflation, due to the fall in the pound since last year's vote to leave the European Union.
Grocery inflation hit 2.9% in the 12 weeks ending May 21. Prices have been rising since the 12 weeks to 1 January 2017, following a period of grocery price deflation which ran for 30 consecutive periods from September 2014 to December 2016.
Inflation in the U.K. hit its highest level since September 2013 in April, hitting 2.7%, according to the Office for National Statistics, up from 2.3% in March, and well above the Bank of England target of 2%. The BoE expects inflation to peak at just below 3% by the end of this year.
Walmart stock closed at $78.15 on Tuesday, extending a 10.44% gain in the past three months.
Click here for the latest business headlines.