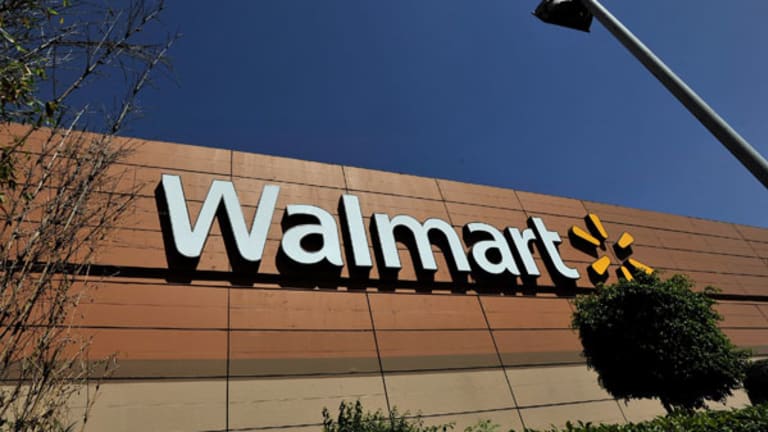 Walmart Pays Dearly as It Struggles to Catch Up to Amazon in E-Commerce
Walmart's purchase of Jet.com for $3 billion in cash plus an additional $300 million in stock is one of the largest acquisitions ever of an e-commerce company.
Updated to include comments from Walmart CEO Doug McMillon.
Walmart (WMT) is shelling out over $3 billion to get a more significant footing in e-commerce, but the expensive acquisition may not tip the scale as much as the retailer hopes in its ongoing battle againstAmazon.com (AMZN) .
Walmart announced Monday that it has agreed to acquire Jet for about $3 billion in cash and $300 million of its stock. The acquisition is subject to regulatory approval and is expected to close in 2016.
Hoboken, N.J.-based Jet says it has has about a $1 billion run-rate in Gross Merchandise Value, or GMV, whick measures the total sales value.
"When I think about the purchase price Walmart is paying for Jet.com, it's clearly an indication to me of need," said Maxim Group analyst Tom Forte via phone, acknowledging that while the price tag appears "incredibly rich," Jet is also a must-have for Wal-Mart.
"They're buying the company based on their future potential," he added.
Privately-held Jet, which has secured funding over the years from a group of investors including Thrive Capital, Accel, Bain Capital, Alibaba Group (BABA) and Citigroup (C) has particularly focused on offering the lowest pricing possible -- what Walmart has done at the brick-and-mortar level. Both have essentially gone after super low-end, cost-cutting consumers as opposed to prioritizing quality of delivery services such as speed.
The $3 billion purchase tag is not only among the most expensive checks that Walmart has written in its M&A history, but also one of the largest takeouts in web retail. It surpasses the $2.4 billion that QVC parent Liberty Interactiveundefined paid for Zulily last year and the reported $1 billion Unilever (UL) shelled out for Dollar Shave Club last month, among others.
UBS analysts wrote in a note Monday that the price is "pretty steep for a business that may not have made any money and probably won't for some time." Walmart will likely see between a $0.03 to $0.05 drag on earnings per share for every $100 million of operating losses it would have to absorb for Jet, while acknowledging that Walmart has ample cash of $7.6 billion on its balance sheet.
"We think it will be critical for WMT to let Jet stand alone, enabling this rapidly growing business to not get distracted by the bureaucratic culture of a large enterprise," the analysts wrote.
Walmart CEO Doug McMillon told TheStreet that customers will now have more choice over the price they pay and can also build a basket of items, adding that Jet's technology is "true to the spirit of Walmart's pricing philosophy."
While Walmart is acquiring Jet for the team and technology -- not sales -- it is more of a defensive move by Wal-Mart against Amazon, said Wedbush analyst Michael Pachter in an email.
"Jet wasn't going anywhere, and its total sales are around $1 billion. Amazon is at $130 billion, so not a huge impact," he further wrote. "Walmart will be stronger with the Jet guys managing their web presence, but I don't expect as much of a lift in Walmart earnings."
There are also uncertainties about whether the check justifies exactly what Walmart is getting by buying Jet.
"It seems like a nice premium for something they could largely do on their own. It certainly makes everything quicker," said Needham & Co. analyst Kerry Rice.
Walmart may also be largely investing in Jet CEO Marc Lore, who previously founded Quidsi, the parent company of Diapers.com, Wag.com and Soap.com that Amazon purchased for $550 million back in 2011.
"The price seems high, but I wouldn't bet against Marc," Rice said. "He's a very successful entrepreneur in e-commerce."
As for Amazon, there doesn't seem to be too much to worry about for now. Walmart is still in the early days of ramping up e-commerce -- the Jet acquisition will assign its e-commerce revenue at $14 billion vs. Amazon's estimated $99 billion in e-commerce revenue for 2016.
Still, the pricey check certainly spells positive news for players in e-commerce particularly private ones. In recent years, VC-backed e-commerce darlings have had to settle with mediocre outcomes as exemplified by Hudson's Bay's acquisition of Gilt for $250 million and Bed Bath & Beyond's (BBBY) purchase of One Kings Lane for undisclosed terms.