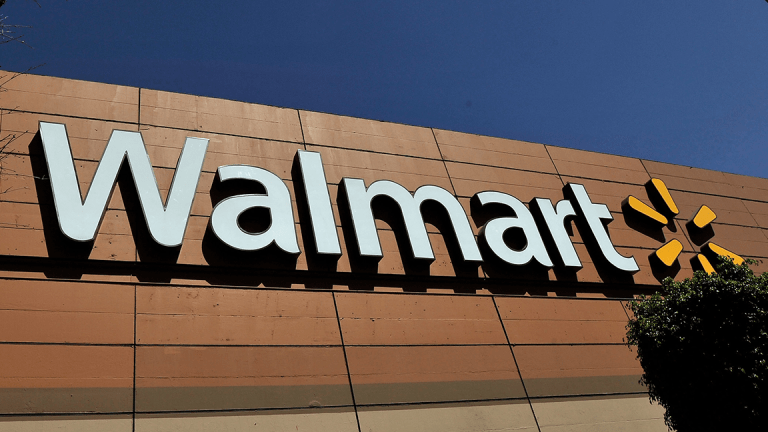 Relax -- Walmart Isn't a Major Threat to Amazon Just Yet
Though growing rapidly, Walmart's U.S. e-commerce operations remain far smaller than Amazon's, with much of their growth driven by grocery pickup orders.
Another Walmart (WMT) earnings report has arrived, and with it another set of headlines suggesting the company's strong e-commerce growth is bad news for Amazon.com (AMZN) , or at least that Walmart is holding its own in its fight against Jeff Bezos' firm.
That makes this a good time to remember that Walmart and Amazon's U.S. e-commerce operations are very different in terms of scale and customer demographics, and also appear to be quite different in terms of product mix.
Walmart's stock is up over 2% in Tuesday trading after the retail giant beat EPS estimates, reported roughly in-line revenue and forecast its Walmart U.S. segment's same-store sales will rise 2.5% to 3% in fiscal 2020 (it ends in Jan. 2020). The company also reported its Walmart U.S. e-commerce sales rose 43% -- that's even with the October quarter's growth rate -- and guided for them to rise about 35% in fiscal 2020.
Walmart is the Stock of the Day on Real Money, our premium service for active investors. To read more about Walmart's successful quarter, please click here.
The e-commerce figures suggest Walmart's online retail operations are easily outgrowing a U.S. e-commerce market believed to be growing around 15% annually. They also suggest Walmart's e-commerce growth is faster than Amazon's -- in Q4, Amazon's North American segment revenue grew about 21% after backing out Whole Foods's bricks-and-mortar operations.
And this growth is happening in spite of the fact that, anecdotally, Walmart appears to be taking steps to improve the profitability of its e-commerce operations by no longer making some bulkier and cheaper items available for delivery (to obtain the items, consumers have to pick them up at a Walmart store). It's also happening in spite of the fact that Walmart has been paring its investments in its Jet.com unit, as the company focuses on its Walmart.com site.
Amazon.com is a holding in Jim Cramer's Action Alerts PLUS member club. Want to be alerted before Jim Cramer buys or sells AMZN? Learn more now.
However, Walmart's U.S. e-commerce operations still appear to be much smaller than Amazon's. Recently, research firm eMarketer estimated Walmart would account for just 4.6% of 2019 U.S. e-commerce gross merchandise volume (GMV), despite growing its U.S. e-commerce GMV nearly 33%. That would make Walmart's share less than one-tenth of Amazon's estimated 47% share, and also a little smaller than eBay's (EBAY) estimated 6.1% share.

Walmart's U.S. e-commerce share is still much smaller than Amazon's. Source: eMarketer.
Moreover, Walmart's customer demographics, including for its online retail business, are meaningfully different from both Amazon Prime's and Whole Foods'. And perhaps more importantly, a sizable portion of Walmart's e-commerce GMV appears to consist of online grocery purchases that are picked up at Walmart stores and likely would have otherwise been made at Walmart or another bricks-and-mortar retailer the old-fashioned way.
On its earnings call, Walmart noted that it now supports grocery pickup at more than 2,100 U.S. locations (up from more than 1,800 six months ago), and online grocery delivery at more than 800 locations. Though Walmart is competing with Amazon in this space -- particularly as Amazon expands the availability of Whole Foods' grocery delivery and pickup services -- Walmart is arguably competing just as much here, if not moreso, with the likes of Target  (TGT) and Kroger (KR) .
Walmart has done a pretty good job of leveraging the strengths provided by its offline retail empire -- both in terms of physical infrastructure and the low prices it's able to obtain from suppliers thanks to its purchasing power -- to create a pretty successful online grocery business. And with the help of its efforts to add new brands and grow its stable of marketplace sellers, the company has seen a measure of success for its efforts to grow non-grocery sales.
One could also add that with only about 10% of U.S. retail sales currently happening online, e-commerce is hardly a zero-sum game. At a time when even Amazon still only accounts for about 5% of total U.S. retail spend, there's plenty of room for multiple large players to register strong e-commerce growth.
But with that said, Amazon still maintains some major competitive advantages against Walmart and other smaller e-commerce rivals -- from Prime, to its fulfillment infrastructure, to its giant base of marketplace sellers, to its brand and customer service reputation. And given what's known about Walmart's e-commerce business, the business shouldn't be seen as a major threat to Amazon at this point in time.
This article has been corrected to state Walmart's October quarter U.S. e-commerce growth rate was 43%, even with the January quarter's.