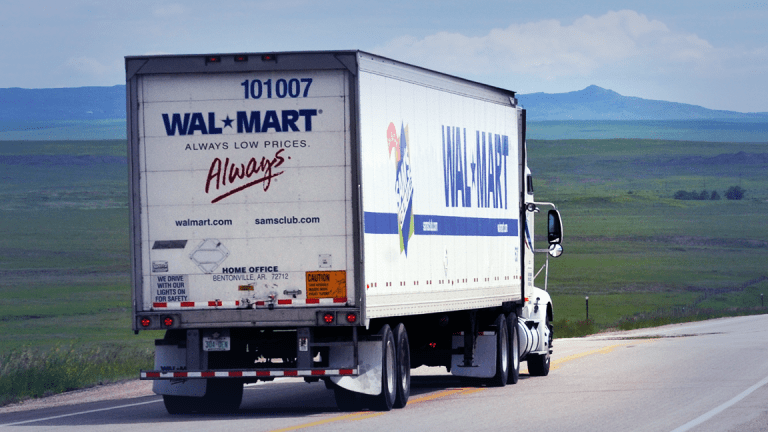 Walmart's New Secret Sauce? A Sense of Urgency, Says This Data Analytics CEO
Walmart is fresh off a very impressive second quarter. Here's what one CEO who works in the Walmart ecosystem thinks the world's largest retailer is doing right.
A faster-moving Walmart (WMT) - Get Report may be leading to faster sales growth.
Walmart is moving with a sense of urgency under CEO Doug McMillon, IRI CEO Andrew Appel said on TheStreet's 'Jolt' podcast. The CEO of the data analytics firm has a catbird seat into Walmart 2.0: his big consumer packaged goods clients such as P&G (PG) - Get Report study IRI's sales data religiously. In most cases, Walmart is the largest customer for consumer packaged goods. 
Since taking over the top job at the world's largest retailer in 2014, McMillon has injected Walmart with the sense of purpose it needed to win back fans on Wall Street (and customers from Amazon). McMillon is signing off on big deals, re-thinking how Walmart operates online and keeping an eye on how to improve relationships with store employees.
Walmart shares spiked 10% on Thursday following much better than expected second quarter results and guidance. 
TheStreet Stats: 5 Key Takeaways From Walmart's 2Q
Walmart's quarter should be viewed even more favorably considering how strong Amazon performed.
Walmart U.S. same-store sales rose 4.5%, dusting Wall Street forecasts for 2.3 growth. The bar has been raised for rival Target to deliver in a big way when it reports, especially as it has continued to sharpen its price points.
Full year adjusted earnings guidance raised to $4.90 to $5.05 from $4.75 to $5.00. Signals Walmart seeing enough in its business to strike a confident tone on the key back to school and holiday selling seasons.
Sam's Club same-store sales rose 5%, almost five times the performance of a year ago. Considering the warehouse format has long struggled, the results are likely to be nicely welcomed by Wall Street.
Walmart's inventory continues to decline. It's positive to see Walmart doing more sales on lower inventory as it benefits from profit margins.
Walmart is Real Money's 'Stock of the Day' today.