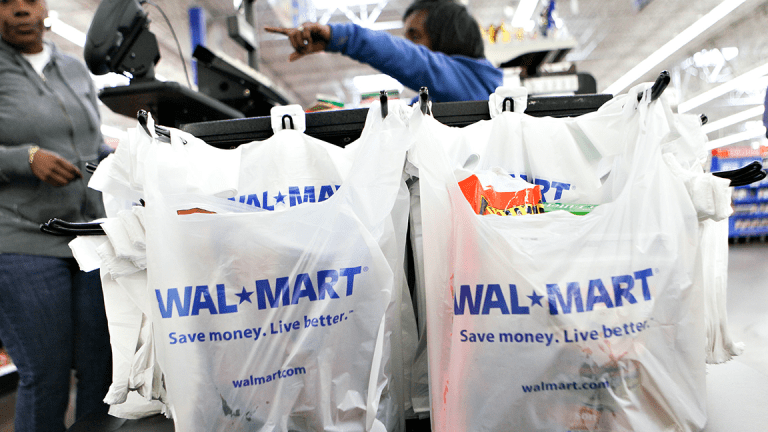 What to Expect When Walmart and CVS Report Earnings This Week
Here are stocks to keep an eye on this week.
Earnings season is well under way, and so far, it's the best in nine years. Stocks have been reacting positively to the reports, with companies gaining an average of 1.12% after each release. Now that leads us to the retail reports. And when the service economy depends on consumer spending, retailers are a true leading indicator of the state of the economy. In the next few days, we'll see quarterly earnings from three major retail players, in three different sales segments. So let's get ready for the quarterly reports by dipping into the TipRanks database and see what top analysts are expecting going into the print ... 
The World's Largest Retailer
Sam Walton's postwar creation - a discount department store, offering lower prices through higher volume and lower margins - has matured into the world's largest retailer (more than 11,000 stores), the world's largest private employer (more than 2.3 million employees), and the world's largest company (more than $500 billion in revenue).
Walmart Inc.  (WMT) - Get Walmart Inc. Report  has shown an intertwined combination of fundamental strength and reasons for concern. On the debit side, Walmart has been spending prolifically in recent years; on the credit side, much of the company's expenditure has focused on dividend payments (WMT yields 2.12%), share buybacks, and acquisitions. In 2018, Walmart purchased a controlling 77% stake in India's Flipkart, giving it both an entry to India's vast market and a technological base from which to expand its online retail efforts.
Financial blogger Zvi Bar made a close analysis of Walmart's recent performance. He noted the following key markers to judge Walmart's upcoming quarterly release: first, that the company continues to expand its online retail efforts and revenue, in competition with Amazon.com Inc. (AMZN) - Get Amazon.com Inc. Report ; second, that Walmart's international business continues to show strong sales and profits; and finally, that Walmart is well-positioned to beat its U.S. domestic competition, especially after the bankruptcy of Toys 'R' Us.
For the bottom line, Bar said of Walmart: "The market is primed to evaluate retailers in terms of revenue growth and market share, and Walmart should not disappoint. Moreover, this relative effect should continue for the next three quarters. Therefore, Walmart appears likely to outperform in 2019."
Writing at Guggenheim, market analyst Robert Drbul also sees the fundamentals supporting Walmart in the coming year. In his review of the stock, he states clearly, "We expect the U.S. (physical/digital) to remain strong, delivering another solid top-line/operational result in 4Q, following a strong performance in-store and online throughout '18. In '19, we expect another year of strong results ..." His price target on WMT shares, $110, suggests an upside of 12% to the stock.
Walmart is currently trading at $97 a share. The average price target is $108, which implies an upside of 11%, and the analyst consensus is a moderate buy. That consensus rating is based on five "buy" reviews and four "holds." Walmart is scheduled to release fourth-quarter earnings on Tuesday, Feb.  19, and is widely expected to beat the forecast.
From Pharmacy Chain to Healthcare Company
CVS Health Corp. (CVS) - Get CVS Health Corporation Reportin November completed a merger with health insurer Aetna, and in the process became the largest single healthcare company in the United States. In addition to the well-known pharmacy chain, CVS also operates a chain of walk-in MinuteClinics out of the pharmacy locations, is a prescription benefit management service, and now provides health insurance. The company also announced in November 2018 that, after the Aetna merger was complete, the CVS Pharmacy locations will be renovated, and shift their focus to health and personal care items from general retail.
Like Walmart, CVS is likely to beat the earnings forecast when it reports its fourth quarter on Feb. 20. The company has beaten forecasts in the last two quarters by an average of 3%, and its stock has consistently outperformed competitors (Walgreens Boots Alliance Inc. and Rite Aid Corp.) over the last five years.
Looking forward, the Dividend Sensei financial blogger summed up the positive outlook for CVS: "Not only does CVS have dominant market share in all its key business segments, but that in 2019 it should have no trouble growing its top and bottom lines as it's done steadily over the years."
For a more formal, Wall Street outlook, we can turn to Steven Halper of Cantor Fitzgerald. In his recent review of CVS stock, he said, "We rate shares of CVS Health Corp. (CVS) Overweight. The company has one the largest PBMs in the U.S. and a nationally recognized retail brand. We believe the acquisition of Aetna adds value, as the addition of Aetna's clinical expertise and capabilities should allow the combined company to transform MinuteClinic into a "healthcare hub" and reduce cost of care by shifting patients to lower cost CVS-owned settings. We believe the risk/reward tradeoff is compelling at current levels."
In line with that view, Halper gives CVS a $96 price target and a 42% upside potential. It's an aggressive move, that suggests substantially more upside than the aggregate.
On average, CVS has a $90 price target, which gives a 33% upside compared to the current share price of $67. The analyst consensus of moderate buy is based on 11 "buy" ratings and four "holds."
Can You Build It?
The housing sector has met some headwinds recently, but Home Depot Inc.  (HD) - Get Home Depot Inc. (The) Report , the well-known supplier for DIY and contractor home improvement, has shown some market resilience in recent months and outperformed when the major indexes slipped toward the end of 2018.
It's a good foundation for the upcoming fiscal first-quarter earnings report. According to Oppenheimer's Brian Nagel, investors can expect HD to show EPS of $2.19 for the quarter, and can look forward to full-year earnings down the road of $10.32. Continuing the same pattern as Walmart and CVS, Home Depot has beaten expectations in the last two quarters, by 10.5% and 7.4%, respectively. With the stock rising in recent weeks, market analysts are taking a sanguine view of the company.
Budd Bugatch, of Raymond James, pointed to major factors that underlie HD's success in the past quarter. First, he noted that "some of the more important metrics for the home building sector remain encouraging, including aging housing stock, home price appreciation, GDP growth." And second, he drew attention to the company's online efforts: "Better connecting stores to the digital business resulted in an acceleration in traffic, sales and conversion." Bugatch sees HD growing in the near future, and gives the stock a $205 price target. This suggests an upside of 9%.
The upbeat outlook and the strong business foundation are the reason for the most recent analyst move on HD stock, from Robin Diedrich at Edward Jones. She upgraded her view of Home Depot, moving it to buy from hold.
On consensus, Home Depot gets a strong buy from the market analysts, based on six "buy" and two "hold" ratings. HD stock currently trades at $187, and the average price target of $199 gives a modest 6% upside potential. But from the analyst outlook, that may be underrated.
Amazon and CVS are holdings in Jim Cramer's Action Alerts PLUS member club. Want to be alerted before Jim Cramer buys or sells the stocks? Learn more now.
offers exclusive insights for investors by focusing on the moves of experts: Analysts, Insiders, Bloggers, Hedge Fund Managers and more. See what the experts are saying about your stocks now at
. Author: Michael Marcus.