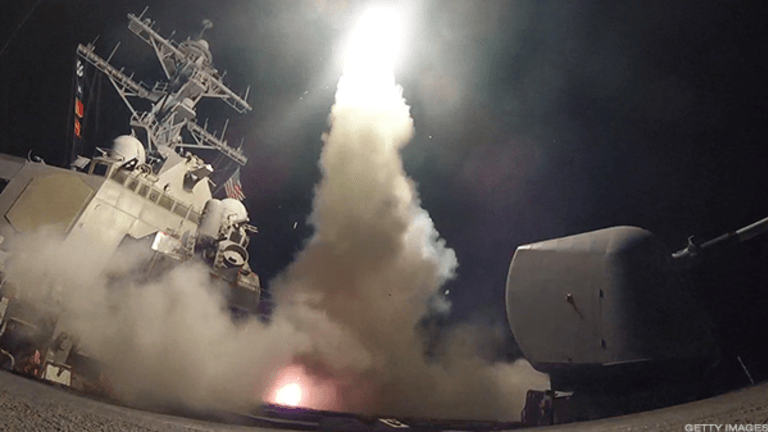 Wall Street Week Ahead: Is Chaos the New Normal?
Multiple geopolitical crises combined with fractious domestic politics are unnerving investors, but a few clear trends are emerging.
The wags on Wall Street are starting to refer to Donald Trump as "President Chaos." If you're looking for a winning investment strategy in the Trump era, it's this: always expect the unexpected.
Missile strikes against Syria, troublemaking from Russia, saber rattling in North Korea, disarray in the White House, political warfare in Congress: the outbreak of crisis has become a daily routine.
During turbulent times such as these, investors often behave irrationally and let emotions cloud their judgment. The key to making money (and protecting the wealth you already have) is keeping a cool head and focusing on the trends that really matter. Let's apply this mindset to the week ahead.
One investor's data is another investor's noise, especially when it comes to employment data. The Labor Department's latest employment situation report released on Friday ostensibly was a disappointment. The unemployment rate fell to 4.5%, but only 98,000 non-farm payrolls were added in March, below consensus expectations of 180,000.
However, instead of focusing on job creation, the pace of which is bound to slow as the economy approaches full employment, the real number to watch is wage growth. Average hourly earnings for private-sector employees climbed 0.2% in March and are now up 2.7% over the past year. Those are solid numbers and provide sufficient inflationary conditions to prompt another interest rate hike from the Federal Reserve in May, or June at the latest.
Wage growth bodes well for American consumers but not necessarily for stocks because it pressures corporate earnings. As you calibrate your portfolio toward a higher interest rate environment, you should also reduce your exposure to cyclical growth stocks that are tied to the performance of the overall economy.
As for geopolitical turmoil, don't assume that Trump's vow to boost military spending will benefit all aerospace/defense contractors. The collapse of Trumpcare last month has prompted traders to reassess the narrative of "Trump stocks."
Few people expected Obamacare repeal to fail. Ironically, the health-care stocks that will thrive under Trump are those that were thriving under Obama: hospital and managed care companies such as Molina Healthcare (MOH) - Get Molina Healthcare, Inc. Report , Community Health Systems (CYH) - Get Community Health Systems, Inc. Report , Tenet Healthcare (THC) - Get Tenet Healthcare Corporation Report , LifePoint Health (LPNT) , HCA Holdings (HCA) - Get HCA Healthcare Inc (HCA) Report , and Universal Health Services (UHS) - Get Universal Health Services, Inc. Class B Report . All of these stocks got an immediate boost when Trump's health-care bill died.
The same selectivity applies to the defense sector. The winners are likely to be companies that emphasize engineering prowess and high-margin electronics.
Case in point: When Trump launched 59 Tomahawk cruise missiles against Syria on Friday, the stock of Tomahawk-maker Raytheon (RTN) - Get Raytheon Company Report jumped 1.47%. Further gains probably lie ahead for Raytheon, which provides other missile systems as well as the ultra-sophisticated sensors needed to navigate drones.
Another assumption you should challenge is financial deregulation. Trump has promised to gut Dodd-Frank and other banking rules, but Democrats in Congress are increasingly resolved to push back. Again, don't assume all bank stocks will benefit under Trump. Pay careful heed to operating results and the economic data that counts.
The following banks are scheduled to report earnings on Thursday: Citigroup (C) - Get Citigroup Inc. Report , Commerce Bancshares (CBSH) - Get Commerce Bancshares, Inc. Report , First Horizon (FHN) - Get First Horizon National Corporation Report , First Republic Bank (FRC) - Get First Republic Bank Report , JPMorgan Chase (JPM) - Get JPMorgan Chase & Co. (JPM) Report , PacWest Bancorp (PACW) - Get PacWest Bancorp Report , PNCFinancial Services Group (PNC) - Get PNC Financial Services Group, Inc. Report and Wells Fargo (WFC) - Get Wells Fargo & Company Report .
Noteworthy on the economic calendar in the week ahead: Labor Market Conditions (Monday); Jobless Claims and Consumer Sentiment (Thursday); Consumer Price Index and Retail Sales (Friday).
Boring, Predictable, No-Surprises Strategy Safely Generates $67,548
If big, triple-digit winners get your adrenaline pumping, then stop reading this right now. Because this probably isn't for you... Only traders who would calmly enjoy raking in an extra $67,548 with no surprises or hiccups will appreciate this strategy. In fact, over the course of 1,586 days, I've been leisurely collecting giant payouts with this boring approach. I win 8 out of every 10 trades - GUARANTEED. Click here to join me.
John Persinos is an analyst with Investing Daily. At the time of publication, he owned stock in Raytheon and Wells Fargo.
Action Alerts PLUS, which Cramer manages as a charitable trust, is long C and WFC.