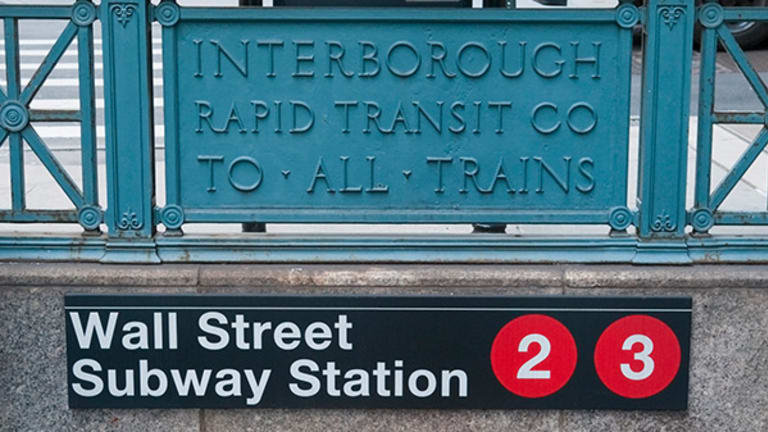 Wall Street's Wild Ride: Next Stop, Reality
Most analysts agree: a correction lies ahead. Here's a look at the likely triggers and how to protect your portfolio.
The post-election "Trump rally" occasionally sputters but remains surprisingly on track, as the major indices continue to motor ahead and smash records. And yet hopeful investors also are biting their nails, because of a nagging reality: this aging bull market is overvalued and considerably overdue for a correction.
Wall Street caught a glimpse of a salient "correction trigger" in recent days, i.e. the growing likelihood that President Trump won't be able to deliver on all of his grandiose promises.
We'll examine this looming day of reckoning, as well as a few steps you can take now to protect your portfolio. First, let's look at how the table is set for a market tumble.
With 92% of the companies in the S&P 500 reporting actual operating results for the fourth-quarter of fiscal 2016, 66% of companies have exceeded the mean earnings per share (EPS) estimate and 52% have exceeded the mean sales estimate, according to the latest figures posted on Feb. 24 by research firm FactSet.
Those results show that the three-year earnings recession is dead, cheering investors about prospects for first-quarter and full-year 2017. But the bull that began in April 2009 is the second longest in history. There's historical precedent for the upward momentum to continue this year, but odds are against it.
According to LPL Financial Research's "Outlook 2017," a correction is in the cards. LPL reports that it has been nearly three years since the end of a period culminating in a double-digit drop for the S&P 500. Since 1980, only three periods have gone longer without a decline of this magnitude.
And while earnings growth is picking up, it won't be sufficient to sustain excessively high valuations.
Stocks typically have a trailing 12-month price-to-earnings ratio (P/E) of 15; they now hover at a trailing P/E of about 25. The forward 12-month P/E is 17.7, above the 10-year average of 14.4.
At the same time, the cyclically adjusted P/E (CAPE), a valuation metric created by economist Robert Shiller, now stands at about 27, a level exceeded only during major crashes, such as the 1929 market frenzy, the 2000 dot-com bubble and the 2007 equities and subprime housing bubbles.
CAPE constitutes price divided by the average of 10 years of earnings (moving average), adjusted for inflation. CAPE provides a deeper context for valuations because it assesses probable returns from equities over a longer period.
A multitude of potential dangers threaten the frothy stock market, including geopolitical strife, a terrorist attack, a trade war with China and Mexico, onerous international bank debt, saber rattling from North Korea or Russia, another European Union exit ... you name it.
But we got a taste in recent days of a threat that's more potent and closer to home: President Trump's likely inability to meet most of his campaign vows.
Reports on Thursday indicated that GOP lawmakers are planning to delay a decision on infrastructure spending until 2018, to give the beleaguered Congress breathing room to find a way to repeal Obamacare and execute tax reform. The news clobbered construction stocks such as Caterpillar (CAT) , which plunged 3.3% during the final two trading sessions of the week.
Wall Street's juices have been flowing at the prospect of lower corporate and personal income taxes, but even that task will be complicated by the competing agendas of lobbyists. Replacing Obamacare has proven more nettlesome than expected, an uncertainty that continues to weigh on the entire healthcare sector.
Fiscal hawks in Congress are gearing up to fight Trump's multipronged plan to massively boost infrastructure and defense spending, build a multibillion-dollar border wall and slash taxes. Meanwhile, political rancor between Democrats and Republicans in the nation's capital is curdling into outright hatred, and lawmakers are fleeing angry mobs at town hall meetings.
Rising inflation and Federal Reserve tightening also threaten stocks. The U.S. Bureau of Labor Statistics reported on Feb. 15 that the U.S. Consumer Price Index (CPI) posted its biggest increase in nearly four years last month, spiking 0.6% in January after rising 0.3% in December.
January's jump in the CPI was the largest since February 2013. In the 12 months through January, the CPI rose 2.5%, the biggest year-over-year gain since March 2012. In addition to ravaging investor returns, rising inflation will give the Fed license to continue tightening the monetary spigot, a situation that historically has killed bull markets.
How should you trade in the days ahead? Trim growth stock allocations; take partial profits from the highest gaining stocks in your portfolio that are now overvalued; and make sure you hold at least 5% to 10% in gold.
As for gold investments, the cheapest and easiest way to gain exposure to the yellow metal is through exchange-traded funds (ETFs) that hold physical bullion.
SPDR Gold Trust ETF (GLD) was the first and remains the most popular gold-backed ETF. If you want a more cost-effective ETF, consider the iShares Gold TrustETF (IAU) . The expense ratio of the former is 0.40% and 0.25% for the latter.
These two ETFs boast nearly identical track records. With net assets of $31.1 billion, GLD has posted a year-to-date total return of 5.42%. With net assets of $7.8 billion, IAU has generated a YTD total return of 5.32%.
Donald Trump's raucous speech at the CPAC gathering in Maryland last Friday is further proof (not that investors needed it) that incessant turmoil awaits investors for the duration of the president's tenure. In this anxious environment, expect "gold mania" to take hold. Position yourself now, before the price of the Midas Metal goes through the roof.
Pocket $67,548 EXTRA With This One Simple Investment Change
Warren Buffett reaped $4.9 billion by making this one small change to his investment strategy. It's the closest you'll ever get to NEVER losing money while investing. I made $185 every day over 1,586 days doing this. Is it time for a change that will lead to more money in your pocket? Get the full details here.
John Persinos is an analyst and editor at Investing Daily. At the time of publication, he owned shares in SPDR Gold Trust ETF.