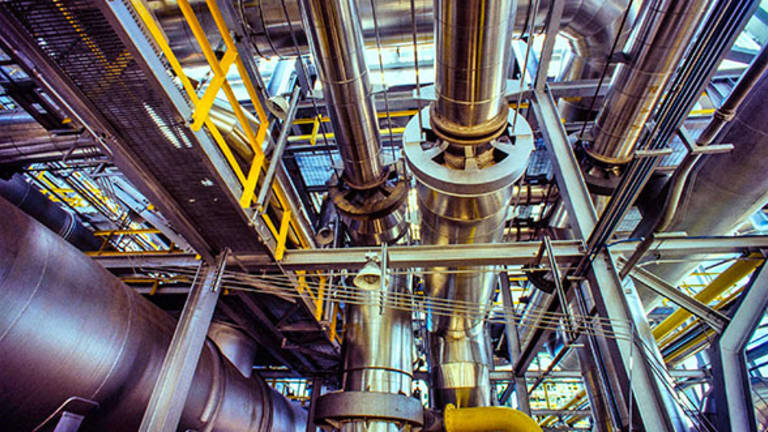 Wall Street's Energy Loans Suffer Frostbite From Warm Winter
Oil prices below $40 means more energy companies are likely to default on loans from big Wall Street banks such as JPMorgan, Citigroup and Bank of America.
In October, as oil prices hovered around $50 a barrel, Wall Street analysts asked JPMorgan Chase Chief Executive Officer Jamie Dimon how the bank's energy-company loans were holding up. Crude prices had already fallen by half since mid-2014.
Dimon's response: At a "stressed" price of $30 a barrel, JPMorgan would expect as much as $750 million of additional loss reserves on energy loans -- almost double what the bank set aside during the first nine months of 2015.
Two months later, Dimon's stressed scenario is basically here. After unseasonably warm weather in the northeastern U.S. depressed heating-oil consumption during December and a sluggish global economy sapped energy demand, New York oil futures fell below $37 a barrel last month, prompting analysts to ratchet up estimates of energy-patch loan defaults. Such losses would eat into the gains banks expect as interest rates rise; fourth-quarter results are due out mid-month.
"We're entering the down part of the credit cycle on the corporate side," said Charles Peabody, head of research at the New York-based brokerage Portales Partners, which specializes in financial firms. "You're going to see reserve additions start to accelerate.'' 
Peabody, who covered Texas bank failures in the wake of the 1980s oil-price crash, estimates that losses this time around could reach 10% of total energy loans. That wouldn't be enough to cause a crisis for the biggest banks, but it would seriously dent their earnings: JPMorgan, Citigroup, Bank of America and Wells Fargo could each have to set aside $2 billion of loss reserves through 2017 related to energy, he says.
As of Sept. 30, JPMorgan had $42.1 billion of energy loans and commitments, according to its financial statements. Bank of America (BAC) reported $21.8 billion of "utilized exposure" to oil, natural gas and energy-related industries. Citigroup (C) noted $21 billion of direct outstanding funded loans to the energy industry, while Wells Fargo (WFC) had $17.4 billion of loans to oil and gas companies.
Industrywide, banks' total loan-loss provisions in the fourth quarter probably will climb by 6% over third-quarter levels, Deutsche Bank analyst Matt O'Connor wrote in a Dec. 21 note to clients.
According to the Federal Reserve, oil and gas loans and commitments rated as substandard, doubtful or loss-making almost quadrupled to $34.2 billion in the year through March 2015. And that was when oil prices were above $55 a barrel.
Goldman Sachs predicts they could hit $20. Magnum Hunter (MHR) , an Irving, Texas-based energy producer, filed for Chapter 11 bankruptcy protection recently; Houston-based Swift Energy (SFY) missed an interest payment on debt earlier this month. Corporate defaults globally are at the highest since the aftermath of the financial crisis in 2009, according to Standard & Poor's. 
Losses may accelerate as oil and gas companies reach the expiration of hedging contracts that had locked in prices at higher levels, the Fed said in a November report.
"Companies incurred significant debt to fund drilling programs, and their capital structures became unsustainable in the face of lower oil prices," according to the central bank. "While many companies have hedged against price declines, this revenue is non-recurring and will run off, thus potentially affecting future operating cash flows and long-term loan serviceability."
Oil producers are hoarding cash by deferring drilling projects and cutting staff, the Fed wrote. They've also taken on high-priced debt to pay down credit lines. In some cases, banks have had to relax loan terms and give clients additional time to comply with borrowing restrictions.
Citigroup Chief Financial Officer John Gerspach told investors Dec. 9 that falling oil prices meant the New York-based bank would increase loan-loss reserves by more than $500 million in the fourth quarter, or double the amount taken in the third quarter. Compared with the fourth quarter of 2014, when the bank released about $400 million from reserves, it's a swing in operating income of at least $900 million.
It's "more probable at this point in time that we're going to have a period of sustained low oil prices," Gerspach said.
It's not just loans in jeopardy; banks also could have trouble collecting on in-the-money oil-hedging contracts with energy companies that find themselves in default. Goldman Sachs (GS) , which had $10.3 billion of loans and commitments to oil and gas companies as of Sept. 30, had another $1.9 billion of credit exposure to the industry through derivatives and receivables.
According to Standard & Poor's, about 36% of oil and gas companies have a negative bias on their credit ratings, more than double the historical average.
Fitch Ratings predicts that exploration and production companies probably will find it hard to refinance bank loans in the bond market because of slack demand among investors for high-yield, high-risk debt.
"Worsening sentiment around crude oil fundamentals in December and the bond-market liquidity crunch among high-yield E&P companies may leave banks in it for the long haul, with fewer options for lowering their exposure if lower-for-longer persists," Christopher Wolfe, a Fitch managing director, said in a Dec. 18 statement.