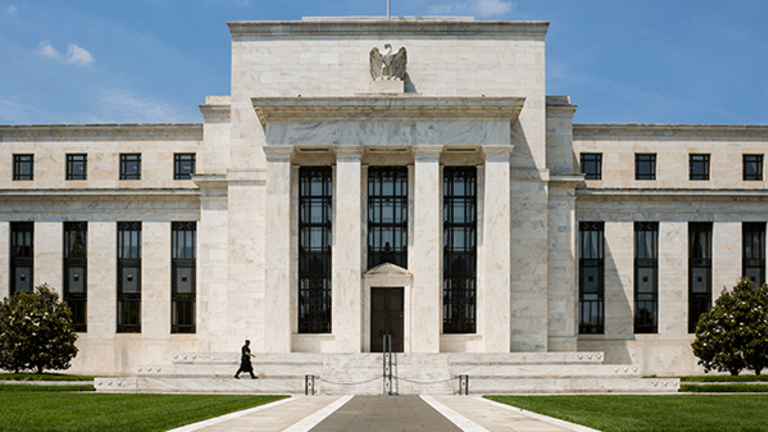 Wall Street's Biggest Banks Score High on First Round of Stress Tests
Morgan Stanley, Goldman Sachs and State Street clear thresholds - but barely
For the third time in as many years, all 34 of the country's biggest banks met the minimum capital standards on first half of annual Federal Reserve stress tests designed to safeguard the U.S. from another financial crisis.
The reviews gauge whether lenders with more than $50 billion in assets could withstand a hypothetical "severe global recession" in which the unemployment rate peaks at 10% by the third quarter of 2018 while equity prices fall by 50% through the end of this year.
Overall, the results showed that the banking sector is well capitalized, with the vast majority of firms maintaining significant capital buffers in the scenario. However, a few institutions came close to a minimum level that will be considered in a second more important set of tests coming next week, including Goldman Sachs Group Inc.   (GS) - Get Report  , Morgan Stanley  (MS) - Get Report  and State Street Corp. (STT) - Get Report
This year's test is considered by big banks to be one of the most severe in recent years. The Fed said the banks would have experienced $383 billion in loan losses under its toughest scenario, and the largest banks maintained slightly more capital in the evaluation than smaller ones. In addition, there were fewer loan losses this year than in 2016, reflecting better underwriting standards and a runoff of crisis-era loans.
One new bank that participated in the test, CIT Group  (CIT) - Get Report  , was well above minimum requirements, much better than a private trial run last year. 
Thursday's results reflect performance on what regulators have named the Dodd-Frank stress test. It's less important than the second review -- whose results will be released on Wednesday, June 28 -- because it only considers capital distribution plans that large financial institutions have set up over the past four quarters.
The latter tests, known as the Comprehensive Capital Analysis and Review, carry more weight with investors because they will determine whether each institution can proceed with its dividend and stock-buyback plans for the next 12 months.
The Fed said banks could not have passed or failed Thursday's test because there are no consequences for falling below the minimum levels based on previous payouts. Banks can actually fail Wednesday's tests if their capital levels don't stay above minimums.
New York-based Goldman Sachs came close to dipping below a supplementary leverage ratio threshold that will be considered in CCAR, with a 4.1%, not far above a 3% requirement. The supplementary leverage ratio, which is being considered by the Fed for the first time this year, only impacts the largest banks.
It compares a firm's Tier 1 capital -- retained earnings and stockholder equity that are the strongest loss absorbers -- to its balance-sheet assets (read: loans) as well as its off-balance sheet exposures. 
Morgan Stanley had a 3.8% supplemental leverage ratio, below Goldman and just above the 3% minimum. The New York bank had a low Tier 1 leverage ratio (which doesn't include off-balance sheet exposures) of 4.9%, also just above a 4% minimum level.
State Street, based in Boston, had a 4.2% supplemental leverage ratio, just above a 3% minimum. It also had a 4.6% Tier 1 leverage ratio, just above a 4% minimum. JPMorgan Chase & Co. (JPM) - Get Report  , the largest U.S. lender, had a 5% supplemental leverage ratio, also just above the 3% minimum.
Banks privately received a preliminary decision Thursday on whether their capital distribution plans for the next four quarters were approved, according to a Federal Reserve official. If their plans were rejected, they have one chance to trim them in order to win approval before results are released.
A passing grade in Thursday's tests -- even one that appears overwhelmingly positive -- doesn't necessarily mean that the same institution will do as well next week.
The second round of tests will also assess qualitative standards, such as whether the bank has a strong set of risk-management systems in place. Only the 13 largest banks are subject to the qualitative review this year, while the 21 smaller banks are exempt. 
The central bank in the past raised serious qualitative concerns about Charlotte, N.C.-based Bank of America Corp. (BAC) - Get Report  The lender was told to correct weaknesses in some elements of its capital planning process and required to resubmit its share-buyback and dividend plan.