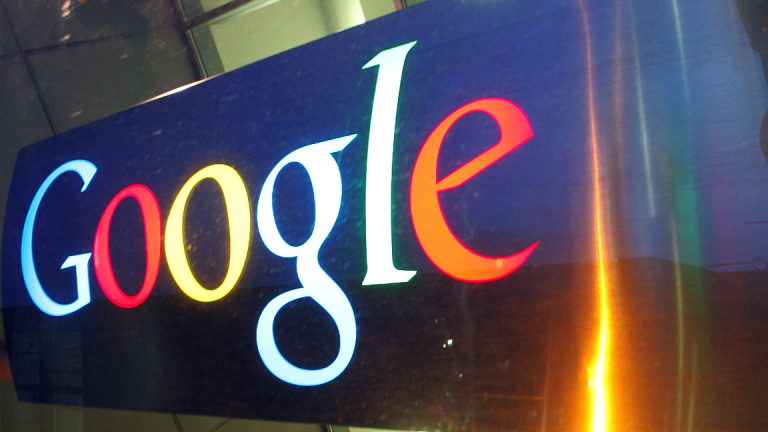 Google Shares Shrug Off $5 Billion EU Fine Against Alphabet
Google stock retreats slightly despite record penalty.
What record fine?
Google parent Alphabet (GOOG) - Get Alphabet Inc. Report , (GOOGL) - Get Alphabet Inc. Report rose slightly in midday trading Wednesday following news of a record $5 billion European Union fine against the company for manipulating Android mobile devices to give the Google search engine an advantage over rivals.
Alphabet closed at 1195.88 on Wednesday, 0.2% below yesterday's closing price.
Deutsche Bank equity analysts predicted Tuesday afternoon on rumors of the fine being issued that the EU action would have only a "modest impact" on Alphabet. The bank gave GOOGL a $1,225 price target and recommended buying the name on any dips.
"We see minimal risk to Alphabet fundamentals over the intermediate term beyond a potential fine," Deutsche Bank equity analyst Lloyd Walmsley wrote in a note.
Alphabet's market capitalization of $836.08 billion is more than double than ten of its global competitors, according to Bloomberg data. And its cash generated from operations has been growing steadily over the past eight years.
The EU fine represents just the latest chapter in the three-year probe launched into Google Android-enabled smart phones after complaints by rivals Microsoft (MSFT) - Get Microsoft Corporation Report , Oracle (ORCL) - Get Oracle Corporation Report and Nokia (NOK) - Get Nokia Corporation Sponsored American Depositary Shares Report .
In issuing the fine, the European Union determined that Alphabet's Google contracts requiring smartphone makers to pre-install Google apps as a bundle included with Google's Android operating system are illegal.
"These practices have denied rivals the chance to innovate and compete on the merits," Margrethe Vestager, European Union commissioner on competition policy, said in a statement. "They have denied European consumers the benefits of effective competition in the important mobile sphere. This is illegal under EU antitrust rules."
The EU also required Google to modify its business practices or face fines of up to 5% of its average daily profit. Google will be required to no longer demand exclusivity of smartphone and telecom providers for installation of its Android apps.
Alphabet's latest fine tops the previous record of $2.8 billion penalty, also levied against the company by EU officials last year over Google prioritizing its own shopping service and products in search results. Facebook (FB) - Get Meta Platforms Inc. Report , Intel (INTC) - Get Intel Corporation Report and Apple (AAPL) - Get Apple Inc. Report have all also faced similar-but-smaller EU fines over competition issues.
The latest conflict also mirrors a similar antitrust battle that spanned two decades and pitted Microsoft against both European and American regulators. A U.S. court ultimately ruled Microsoft had used its monopoly to quash competition for Web browsers.
Eventually, Microsoft agreed to open its application programming interfaces to outside developers. And in 2014, the EU fined Microsoft $732 million for failing to follow an antitrust settlement requiring it to give new computer users a choice to download alternative web-browsing software.
More Coverage on Alphabet, Our Stock of the Day, on TheStreet's Premium Site Real Money
Alphabet's Charts Are Showing Mixed Signals