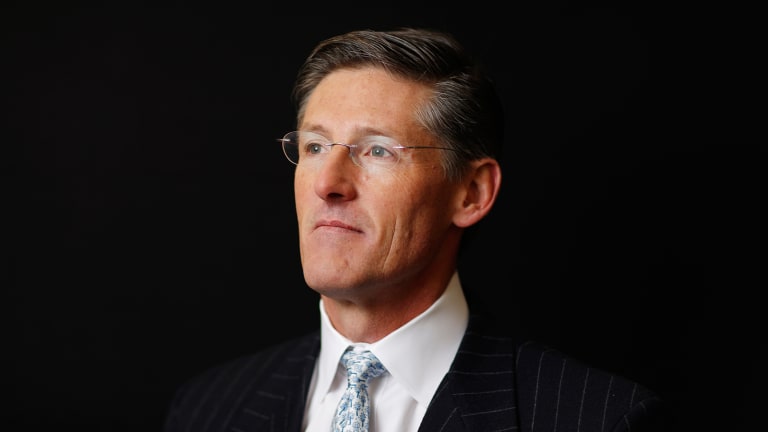 Wall Street Gets Creative to Pay CEOs More as Financial Crisis Memories Fade
As the economy picks up and stock markets rise, Citigroup, Bank of America and other big banks are taking advantage of the swing in sentiment to pay themselves more. It helps that memories of the financial crisis are fading.
Take a bite of an apple. Now imagine it's someone else's apple. Eat the whole thing. And next year, eat it again.
Just a decade after every Wall Street firm got multibillion-dollar bailouts from the U.S. government, compensation for big-bank CEOs is creeping ever higher. And based on the latest justification for the chiefs' $20 million-plus pay packages, they might get to eat the same apple twice.
Here's how: In 2017, Citigroup Inc. (C) and Bank of America Corp. (BAC) cited outsize shareholder returns - gains in the stock price, plus dividends - among reasons for giving their CEOs fat pay raises to $23 million each.
The reality is that the rally in bank stocks last year was mainly due to investors' anticipation of major cuts in the U.S. corporate tax rate. The stocks also were buoyed by President Donald Trump's push to roll back costly financial-industry regulations and an expected rise in interest rates by the Federal Reserve.
In other words, the gains had less to do with the CEOs' performance than expectations of a windfall. Loan growth at the biggest U.S. banks was moderate last year, with percentage increases in the low- to mid-single digits.
But this year, as tax cuts take effect and rising interest rates allow banks to charge more for loans, the banks could cite higher net income as the reason for paying CEOs more, predicts Dick Bove, a five-decade analyst at the brokerage firm Vertical Group.
"You're damn right they will," Bove said in a phone interview.
Bove says banks should pay their CEOs based on growth in revenue and pre-tax earnings - the two factors that drive sustainable stock-price increases. Think Action Alerts Plus holding Amazon.com Inc. (AMZN) , which increased sales by 31% last year.
"If a company is increasing revenue and pretax earnings, then the CEO should make more money," Bove said. "But this expectation of a windfall profit, which they had nothing to do with -- they didn't make it happen. So why should they be compensated for it?"
During the financial crisis of 2008, bankers' pay was deemed so egregious in the wake of massive federal bailouts that the U.S. government had to appoint a special compensation czar to curb Wall Street payouts. The goal was to make sure the money wasn't getting funneled back to the executives whose risk-taking put the global banking system at risk of collapse.
Legislators' response was to stiffen financial-industry regulations to prevent a repeat of the crisis, and banks have bolstered their strength over the past decade by increasing their capital -- the buffer of extra assets that's supposed to insulate depositors from losses. But now, those safeguards are being loosened under Trump, and with the economy picking up and stock markets on the rise, bankers are taking advantage of the swing in sentiment to pay themselves more.
Hank Higdon, vice chair of headhunter firm RSR Partners, which helps companies recruit top executives and board members, says bankers should get credit for simply "being in the seat" when the stock price goes up. And since shareholders approve companies' compensation plan at annual meetings ever year, the board of directors is only partly responsible for the pay packages, he said in a phone interview.
Plus, he said, the job of being a bank CEO is really hard.
"The worst job to have in the world is to be the CEO of a large global financial institution," Higdon said. "They're all under the gun. None of them are having fun."
Except, the pay is pretty good. And, at least based on recent history, most Wall Street CEOs have clung to their jobs until they were forced out - in most cases with big severance checks.
According to the AFL-CIO, a federation of labor unions, the average CEO in the Standard & Poor's 500 Index of publicly-traded companies gets about $13 million a year in total compensation. The average for production and non-supervisory workers is about $38,000.
The New York Lotto jackpot is currently set at $5.6 million, according to the state's gaming commission.
"A lot of people aren't CEOs, but CEOs get paid more," Higdon said. "You've got to accept that."
Citigroup gave CEO Michael Corbat a 48% raise to $23 million, even though revenue climbed just 2%, pretax earnings rose 6% and the company missed its annual profitability target for the third straight year. The decision was made by the compensation committee of the board of directors, led by Duncan Hennes, a former executive of the failed Wall Street firm Bankers Trust who later worked at a bank-focused consulting firm, Promontory Group.
Bank of America, which had a better year with 10% revenue growth and a 17% increase in pretax profit, gave CEO Brian Moynihan a 15% raise to $23 million.
Action Alerts Plus holding Goldman Sachs Group Inc. (GS) gave CEO Lloyd Blankfein a 9% raise to $24 million, as revenue rose 5% and pretax earnings climbed 8%.
Action Alerts Plus holding JPMorgan Chase & Co. (JPM) gave CEO Jamie Dimon a 5.3% raise to $29.5 million, roughly on par with the bank's increase in revenue and pre-tax earnings. And Morgan Stanley CEO James Gorman saw his pay rise by 20% to $27 million. 
The pay packages are still well below levels in 2006, when Goldman's Blankfein took home $54 million and JPMorgan's Dimon got $39 million. Morgan Stanley's then-chief John Mack got about $41 million in 2006 and Bank of America's Ken Lewis made $27.9 million.
Citigroup's former CEO, Chuck Prince, got $23.8 million that year - only to be booted out in 2007 as losses mounted. His successor, Vikram Pandit, famously agreed to take $1 in 2010 in a show of austerity.
Eric Hosken, a partner at the pay-consulting firm Compensation Advisory Partners, says that the recent trend of rising Wall Street bonuses comes as bitter memories of the financial crisis fade.
"The amount of negative public sentiment about some of these organizations has decreased," Hosken said. "Pay had been depressed relative to pre-crisis levels. Now you're starting to see it go back up."
Of all the big Wall Street firms, Citigroup got the biggest federal bailout during the financial crisis, at $45 billion, while also taking tens of billions more in secret emergency loans from the Federal Reserve. So Corbat had a bigger challenge than peers in reviving the company's fortunes.
And in the three years prior to last year's big bump, Corbat got pay packages between $13 million and $15 million -- far less than his peers.
Hosken, the compensation consultant, said big banks are typically inconsistent in how they determine annual pay packages, typically linked to performance measures that vary every year. But shareholder returns shouldn't be a primary driver.
"Total shareholder return is something that might make you a little more generous on pay decisions," he said. "But the share-price performance should be a little more of an afterthought."
According to a Feb. 16 regulatory filing by Citigroup, the board compensation committee "considered market levels of pay for the CEO role at peer institutions and Citi's significantly improved total shareholder returns."
The committee "also favorably assessed Mr. Corbat's exceptional leadership in multiple critical areas, including setting strategic direction, risk management, talent management and external stakeholder relations," according to the filing.
Those are tough to evaluate as an outsider.
The likelihood is that Citigroup's board simply decided that Corbat deserves pay on par with peers, Hosken said.
"They may feel like he's in that same space, in terms of the size and scale of the organization that he leads," Hosken said in a phone interview. "It may sound crazy to say we're going to give him $10 million more, but the CEO might say that day in day out, my job is as hard."
RSR's Higdon said that bank CEOs should get credit if their lobbyists had a hand in pushing for the new tax law.
And why go into banking if you can't make a lot of money?
"They're in a business that pays a lot, and that's the reason a lot of them are in it," Higdon said.
Apples galore.