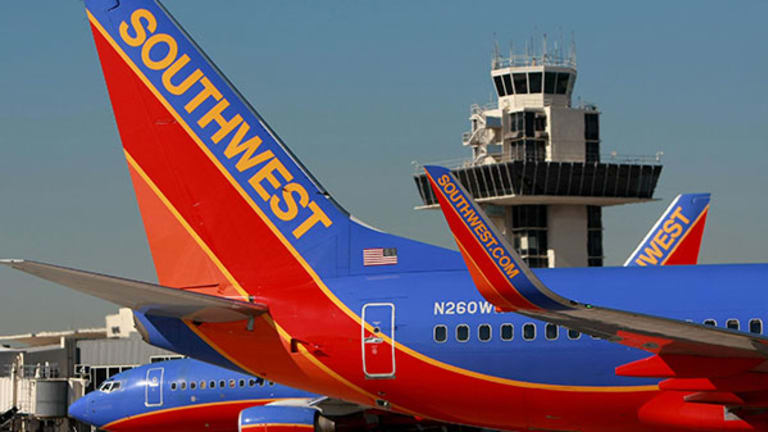 Wall Street Again Calls on Southwest Airlines to Impose Bag Fees
Southwest Airlines, suffering from missed estimates, uninspiring guidance, a computer outage and acrimonious labor talks, is once again hearing Wall Street call for bag fees.
Southwest Airlines (LUV) - Get Southwest Airlines Co. Report may be the most financially successful airline in U.S. history but for the moment it is in Wall Street's crosshairs, which means that analysts once again question its "bags fly free" policy.
Wall Street didn't like the carrier's second-quarter earnings report, which missed estimates, or CEO Gary Kelly's refusal to rush to cut capacity, even though the carrier warned that it expects revenue per available seat mile to fall by as much as 4% in the current quarter.
Southwest shares fell 11% to $37.22 on July 21, the day the carrier reported second-quarter earnings. On Monday, shares closed at $37.04 and are down 14% year to date.
Also Monday, the unions that represent Southwest's pilots and mechanics called for Kelly to step down, saying the airline spends too much money to buy back shares and not enough to update its technology.
Share buybacks are a favorite Wall Street tactic, but in the case of Southwest they have not only alienated unions, which are in contract talks, but also they have failed to placate Wall Street.
In a recent report, JPMorgan analyst Jamie Baker wrote that Southwest "continues to resist certain industry efforts aimed at improving revenue (i.e. bag fees and plain vanilla fare increases).
"While shares were uniquely punished during earnings and are by no means grossly overpriced in our view, revenue lethargy and labor uncertainty suggests LUV shares may not participate as fully as others should industry self-help initiatives take root," Baker wrote.
It has been about two years since the last time Wall Street was pressuring Southwest to add bag fees, rather than carry passengers' first and second bags free of charge.
As an example, in a 2014 interview with TheStreet, S&P Global Market Intelligence analyst Jim Corridore summarized Wall Street's view, calling the revenue from first bag fees "low hanging fruit" and said, "It wouldn't lead to one passenger defection ... I don't think they are generating any market share advantage (with Bags Fly Free.)"
During last week's earnings call, Baker aggressively questioned Kelly, declaring, "The impression that investors have is that your priorities at the moment might be somewhat out of order. The impression is that passengers come first, then labor unions, and then shareholders."
Baker suggested Kelly should reprioritize, suspending current labor negotiations given current revenue trends and "the industry's revenue crisis."
Kelly responded, "it's interesting that you describe the current period as a time of crisis when in the first half of this year I believe we've had all-time record shareholder returns." He said concern for passengers and employees is "a virtuous circle" that results in shareholder gains. He also said that Southwest will determine which tools it will use to boost revenue per available seat mile.
"We have pricing, we have ancillary revenues, we have our capacity, and then of course new revenue initiatives, and we'll take a very close look at all of those and see what we can do to hit our goal," Kelly said.
On Friday, eight days after the earnings call, Southwest joined in an industry-wide effort to boost domestic fares by $3 -- a move that Baker welcomed in a note.
A recent report on ancillary revenue by Idea Works shows that in 2015, United led all carriers with $6.2 billion in ancillary revenue. Southwest ranked fifth in the world with $2.1 billion, behind the big three U.S. carriers as well as AirFrance/KLM.
Ranked by passengers, Southwest is the second-largest airline in the world, behind American. In 2015, American had about 147 million passengers and Southwest had about 145 million passengers. Arguably, the second-largest airline in the world in terms of passengers does not to be the fifth-largest in terms of ancillary fees.
While it does not generally charge bag fees or change fees, Southwest derived ancillary revenue from third bag fees, unaccompanied minor travel fees, pet travel fees, boarding premium fees, Business Select fares and fees associated with its frequent flier program.
In his most recent comment on bag fees, Kelly told The Wall Street Journal last month that Southwest has had no "discussion, thought, debate or plan" to end its policy of allowing passengers to check two suitcases without charge. "Our customers would be enraged if we started charging for bags," he said.
This article is commentary by an independent contributor. At the time of publication, the author held no positions in the stocks mentioned.