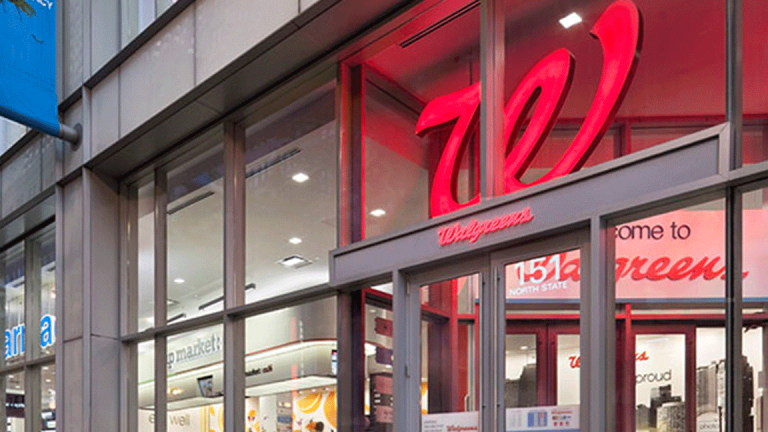 Walgreens Shares Sink on Price Target Cut
Shares Walgreens Boots Alliance Inc. sank Friday after a Baird analyst slashed his price target for the drugstore chain company and added it to the firm's "Fresh Pick Negative List."
Shares Walgreens Boots Alliance Inc. (WBA) - Get Walgreens Boots Alliance Inc. Report sank 7% Friday after a Baird analyst slashed his price target for the drugstore chain company and added it to the firm's "Fresh Pick Negative List."
Analyst Eric Coldwell maintained a neutral rating on Walgreens and cut its price target from $70 to $67.
"We remain under-impressed with operating performance," Coldwell wrote in a note to investors. "U.S. performance remains challenged and international headwinds are worsening. We can't fault management for its ever-expanding list of pilots and partnerships. However, in most cases, the scale of the initiatives, and therefore potential impact on numbers, remains exceptionally small relative to about 9,500 USA stores."
Coldwell wrote that Deerfield, Illinois-based Walgreens "is advancing many new initiatives (some supportable, some dubious), but can't change its market environment, which is universally tough."
"At an investor conference yesterday afternoon, we think management set the stage for more modest FY19 results," Coldwell wrote. 
Coldwell noted similar challenges face CVS (CVS) - Get CVS Health Corporation Report , particularly reimbursement pressures. 
"The late-2014 merger of Walgreens and Alliance Boots created a global, pharmacy-led company, yet the company still generates roughly three-quarters of revenue and EBIT in the U.S.," Coldwell said. "The partial Rite Aid acquisition skews the U.S. mix slightly higher and may also help accelerate domestic OpEx related improvements. The International business is still important since it diversifies growth, increases global purchasing scale, and provides an avenue for Walgreens to better capture front-end opportunities by leveraging Boots strength in health & beauty."
David Larsen, an analyst with Leerink Partners LLC said in a note to analysts that "overall, it sounds as though WBA continues to navigate several headwinds with the company explaining that reimbursement headwinds continue and the operating environment remains challenging."
"However, we are encouraged that management has responded, is driving change both operationally and culturally, and is committed to removing costs from the business," Larsen wrote. "Across the entire enterprise, WBA is targeting (about) $1 billion of costs by the end of year three of its cost program, and we were encouraged to hear that CFO James Kehoe hopes the savings will likely exceed the $1 billion target."
Walgreens Boots Alliance is scheduled to report earnings on March 27. Analysts are looking for the company to report earnings of $1.74 a share, up from $1.73 a share a year ago.