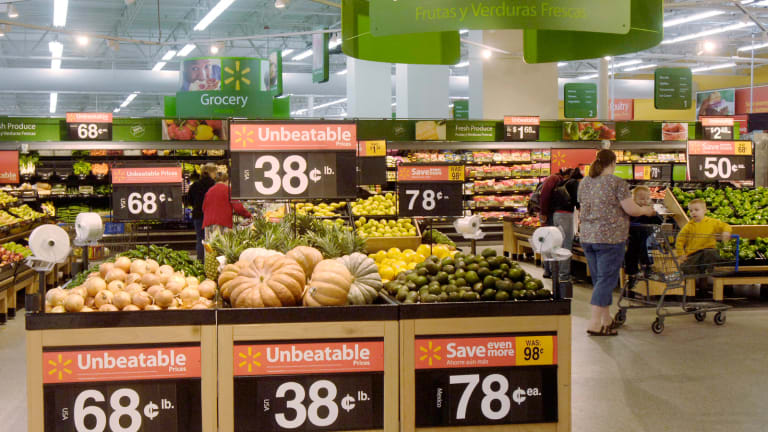 Publish date:
Wal-Mart's Ugly Earnings Miss Highlights Two Big Challenges
Wal-Mart's first-quarter sales and earnings let down Wall Street, and they shed light on several challenges facing the retail giant.
Wal-Mart's first-quarter sales and earnings let down Wall Street, and they shed light on several challenges facing the retail giant.
Updated to included comments from Walmart's earnings call.
NEW YORK ( TheStreet) -- Where were the rest of Wal-Mart's (WMT) - Get Walmart Inc. Report first-quarter earnings? 
That was the key question being asked by Wal-Mart investors, and economic observers, on Tuesday. The answer, however, is not so easy to determine, which sheds light on several challenges facing the world's largest retailer. Wal-Mart reported earnings of $1.03 a share, missing analyst forecasts of $1.05. Wal-Mart had guided to earnings of 95 cents to $1.10 a share. U.S. same-store sales rose 1.1%, toward the low end of guidance for an increase of 1% to 2%.  Customer traffic to Wal-Mart's U.S. stores rose 1%, marking a slowdown from a 1.4% increase during the holiday season. As with its earnings, U.S. same-store sales missed estimates, with analysts having anticipated a gain of 1.4%.
Total revenue came in at $114.8 billion, also falling shy of consensus forecasts of $116.3 billion. Volatile currency conditions, primarily the stronger U.S. dollar, walloped Wal-Mart's revenue by $3.3 billion.  Excluding the effects of currency, operating income would have declined 6.1% instead of the reported 8.3% drop.

Shares declined 2.2% in premarket trading.
The sense of disappointment in the first quarter's performance was summed up by Wal-Mart CEO Doug McMillon. "Based on recent surveys, we know that many of our U.S. customers are using their tax refunds and the extra money from lower gas prices to pay down debt or put it into savings -- they're also using these funds for everyday expenses like utilities and groceries," said McMillon, acknowledging Wal-Mart supercenters are competing for precious gas savings. With gas prices back on the rise, Wal-Mart will have to fight even harder for disposable income.
But Wal-Mart's ongoing operational turnaround in the U.S., predicated on reducing prices to better compete with supermarkets, re-doing store layouts to make shopping easier, and investing in employee training and pay, also hindered performance. For example, Wal-Mart's U.S. operating income fell 6.8% year over year. 
The sales and earnings misses suggest a Wal-Mart turnaround may not be in the offing until the holiday season. "We're not where we want to be in every store, but I'm pleased with the progress that I'm seeing," said McMillon. TheStreet takes a look at two big challenges the world's largest retailer must overcome to reach its financial goals this year.
1. Fix Sam's Club.
"Our first quarter results were disappointing, as comp sales missed guidance, and we delivered softer net sales and profit than last year," said Sam's Club president and CEO Rosalind Brewer. The warehouse club's same-store sales rose a mere 0.4% in the first quarter, below guidance that called for a 1% to 2% increase.
Sam's Club continues to be a sore spot for Wal-Mart, a business battling cutthroat pricing tactics by rival Costco (COST) - Get Costco Wholesale Corporation Report and reduced spending on office supplies from small business owners, which were once the lifeblood of the segment. Further, supermarkets such as Kroger (KR) - Get Kroger Co. (KR) Report and Safeway (SWY)  have become more competitive with their prices, causing consumers to question the need to pay to be a member of a Sam's Club. 
Brewer is working on numerous things to right the ship. One is selling more organics. The number of organic offerings at Sam's Club increased 20% in the first quarter, and sales of fresh food went on to advance by a low-single digit percentage. Another is giving more rewards points to members, which encourages more frequent visits to the clubs and membership renewals. Membership income rose more than 7% in the quarter.
2. Overcome falling food prices.
"One key headwind we faced in grocery during the first quarter was moderating inflation in meat, and deflation in both dairy and produce," pointed out Wal-Mart president and CEO Greg Foran. When deflation hits, it puts pressure on the prices Wal-Mart can charge. According to Wal-Mart, net food deflation hurt the company's same-store sales by 0.2% in the first quarter.
Wal-Mart can't necessarily affect food prices directly, so it will have to overcome deflation by running its fresh food business more efficiently, a focus of Foran's in his nine months on the job. That means ensuring produce is fresh, which raises the chances of it selling at full price. It also means introducing more higher-priced organics.
More organics may be about to pop up in Wal-Mart's aisles soon. According to organic food producer Hain Celestial (HAIN) - Get Hain Celestial Group, Inc. Report, Wal-Mart will be adding over 50,000 new points of distribution for its products this year. Particular winners for Hain Celestial this year at Wal-Mart include its Ella's Kitchen organic baby food line and its organic oil and seed brand Spectrum.
"We're taking the right steps towards reducing the time to bring fresh product to our customers, and training associates to ensure the best offering is on the shelf -- we still have a lot more to do in this area, but we're steadily improving," said Foran, echoing comments he made at the company's April 1 analyst day.
This article is commentary by an independent contributor. At the time of publication, the author held no positions in the stocks mentioned.