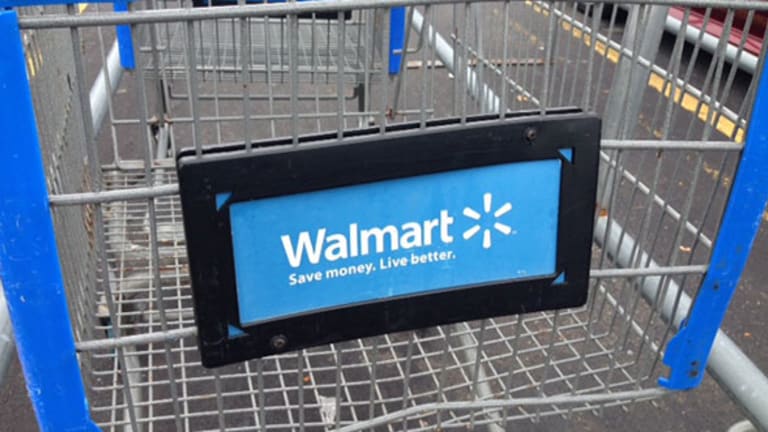 Wake-up Time, Walmart Investors: This Company Is Under Siege
The world's largest retailer dropped sales guidance for 2015 and said earnings would fall in 2016 by up to 10%. Brian Sozzi was not surprised.
Make no mistake, whatever Walmart (WMT) - Get Free Report is showing investors this morning for the third quarter is downright ugly.
The world's largest retailer saw its stock crushed in mid-October as it dropped sales guidance for 2015 and said earnings would fall in 2016 by up to 10%. To me, none of this was a shocker. I have watched Walmart's business slowly come apart at the seams in the past five years amid the emergence of new brick-and-mortar rivals in retail, better execution among the dollar stores and expanding availability of items online. But to some widows and orphans, the news from Walmart last month was a nasty surprise -- after all, they were pitched Walmart's stock as a can't-miss investment 10, 20 years ago because the retailer was the biggest and the dividend was reliable and growing.
Wake-up time, widows and orphans: Walmart is under siege -- barring a sizable upturn in the U.S. economy in 2016 that lifts the prosperity of low-income America, Walmart will miss its own ugly earnings guidance it has already shared. The company is pouring investments into making the online business a juggernaut that puts its retail operations into the ground, while paying associates more to sit around and take selfies on Instagram (I encourage you to search "#Walmart" on Instagram, you may be surprised by how Walmart's higher hourly pay is being spent).
Nevertheless, despite the obvious pressures on Walmart's business, I guarantee (yes, guarantee) people will want to buy the stock today, a stock that has dropped some 35% this year and that just put forth a quarter far more lackluster than Macy's (M) - Get Free Report , Nordstrom  (JWN) - Get Free Report and others in retail land. Personally, I don't care if Walmart beat by 10 cents and the stock is up 5% pre-market -- the company is dead money until this executive team can prove that efforts to normalize margins are working, and earnings warnings are in the rearview mirror. But, to those who love torture and believe Walmart shares are a bargain, here is how to think through this ugly report and decide whether to get involved:
Walmart U.S. same-store sales: Walmart U.S. CEO Greg Foran is leaving no stone unturned in trying to drive stronger sales growth from the domestic business. Department managers are back in the hopes of providing improved customer service and inventory execution. The company is more closely inspecting its fresh produce so that it doesn't disappoint customers who are not keen on rotten tomatoes and bananas (a frequent problem at Walmart). Shelves are stocked. Price gaps relative to supermarkets are being closed as Walmart attempts to become the low-price leader once again in many categories. Hell, even Whole Foods' (WFM) poor third quarter suggests some people may be buying organic food at Walmart -- not every shopper at Walmart is dirt-poor, some are just hungry for a great deal.
Now, it's put-up or shut-up time for Foran and his legion of better-paid, blue-shirt-wearing associates. If Walmart is starting to execute as it used to, traffic will be stronger than the 1.3% growth rate realized in the second quarter. Further, comps in grocery will have increased, instead of staying flat as they did in the second quarter.

No sequential progress, no reason to get long Walmart's stock.
Sam's Club same-store sales: Excluding volatile fuel prices, Walmart expects comps at Sam's Club to have risen by 0% to 2% in the third quarter. Similar to Walmart U.S., it's high time for Sam's Club to deliver something other than disappointment with its comps and gross margins. Sam's Club has worked this year to improve club layouts and offer members more value for their membership. The club chain has also enhanced the selection of the merchandise in its stores.
Not too confident these things are getting noticed by consumers, based on the strength in Costco's (COST) - Get Free Report results this year, and in the past three months. Sam's Club has to ideally have beaten its comp guidance, with CEO Rosalind Brewer striking a more upbeat tone on the pre-recorded earnings call (which is so lame) than has been the norm going on over a year. The upshot: A weak back half of the year for Sam's Club may force Walmart to consider a spinoff in 2016 -- at the October investor day, Walmart CEO Doug McMillon sounded very open to making big changes to improve shareholder value. A big change would be to chop off Sam's Club or exit the competitive Brazilian marketplace.
Other little things to look for:
-- If 2015 earnings guidance is lowered again a mere month after execs came out negative on the business. Another warning would inspire no confidence in the current earnings outlook for 2016.
-- Results from the likes of Kroger (KR) - Get Free Report and other traditional supermarkets have been good this year. Walmart's Neighborhood Market concept, which has done well this year, has to continue posting strong comps above 5%.
-- Expect a large hit to sales and profits from currency translation, which is totally understandable. But in the earnings-call transcript, one needs to see if traffic in the UK, China and Mexico are holding up amid macro considerations and Walmart's domestic struggles (which may be diverting management's attention from international operations).
-- A bad quarter from Walmart, coupled with a bad quarter from Macy's, to me would suggest a good report from Target (TGT) - Get Free Report Wednesday morning. Target's apparel business has been strong over the last two quarters, and the grocery business is looking much better in stores.