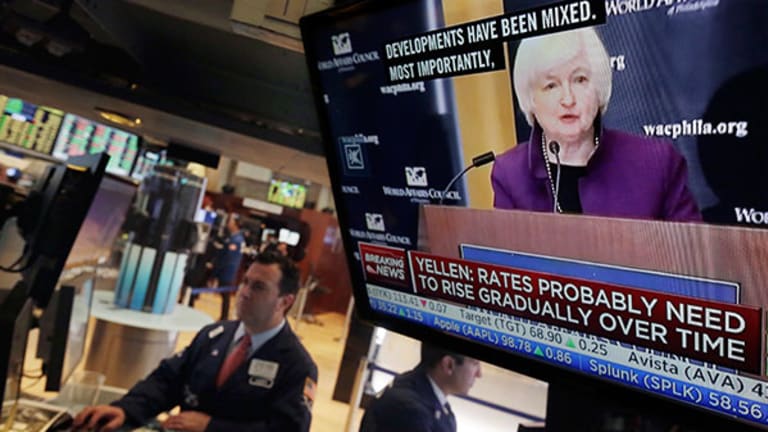 Waiting for Yellen, U.S. Futures Off; Asia, a Mixed Bag
U.S. indices ended the day higher but investors seem focused on Friday's Fed speech.
U.S. futures were off Tuesday night on Day 2 of Janet-Yellen-is-speaking-on-Friday week, in which investors are hesitant to make big moves until they get their latest signal of if and when the Federal Reserve might hike interest rates.
The Fed's annual economic symposium in Jackson's Hole, Wyo., is set for Friday, when Fed Chairwoman Janet Yellen will speak. Fed watchers are wondering what actions the central bank will take to rein in the the economy and how those moves will impact the markets.
Futures for the S&P 500 and Nasdaq were down 0.05% and the Dow Jones Industrial Average 0.07% at 9:59 p.m. EDT.
Traders reacted conservatively to news Tuesday that builders constructed more new houses in July than expected. Many appear to be basing their moves on the recent earnings season that showed many sectors, such as retail and tech, are in good shape going into the final half of the year.
The S&P closed 0.2% higher with the Nasdaq up 0.3% Tuesday. The Dow gained just Dow 0.1%.
The upbeat mood began in Europe, where banks finally scored a rare up day. Germany's Dax closed 0.94% higher and London's FTSE gained 0.59%. In Paris, the Cac added 0.72%.
The pound slid 0.17% to $1.3175 at 10:20 p.m. EDT while the yen gained 0.226% to ¥100.424, above the psychological mark of ¥100.
Wednesday is starting mixed in Asia with Japan's Nikkei up 0.39% and, across the Korean Straight, the Kospi was off 0.36%. Meanwhile in Hong Kong, the Hang Seng slide 0.39%. All prices were current as of 10:16 p.m. EDT.
Oil was negative in Asian trading with industry standard Brent crude down 0.68% to $49.62 per barrel and West Texas crude off 0.94% at $47.65 per barrel. Both prices were current at 10:06 p.m. EDT and reflect futures for October delivery.
In extended trading, Intuit (INTU) saw its shares slip 6.13% to $106.86 after the financial software maker topped analyst estimates for the year ended July 31 but disappointed on forward guidance.
The company said it expects between 1-cent- and 3-cent-per-share earnings in the current quarter, well off the 13 cents analysts had forecast with revenue no higher than $760 million -- Wall Street wanted $773 million.
The reason? Mountain View, Calif.-based Intuit had a great year and will have trouble repeating the growth.
Still, it said it had non-GAAP earnings of 8 cents per share in its final fiscal quarter on revenue of $754 million, an 8% increase over the same quarter a year earlier. Wall Street was hoping for a 2-cent-per-share loss and $733 million in revenue.
In gainers, shares of Nimble Storage (NMBL) rose 6.24% after hours to $9.37 after reporting a narrower-than-expected loss and revenue that beat analysts' estimates for the fiscal 2017 second quarter. After the market close, the San Jose, Calif.-based storage technology vendor posted an adjusted loss of 19 cents per share, while analysts had been modeling an adjusted loss of 20 cents a share.
Revenue rose 21% year over year to $97.1 million and topped analysts' projections of $94.7 million.